We all know supplements like vitamin C and zinc can help to strengthen our immune systems, but there's no shortage of foods and herbs that can help, too.
You'll find vitamin C in citrus fruits, rosehips, camu camu, and even cauliflower. Zinc, too, can be found in spinach and other cooked greens. But there are many more herbs and foods that support healthy immune function. I invite you to try for yourself with these recipes, which are packed to the brim with immune-strengthening ingredients to help you fight colds and flu.
In this compilation, you'll find bone broth infused with the potent, adaptogenic herb astragalus, and a vibrant schizandra-infused latte. Or, try a mushroom bonanza soup loaded with the immune-boosting power of medicinal mushrooms.
Fill up on these vibrant, nutritious drinks and meals, and you'll keep your immune system in fighting shape.
Foods That Strengthen The Immune System
There are so many herbs, fruits, vegetables, and other foods that can strengthen your immune system. Here are some of my favorite ones to use in my own kitchen. Keep reading for recipes that make use of these very foods.
Vitamin C-Rich Foods
Berries
While blueberries boast the most antioxidants, strawberries, raspberries, blackberries, black currants and elderberries are also rich in antioxidants. This is due to their polyphenols, including procyanidin, quercetin, and anthocyanins, which give them their spectacular color.
Broccoli Sprouts
Cruciferous vegetables like kale, broccoli, spinach, and cauliflower have been shown to strengthen immunity and protect against cancer. Broccoli sprouts are a particularly good choice thanks to their high sulforaphane content, which helps your body with cell repair and the production of energy, hormones and a master antioxidant called glutathione.
Camu Camu
According to this study, camu camu has more powerful anti-oxidative and anti-inflammatory properties than even vitamin C supplements.
Rosehip
Like tomatoes, rosehip is high in lycopene, which can be protective against cancer. The vitamin C and flavonoids in rosehip tea are also great allies against viruses like cold and flu.
Lemon
Lemon is rich is vitamin C whose high antioxidant content helps to combat free radicals and helps you to better fight off the infection. The natural acidity of lemon also helps to break down mucus and phlegm.
Kiwi
One single kiwi packs in 64mg of Vitamin C, which is a huge chunk of the daily recommended 75mg for adult women.
Amla
Also called Indian gooseberries, the amla fruit is packed with vitamin C, and is used in Ayurveda to treat many ailments such as common cold and fever.
Zinc-Rich Foods
Oysters
While shellfish in general boast quite a bit of your recommended daily intake (RDI) of zinc – including shrimp, crab, and mussels – oysters are absolute zinc powerhouses. They contain more zinc than any other food, with one serving clocking in at 673 percent of your RDI.
Grass-Fed Beef
Red meat is one of the best sources of zinc found in food, and I always opt for true grass-fed beef for its host of other health benefits. You'll find 30 to 40 percent of your RDI of zinc in grass-fed beef. 
Beef Liver
Organ meats are some of the most nutrient-dense foods on the planet. This is no exception when it comes to their zinc content – just one slice of beef liver contains 28% of your RDI of zinc.
Legumes (like chickpeas and lentils)
Not only are legumes a satisfying base for many meals, they also boast a decent portion of your RDI for zinc. While they do contain phytates (which can inhibit absorption of zinc and other minerals), sprouting and fermenting them increases the absorption of zinc.
Hemp seeds
Uber-nutritious hemp seeds can contain upwards of 40% of your RDI of zinc. Other zinc-rich seeds include pumpkin and sesame seeds.
Other Immune-Strengthening Herbs and Foods
Andrographis
Apart from its anti-inflammatory effects, andrographis may be immunomodulatory, meaning it may restrain virus replication and virus-induced pathogenesis.
Astragalus
Long used in traditional Chinese medicine, this potent herb is adaptogenic, antioxidant, immunomodulating, anti-inflammatory, antiviral, diuretic, and hypotensive. Note: Do not take astragalus when you already feel ill, as it may make you feel worse.
Schizandra
This Siberian-grown herb can help immune deficiency or dysregulation including the Central Nervous System, AIDS and autoimmune disorders. It restores the adrenal cortex and detoxifies the liver.
Lomatium
This immune-strengthening herb came to prominence during the flu pandemic of 1917-1918, when the root was extensively used by two Native American tribes near Carson City, Nevada. A physician who was assigned to these tribes was amazed to find that these tribes suffered no respiratory illnesses and no deaths from the influenza virus.
Turmeric
This warming, bitter spice triggers an increase in an important protein that helps your immune system fight off fungus, viruses and bacteria.
Ginger
This root is known for curbing nausea and inflammation. When foods are not properly and fully broken down during the digestive process, they can cause the body to mount an immune response—AKA, inflammation.
Horseradish Root
This pungent root helps reduce sinus congestion and ease headaches.
Licorice root
This powerful root contains glycyrrhizic acid, which helps fortify the immune system and helps relieve tummy troubles thanks to its anti-inflammatory properties.
Garlic
Raw garlic, in particular, has incredible anti-microbial properties. Simply crush a clove of garlic and serve it on top of a gluten-free toast.
Medicinal Mushrooms
Mushroom varieties like shiitake, reishi, and turkey tails are immuno-modulators (like andrographis). This is in part due to high levels of beta-glucans, which help activate macrophage and natural killer cells that are pivotal to your immune defense.
Apple Cider Vinegar
ACV can be alkalizing for the body and can help regulate your body's PH and control blood levels. It also aids in increasing stomach acid, which is crucial to proper digestion of food, extraction of nutrients, as well as supporting a good immune system.
Raw Honey
Honey is a balm for sore throats and calms those hacking coughs so you can sleep better at night. Not only does it soothe sore throats, honey has antimicrobial properties that help improve the healing process and reduce the healing time.
9 Immune-Strengthening Teas, Tonics, and Lattes
Tulsi (known also as Holy Basil) promotes a balanced mood and rejuvenates you, while lemongrass, citrus and raw honey provide an immunity boost.
Ever a classic, this immune-strengthening lemon ginger tea is as simple as it sounds. Just pour hot water over sliced ginger, and add in lemon (or apple cider vinegar) and honey.
Coconut Mushroom Ginger Coffee
This delicious, caffeine-free latte offers an immunity boost, thanks to reishi mushrooms.
In this recipe, elderberries, well known for their immune-boosting properties, are combined with echinacea, ginger, turmeric, honey, and apple cider vinegar.
Immune Boosting Winter Syrup (Oxymel)
Keep your immune system strong all season with this winter syrup, also known as oxymel. In it, you'll find powerful ingredients like horseradish root, ginger, garlic, rose hips, elderberry, turmeric, and peppercorns.
In this tea, licorice root offers glycyrrhizic acid, which helps fortify the immune system and helps relieve tummy troubles thanks to its anti-inflammatory properties.
Schisandra Beet Adaptogen Latte
Vibrant in color and flavor, this latte is a delicious and medicinal cup of warm on a cold day.
Brew this tea and you'll enjoy both milk thistle and ginger, which are anti-inflammatory and also rich in antioxidants that help to support a healthy immune system, combat free radicals, and slow down aging.
ACV Tonic with Lemon, Seltzer, and Stevia
If you're looking for a bright, refreshing drink while trying to keep healthy, this tonic is the one.
6 Immune-Strengthening Smoothies and Drinks
Anti-Inflammatory Peach Ginger Smoothie
Peaches lend this smoothie plenty of natural sweetness, while turmeric and ginger offer anti-inflammatory effects.
In this cool and creamy smoothie recipe, you'll find camu camu, the food with the highest vitamin C content out there.
Bright in flavor and packed with immune-strengthening ingredients like broccoli sprouts and ginger, this smoothie makes for one colorful breakfast.
Vanilla Grapefruit Electrolyte Drink
Apple cider vinegar, citrus, and honey add medicinal qualities to this electrolyte-replenishing drink.
All the sulforaphane in this broccoli sprout shot helps your body with cell repair and the production of energy, hormones, and a master antioxidant called glutathione.
In Southeast Asia, jamu is a cure-all, pick-me-up kind of drink. It's packed with healing ingredients, including turmeric, ginger, citrus, and honey.
10 Immune-Strengthening Soups and Stews
Astragalus Immune-Boosting Bone Broth
Craving something warming to build up your immune system and boost joint health? There's nothing better than a steaming mug of homemade bone broth infused with immune-boosting astragalus.
Immune-Boosting Turmeric Detox Veggie Soup
Tuck into a big bowl of this flavorful immune-boosting veggie soup that's filled with anti-inflammatory and detoxing ingredients to help keep you nourished and healthy.
Instant Pot Bison and Cabbage Stew
Enjoy the warming quality of this bison and cabbage stew, complete with immune-boosting ginger. Bonus points if you use your own homemade broth.
Shiitake mushrooms are downright medicinal, just as this mushroom soup is downright delicious.
Instant Pot Chickpea Warming Dhal
Turmeric and ginger will help keep your immune system healthy, while this chickpea dhal will warm your soul.
Instant Pot Immune Boosting Chicken Broth
This chicken broth is made from more than chicken bones and veggies. Additives like shiitake mushrooms, apple cider vinegar, ginger and astragalus build deep flavor and deep immune-strengthening qualities.
Chilled Herb and Cucumber Soup
Here's a refreshing, cooling recipe to get additional herbs into your diet. You'll want to, since herbs are anti-inflammatory, nutritionally dense and some of them contain slight amounts of phytoestrogens (a good thing!)
This soup is warming and nourishing like the classic chicken noodle soup but with the extra immune-boosting properties of homemade chicken broth and healing vegetables.
This is the perfect soup for a day when you crave a home-cooked meal but don't have much time. I ate this warming, strengthening soup a lot when I lived in Shanghai.
Cauliflower and Coconut Red Lentil Dhal
Did you know cauliflower contains a healthy dose of vitamin C? It also adds heartiness to this warming dhal recipe.
6 More Recipes for Immunity
Apple Cider Turmeric Ginger Gummies
Ready to enjoy your immunity boost in gummy form? These turmeric ginger gummies are a great dose of anti-inflammatory goodness, while honey provides its beneficial compounds and a touch of natural sweetness.
Soothing Lemon Honey Cough Drops
Nix the store-bought, sugar-laden cough drops and whip these up at home. They require only 3 ingredients, with honey acting as a soothing balm and cough suppressant.
Sweet Potato Turmeric Truffles
Here's a treat with beneficial, anti-inflammatory effects, thanks to the inclusion of turmeric and ginger in these truffles.
Herbal Apple Cider VInegar with Licorice Root
Apple cider vinegar already offers a host of health benefits, but infusing it with immune-boosting and anti-inflammatory licorice root makes it all the better for you.
Honey paste is the combination of honey with medicinal ingredients to treat a variety of ailments. This recipe focuses on pain relief, with anti-inflammatory benefits from ginger, turmeric, and apple cider vinegar.
This colorful and potent recipe is very high in vitamin C, which is a major boon to the immune system. Spread it on gluten-free pastries, blend into smoothies, or it it straight from the jar.
Find more hormone-balancing recipes in Overcoming Estrogen Dominance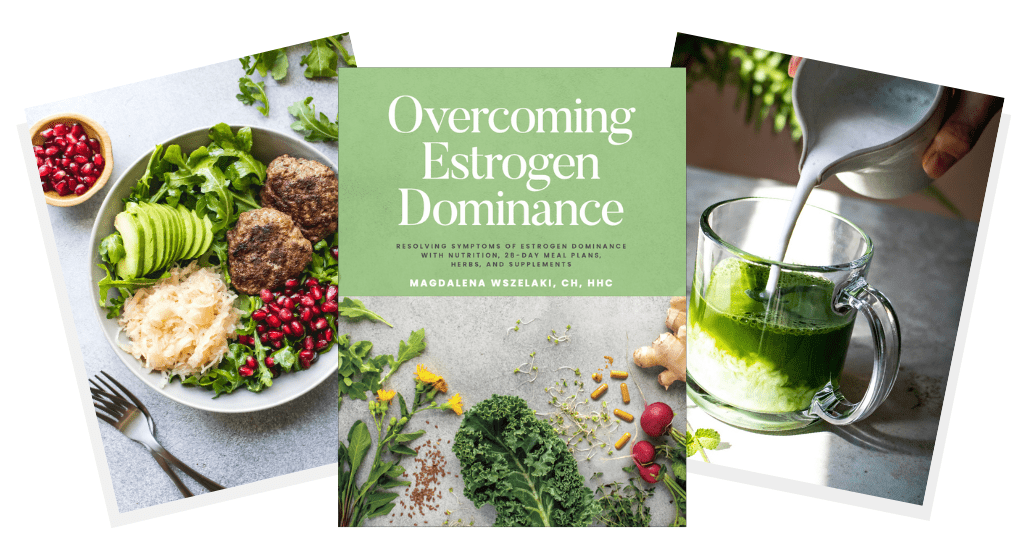 In Overcoming Estrogen Dominance, my goal is to empower and give you the tools to take control of your hormones and health.
More than 70% of women experience estrogen dominance. The symptoms range from lumpy and fibrocystic breasts to thyroid nodules, hot flashes, fibroids, uterine polyps, painful, heavy or irregular periods to infertility and miscarriages, from mood swings to insomnia, weight gain to fatigue.
In Overcoming Estrogen Dominance, I give women a roadmap to reverse estrogen dominance using food, herbs, supplements and natural protocols to rebalance hormones. You'll also find easy, hormone-balancing recipes that are free of gluten, dairy, soy, corn, eggs, and nightshades. These recipes are highly anti-inflammatory, low in sugar, and made with powerful medicinal ingredients to help heal your body naturally.
To get your copy of Overcoming Estrogen Dominance, go here.