This Schisandra Beet Adaptogen Latte is a delicious and medicinal cup of warm on a cold, winter day.  I highly recommend staying away from cold teas and drinks during the winter months and adding in nourishing lattes like this recipe.
Adaptogen herbs are wonderful to incorporate into your daily diet.  They support your adrenal system and help balance your hormones, so you can manage your stress response on a day to day basis. They adapt to what your body needs and have the ability to regulate your system up or down depending on the need at the moment.
The adaptogens used in this simple latte recipe are Schisandra and Ashwagandha. The benefits of the ingredients include:
Schisandra is traditionally used to support your body's capacity to handle stress, sustain energy and concentration.
Ashwagandha helps protect your body from the damaging effects of stress, soothing the nervous system.
Ghee, or clarified butter, is made up of medium-chain fatty acids, it is both easy to digest and good for your heart.  Use if you are avoiding dairy.  Add to your lattes for additional healthy fats.
Beets aid in liver detoxification which is vital in hormone balance.
Collagen helps to lubricate joints, bones, and gut and it gives this latte its creamy, frothy quality.  If I forget to take my daily dose, I can definitely feel the difference in my knee joints.
Finally, hemp seeds are a complete source of protein.
Learn how to add more hormone-balancing ingredients to your meals with our FREE 15 Breakfasts to Rebalance Your Hormones guide here.
Schisandra Beet Adaptogen Latte
This adaptogen latte will support your adrenal system and help balance your hormones, so you can manage your stress response on a day to day basis.
Author:
Magdalena Wszelaki
Ingredients
1 ¾ cups water
¼ cup hemp seeds
½ teaspoon Schisandra extract powder (I use Micro Ingredients)
½ teaspoon ashwagandha extract powder (I use Micro Ingredients)
1 small peeled beet
1 tablespoon ghee
1 scoop collagen ( I use Wellena Collagen)
1 teaspoon raw honey
1 teaspoon vanilla extract
Generous pinch cardamom powder
How To Make
Boil water and process in a high-speed blender with the remaining ingredients for a minute until frothy. Pour into one large cup or two small cups to share.
Notes
Equipment: High-speed blender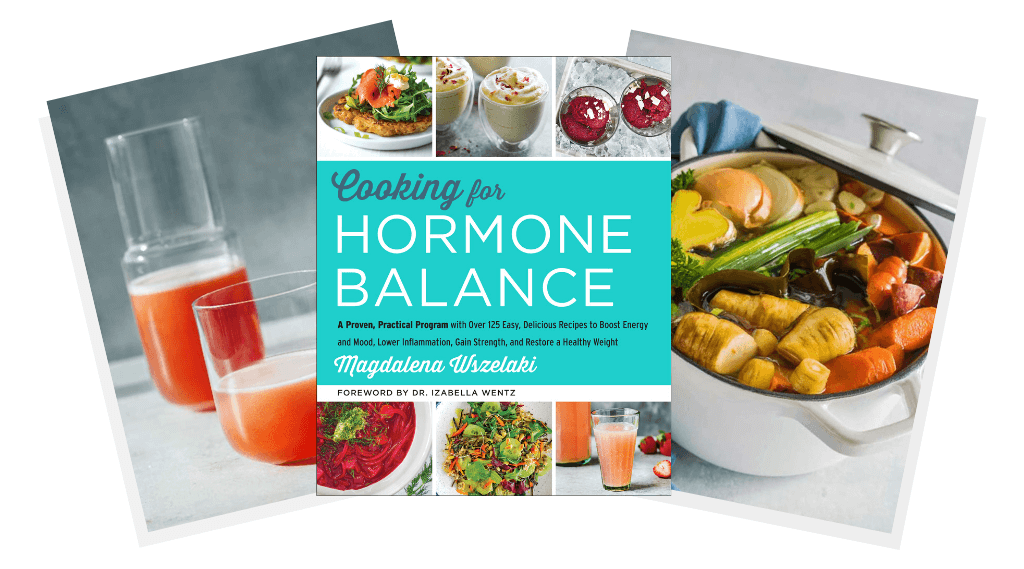 In my cookbook, Cooking For Hormone Balance, you'll find over 125 easy, delicious recipes to nourish your body and balance your hormones without calorie restriction or deprivation.
All of the recipes are based on 20 hormone-supporting superfoods and 20 hormone-supporting super herbs—with modifications for Paleo, Paleo for Autoimmunity (AIP), anti-Candida, and low-FODMAP diets.
You can get a copy of the cookbook here.