Use this herbal-infused apple cider vinegar for all your salad dressing needs. It's a refreshing and healthy option, filled with the power of anti-inflammatory licorice root.
The Benefits of Apple Cider Vinegar and Our Herbal Infusion
Apple cider vinegar is made from the fermentation of apple cider, with a whole host of health benefits. According to studies, apple cider vinegar helps the body to maintain and lower blood sugar levels, which is essential in fighting diabetes. Apple cider vinegar can also aid in weight loss and reducing cholesterol.
Licorice root, too, has many benefits, including fighting against skin inflammation and skin infection. This special root also has glabridin and glabrene, which are flavonoids that help to relieve stomach discomfort. You can also drink it as a tea to help boost your immune system like in my recipe here.
Rosemary is an aromatic herb used for its fragrance, and is also full of antioxidants. Thyme helps boost your immunity and lowers blood pressure.
How to Use the Herbal-Infused Apple Cider Vinegar
You can use this herbal-infused apple cider vinegar in almost any recipe that calls for vinegar. I especially love using it in salad dressings in place of the typical vinegar dressing.
If your soup or stew is tasting a little flat, add some apple cider vinegar for acidity. Start with a tablespoon, taste, and add more if needed.
Use it when making bone broth. The apple cider vinegar helps to draw out the nutrients from the bones.
Herbal Apple Cider Vinegar with Licorice Root
Equipment: 16 oz Glass jar
Author:
Magdalena Wszelaki
Ingredients
2 cups apple cider vinegar with "the mother"
2 fresh rosemary sprigs
4 fresh thyme sprigs
1 tablespoon dried licorice root
How To Make
Combine the apple cider vinegar with the rosemary, thyme, and licorice root in a large glass jar.
Cover the jar tightly and place in a dark, cool corner, letting the apple cider vinegar steep for at least 2 to 4 weeks.
Strain the herbs from the infused apple cider vinegar. Store in the refrigerator until ready to use.
If you're looking for more healthy ways to add apple cider vinegar to your diet, try making this immune-boosting syrup that's great for helping to fight off colds and flus.

Find more hormone-balancing recipes in Overcoming Estrogen Dominance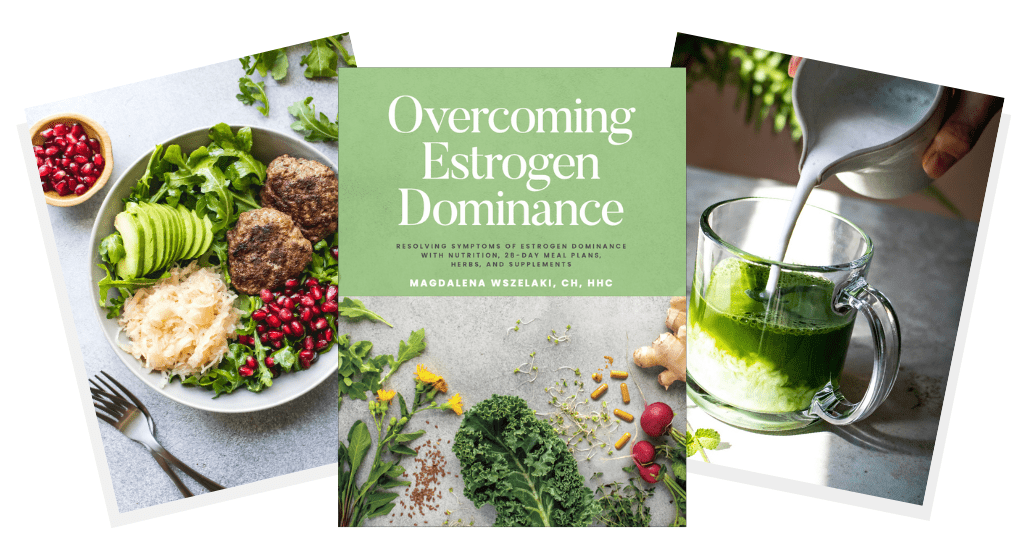 In Overcoming Estrogen Dominance, my goal is to empower and give you the tools to take control of your hormones and health.
More than 70% of women experience estrogen dominance. The symptoms range from lumpy and fibrocystic breasts to thyroid nodules, hot flashes, fibroids, uterine polyps, painful, heavy or irregular periods to infertility and miscarriages, from mood swings to insomnia, weight gain to fatigue.
In Overcoming Estrogen Dominance, I give women a roadmap to reverse estrogen dominance using food, herbs, supplements and natural protocols to rebalance hormones. You'll also find easy, hormone-balancing recipes that are free of gluten, dairy, soy, corn, eggs, and nightshades. These recipes are highly anti-inflammatory, low in sugar, and made with powerful medicinal ingredients to help heal your body naturally.
To get your copy of Overcoming Estrogen Dominance, go here.
Did you try this recipe? Let us know what you think in the comments below.
Resources
White and Johnston. "Vinegar Ingestion at Bedtime Moderates Waking Glucose Concentrations in Adults With Well-Controlled Type 2 Diabetes"

Department of Nutrition, Arizona State University, Mesa, Arizona. Nov. 2007.

Kondo, Kishi, et al. "Vinegar intake reduces body weight, body fat mass, and serum triglyceride levels in obese Japanese subjects." Aug. 2009.
Shishenbor, Mansoori, et al. "Apple cider vinegar attenuates lipid profile in normal and diabetic rats." Dec. 2008.
Raveendra, Jayachandra, et al. "An Extract of Glycyrrhiza glabra (GutGard) Alleviates Symptoms of Functional Dyspepsia: A Randomized, Double-Blind, Placebo-Controlled Study." Jun. 2011.
Raskovic, Milanovic, et al. "Antioxidant activity of rosemary (Rosmarinus officinalis L.) essential oil and its hepatoprotective potential"
Department of Pharmacology, Toxicology and Clinical Pharmacology, Faculty of Medicine, University of Novi Sad, Hajduk Veljkova 3, 21000 Novi Sad, Serbia. Jul. 2014
Alamgeer, Akhtar, et al. "Pharmacological evaluation of antihypertensive effect of aerial parts of Thymus linearis benth." Jul. 2014.