Quick cooking red lentils are a fantastic weeknight staple that pair beautifully with cauliflower. Coconut milk and Indian spices makes this dal a warm and filling main dish perfect for fall evenings. Garam masala is a lovely Indian spice blend available in most large grocery stores but if you can't find it substitute coriander.
Learn how to add more hormone-balancing ingredients to your meals with our FREE 15 Breakfasts to Rebalance Your Hormones guide here.

Cauliflower and Coconut Red Lentil Dal Recipe
Author:
Magdalena Wszelaki
Ingredients
2 tablespoons olive or coconut oil
1 medium onion, chopped finely
2 Tablespoons minced fresh ginger
2 garlic cloves, minced
1 teaspoon ground cumin
1 teaspoon ground turmeric (or 2 teaspoons fresh grated)
½ teaspoon garam masala (or ground coriander)
1 teaspoon sea salt
2 cups water
1 ½ cups red lentils
1 – 14 oz. can coconut milk
1 medium head cauliflower, cut into 1 inch florets
½ bunch fresh cilantro, chopped
How To Make
In a large skillet, heat the oil over medium high heat for 1 minute.
Add the onions and cook for 5 – 6 minutes, stirring frequently until the onions are golden brown.
Add the ginger, garlic, cumin, turmeric, garam masala and salt.
Cook for another 1 minute, stirring constantly so the spices don't burn.
Add the lentils, cauliflower, water and coconut milk.
Stir to combine.
Increase the heat and bring the mixture to a boil.
Reduce heat to a simmer and cover with a lid.
Let cook for 15 -20 minutes until the lentils and cauliflower are tender.
Divide mixture among 6 bowls and top with fresh, chopped cilantro.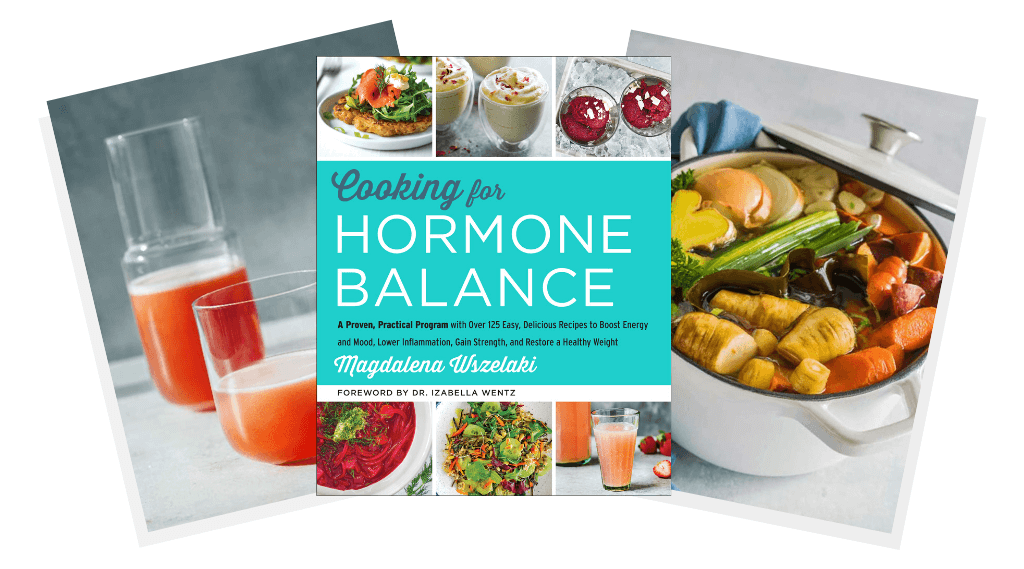 This quick-cooking cauliflower dal is a hormone-balancing, weeknight saver. You can find more recipes like it in my cookbook, Cooking For Hormone Balance, with over 125 easy, delicious recipes to nourish your body and balance your hormones without calorie restriction or deprivation.
All of the recipes are based on twenty hormone-supporting superfoods and twenty hormone-supporting super herbs—with modifications for Paleo, Paleo for Autoimmunity (AIP), anti-Candida, and low-FODMAP diets. Get the cookbook here.