This is the perfect soup for a day when you crave a home-cooked meal but don't have much time. I ate this warming, strengthening soup a lot when I lived in Shanghai. A nutritional powerhouse full of Omega 3, probiotics, iodine, and estrogen-detoxifiers, this miso soup will revitalize you. To retain the probiotic potency of miso, never add it to a boiling broth. Follow my instructions to experience all of miso's benefits.
Even though this recipe includes soy, I decided to make an exception and include it because fermented soy, such as miso, tends to be well tolerated by most people. If you are doing the Elimination Diet or can't eat soy, use soy-free miso made of chickpeas or adzuki beans (you can get it from South River). If you suffer from a thyroid condition and Hashimoto's, omit this recipe.
Learn how to add more hormone-balancing ingredients to your meals with our FREE 15 Breakfasts to Rebalance Your Hormones guide here.

Easy Miso Soup
Author:
Magdalena Wszelaki
Ingredients
2 tablespoons dried wakame
2 tablespoons dried arame
1 cup hot water
1 quart classic chicken broth, divided
1½ cups sliced shiitake mushrooms
1 kelp sheet
3 tablespoons sweet white miso paste
9- to 12-ounce black codfish fillet, cut into ½-inch pieces
2 cups firmly packed green leafy vegetables such as kale, spinach, or collard greens
½ cup fresh broccoli sprouts
2 tablespoons chopped scallions
2 teaspoons roasted sesame oil
How To Make
In a medium bowl, soak the wakame and arame in the hot water. Set aside.
In a medium saucepan, place 3 cups of the broth, mushrooms, and kelp. Cover, bring to a boil, and simmer for 10 minutes.
In a small bowl, whisk the remaining broth with the miso paste until fully dissolved. Set aside.
Add the cod to the saucepan, turn off the heat, and cover for 3 minutes.
Gently fold in the green leafy vegetables to the saucepan and cover again for another 3 to 5 minutes or until greens have withered.
Gently stir in the miso paste to the saucepan.
Remove the kelp sheet before serving. Ladle into bowls and top with drained wakame, arame, sprouts, scallions, and sesame oil.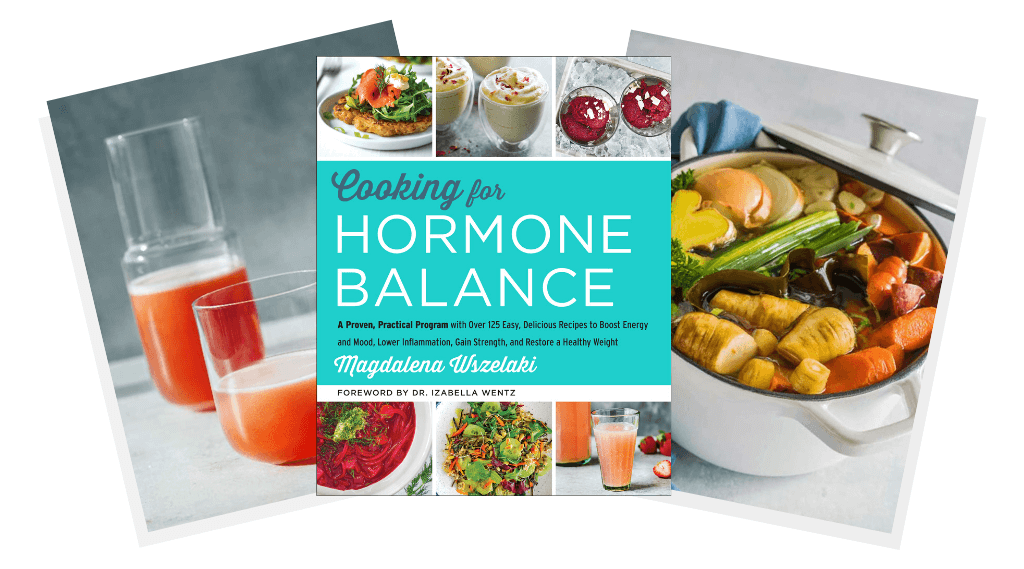 In my cookbook, Cooking For Hormone Balance, you'll find over 125 easy, delicious recipes to nourish your body and balance your hormones without calorie restriction or deprivation.
All of the recipes are based on 20 hormone-supporting superfoods and 20 hormone-supporting super herbs—with modifications for Paleo, Paleo for Autoimmunity (AIP), anti-Candida, and low-FODMAP diets.
You can get a copy of the cookbook here.