Instant pots make healthy cooking so much easier, getting your dinner on the table in a fraction of the time of stovetop cooking.
This soup is warming and nourishing like the classic chicken noodle soup but with the extra immune-boosting properties of homemade chicken broth and healing vegetables.
To make your own immune-boosting chicken broth from scratch, follow this recipe.  If you are not into making your own, you can use a store-bought broth.
FYI, I do own two Instant Pots:
3-quart – for quick rice, oatmeal, and buckwheat
6-quart – for bone broths, soups, stews
Check out our other easy Instant Pot recipes:
Instant Pot Chickpea Warming Dahl
Instant Pot Immune-Boosting Chicken Broth
Learn how to add more hormone-balancing ingredients to your meals with our FREE 15 Breakfasts to Rebalance Your Hormones guide here.
Instant Pot Chicken Rice Soup
Author:
Magdalena Wszelaki
Ingredients
1 tablespoon olive oil
1 cup peeled and chopped carrot (around 3 carrots)
1 cup chopped onion (about 1 medium onion)
1 cup chopped celery (about 2 stalks)
2 boneless skinless chicken breasts, cubed (about 6 ounces total)
3 cloves garlic, minced
¾ cup brown rice
¼ cup freshly squeezed lemon juice
2 teaspoons sea salt
1 teaspoon ground black pepper
½ cup chopped flat leaf parsley
How To Make
Set the Instant Pot to sauté. Add the oil along with the carrot, onion, and celery. Sauté, stirring often for 5 minutes.
Add the chopped chicken breasts and cook for another 3 minutes. Turn off the sauté mode.
Add the garlic, the chicken broth, brown rice, lemon juice, and salt and pepper to the Instant Pot. Lock the lid in place and make sure the valve is sealed.
Set the Instant Pot to "Soup" mode or cook or pressure-cook for 30 minutes on high.
After the soup is cooked, you can either let the pressure escape naturally or use the quick release.
To serve, garnish each bowl with the chopped parsley.
Notes
Equipment: Instant Pot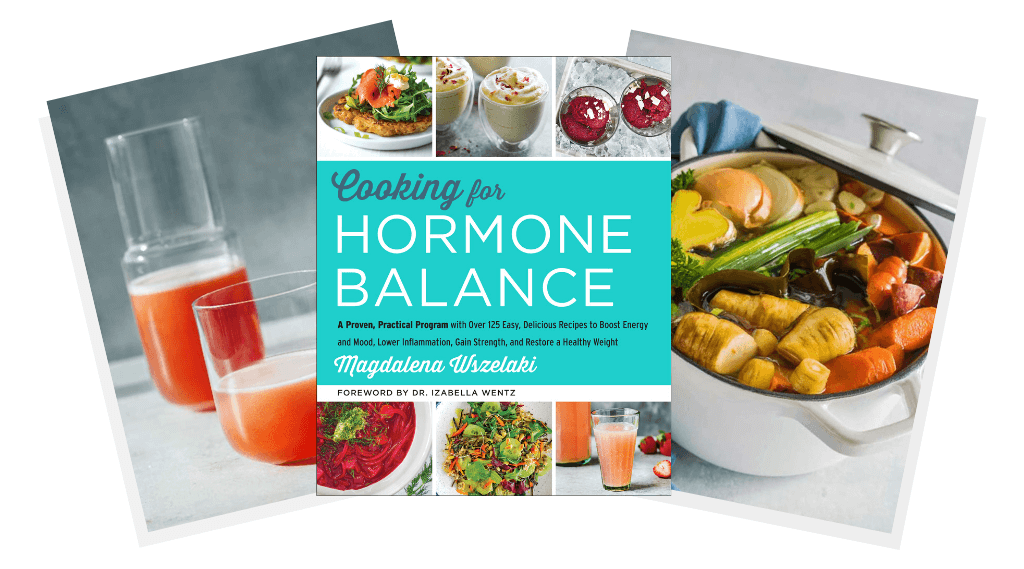 In my cookbook, Cooking For Hormone Balance, you'll find over 125 easy, delicious recipes to nourish your body and balance your hormones without calorie restriction or deprivation.
All of the recipes are based on 20 hormone-supporting superfoods and 20 hormone-supporting super herbs—with modifications for Paleo, Paleo for Autoimmunity (AIP), anti-Candida, and low-FODMAP diets.
You can get a copy of the cookbook here.