Reach for this immune system boosting syrup when a scratchy throat or sniffles strike! This immune-boosting syrup combines fresh and dried roots infused in potent antiviral apple cider vinegar for a powerful natural medicine that helps to prevent cold and flu viruses.
Oxymel: Beat the Bitterness
To make the apple cider vinegar go down smoothly with less of the bitter vinegar flavor, raw honey is stirred into the syrup after it has been strained. This creates what's known as an oxymel, which means "acid and honey." The sweetness of the honey balances the syrup giving a much more pleasant taste. You can adjust the sweetness of your oxymel to fit your preferences, but equal parts honey to herb cider infusion is recommended.
Note: While this winter oxymel may be similar to fire cider, it omits the usual nightshades used in fire ciders (like cayenne) that can be problematic for people with autoimmune issues. Instead, this recipe incorporates horseradish and peppercorns for a similar sensation, and unlike fire cider, adds honey to make it more palatable.
Tips for Making the Perfect Oxymel
Strain first. Once the herbs are strained you'll have a better idea of how much liquid is left and how much raw honey is appropriate.
If you have 2 cups of herb infused cider, start with 1 cup of raw honey and taste before adding more.
Fresh horseradish root can be found in the produce section of many grocery stores or health food stores.
If using a jar with a metal lid, place a piece of parchment paper between jar and lid to prevent the vinegar from corroding the metal.
Herbs and Roots for Immunity
Before the oxymel is created, herbs and roots sit in the apple cider vinegar for a couple of weeks to a month, allowing their healing properties to infuse into the apple cider vinegar.
Horseradish Root helps reduce sinus congestion and headaches
Ginger helps with nausea and inflammation.
Garlic can help greatly reduce the severity of colds and flus.
Rose hips are high in Vitamin-C, which helps prevent colds and flus.
Elderberry contains antioxidants to support a healthy immune system.
Turmeric and Peppercorns work together with peppercorns increasing the absorption of turmeric by a whopping 2,000%. Turmeric is rich in antioxidants, so you want your body to absorb all of these compounds.
These powerful herbs work together to fend off viruses and give the immune system a much needed boost, especially in the winter season when colds and the flu are more prevalent.
The Benefits of Drinking This Winter Syrup Oxymel
Clearing away of mucous and ease congestion
Reduced scratchy/sore throat
Less nausea, queasiness
Aiding in digestion, bloating and gas
Immune-Boosting Winter Syrup (Oxymel)
Equipment: 32-ounce wide mouth mason jar
Author:
Magdalena Wszelaki
Ingredients
½ cup fresh orange peel
½ cup fresh ginger, peeled and sliced
1 cup fresh horseradish root, peeled and chopped
4 garlic cloves, coarsely chopped
4 small cinnamon sticks
1 tablespoon dried rosehips
1 tablespoon dried elderberries
1 teaspoon ground turmeric
½ teaspoon crushed peppercorns
¼ teaspoon cracked fennel seed
¼ teaspoon whole clove
2 cups apple cider vinegar with "the mother"
½ cup or more raw honey
How To Make
Combine herbs in a 32-ounce jar and pour vinegar on top leaving 1 inch from the top. Secure lid and store in a dry spot for 4 weeks.
Strain infused vinegar into a clean jar and stir in raw honey until dissolved. Secure lid and store in refrigerator or in a dry, cool spot away from heat and light for up to 1 year.
Notes
Dosage: Take 1 tablespoon per day to support your immune system and when you feel like you're coming down with any icky seasonal stuff.
For more recipes tips (like what to do if you don't have fresh turmeric), watch me make this immune-boosting winter syrup in the video below 🙂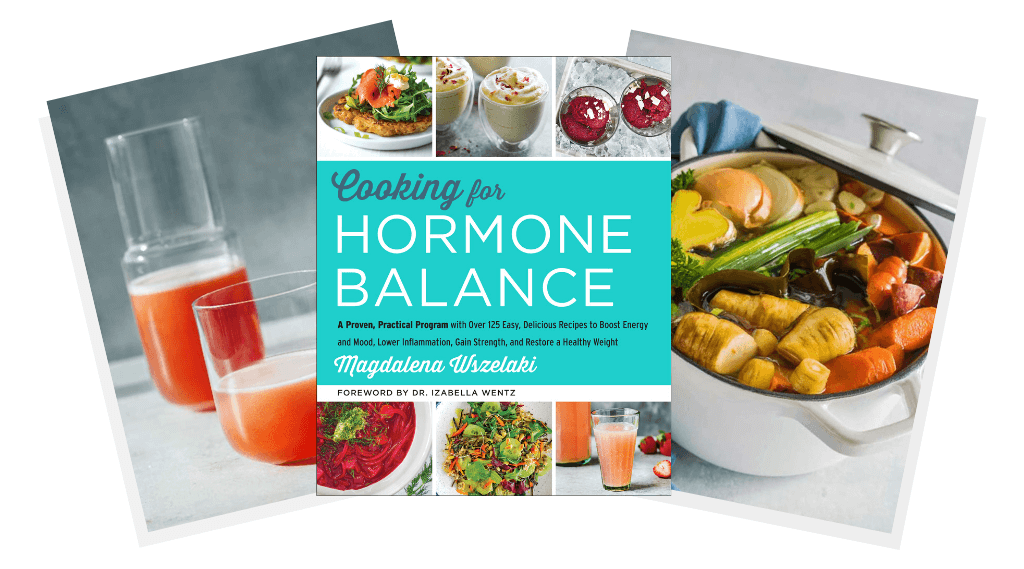 This immune-strengthening oxymel soothes any seasonal sniffles. You can find more recipes like it in my cookbook, Cooking For Hormone Balance, with over 125 easy, delicious recipes to nourish your body and balance your hormones without calorie restriction or deprivation.
All of the recipes are based on twenty hormone-supporting superfoods and twenty hormone-supporting super herbs—with modifications for Paleo, Paleo for Autoimmunity (AIP), anti-Candida, and low-FODMAP diets. Get the cookbook here.
References
Herz, Corinna et al. "Evaluation of an Aqueous Extract from Horseradish Root (Armoracia rusticana Radix) against Lipopolysaccharide-Induced Cellular Inflammation Reaction." Evidence-based complementary and alternative medicine : eCAM vol. 2017 (2017): 1950692.
Lete, Iñaki, and José Allué. "The Effectiveness of Ginger in the Prevention of Nausea and Vomiting during Pregnancy and Chemotherapy." Integrative medicine insights vol. 11 11-7. 31 Mar. 2016.
Koczka, Noémi et al. "Total Polyphenol Content and Antioxidant Capacity of Rosehips of Some Rosa Species." Medicines (Basel, Switzerland) vol. 5,3 84. 4 Aug. 2018.
Tiralongo, Evelin et al. "Elderberry Supplementation Reduces Cold Duration and Symptoms in Air-Travellers: A Randomized, Double-Blind Placebo-Controlled Clinical Trial." Nutrients vol. 8,4 182. 24 Mar. 2016.
Hewlings, Susan J, and Douglas S Kalman. "Curcumin: A Review of Its' Effects on Human Health." Foods (Basel, Switzerland) vol. 6,10 92. 22 Oct. 2017.
Nantz, Meri P et al. "Supplementation with aged garlic extract improves both NK and γδ-T cell function and reduces the severity of cold and flu symptoms: a randomized, double-blind, placebo-controlled nutrition intervention." Clinical nutrition (Edinburgh, Scotland) vol. 31,3 (2012): 337-44.