Three reasons I think you will love this recipe:
It's a great meal to warm you up on a cold day.
The spices will improve your digestion and absorption of nutrients.
The Instant Pot will get dinner on your table FAST!
Dhal in India is made with any legume – red and yellow lentils are the staple while chickpeas are used a little less.
Dhal is considered a healing stew. In India, there is a blurred line between where food ends and medicine begins – spices such as ginger, turmeric, and coriander are highly medicinal in their properties.
Legumes, when pre-soaked, are easier to digest so I highly recommend starting the process the day before.
To cook your own chickpeas in the Instant Pot: Begin by soaking a ¾ cup of dried chickpeas with a strip of kombu the night before you plan on cooking the dish. The next day, discard the kombu and drain the soaked chickpeas. Combine the chickpeas with 6 cups water in the Instant Pot. Cook at high pressure for 20 minutes, let the Instant Pot release the pressure naturally. Drain the liquid from the chickpeas before using them.
FYI, I do own two Instant Pots:
3-quart – for quick rice, oatmeal, and buckwheat
6-quart – for bone broths, soups, stews
You can also use canned chickpeas in this recipe if desired.
Learn how to add more hormone-balancing ingredients to your meals with our FREE 15 Breakfasts to Rebalance Your Hormones guide here.
Check out our other easy Instant Pot recipes:
Instant Pot Chicken Rice Soup
Instant Pot Immune-Boosting Chicken Broth
Instant Pot Chickpea Warming Dhal
Author:
Magdalena Wszelaki
Ingredients
1 teaspoon ground turmeric
1 teaspoon ground coriander
½ teaspoon ground black pepper
1 ½ teaspoon sea salt
2 cloves garlic, minced
1 tablespoon grated ginger
1 medium onion, chopped (1 cup)
1 medium yam, peeled and chopped (2 cups)
1 medium cauliflower, chopped (3 cups)
2 ½ cups cooked chickpeas
2 cans coconut milk (13.5 ounces total)
2 cups packed baby spinach
Brown rice for serving, optional
Chili flakes for serving, optional
How To Make
Combine all the ingredients except for the spinach and the rice in the Instant Pot.
Cook the dhal at high pressure for 15 minutes. You can also use the "soup" setting, but the veggies will get a little soft.
After the dhal is cooked, let the pressure release naturally, or use the quick release function on the Instant Pot.
After the pressure is released, remove the lid and stir in the spinach.
Taste and adjust seasoning as needed. Serve warm alongside brown rice if desired.
Storage instructions: Once the korma is cooled, store leftovers in the fridge for 5 days.
Notes
Equipment: Instant Pot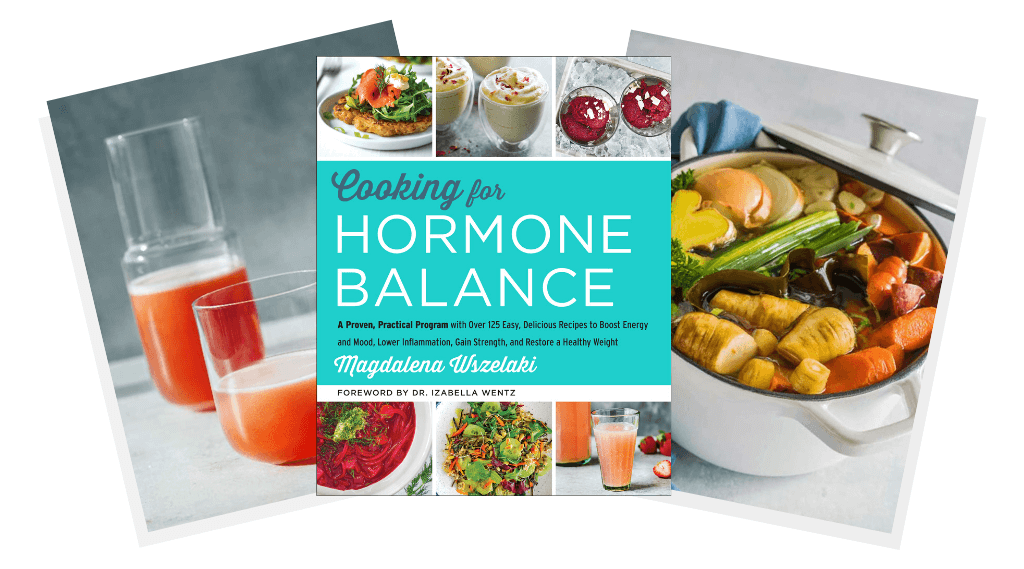 In my cookbook, Cooking For Hormone Balance, you'll find over 125 easy, delicious recipes to nourish your body and balance your hormones without calorie restriction or deprivation.
All of the recipes are based on 20 hormone-supporting superfoods and 20 hormone-supporting super herbs—with modifications for Paleo, Paleo for Autoimmunity (AIP), anti-Candida, and low-FODMAP diets.
You can get a copy of the cookbook here.