Have you heard of jamu?
I first tried jamu many years ago in Bali.
Normally served after a massage or spa treatment, jamu brings a truly healing finish; moving the massage from great to heavenly.
Growing up in South East Asia (I lived in tropical Malaysia for 17 years), jamu (and its many variations) was to me what warm milk and honey was to you – a pick-me-up, cure-all kind of drink.
You can drink it with the onset of a cold.

When having a tummy ache.

When bowels aren't moving as they should.

When you are cold.

When hot flashes take over.
It's simple and it only takes a few minutes to make.
Jamu is a traditional herbal drink originating from Java, an Indonesian island. Sold at every market and many street corners, jamu is a true pick-me-up, boosting tonic.
Small but frequent amounts will go a long way to keep a person healthy.
Here is a short video I showed on FB Live how to make it.
The key healing ingredients are:
Turmeric root (fresh or dried) – anti-inflammatory, anti-carcinogenic, relieves arthritis pain. Can help digestive problems including IBS, h.pylori and stomach ulcers. You can easily get it at your local health store, many of them are selling fresh root now.
Ginger root (fresh or dried) – anti-inflammatory, antispasmodic, stimulates digestion, relieves pain associated with PMS, endometriosis and uterine fibroids. Can lessen hot flashes and night sweats.  
Lemon or lime – juice: alkalizing, rejuvenating, uplifting, toning; peel: liver detoxifying, antimicrobial, antiviral.
Honey – antimicrobial, anti-inflammatory, boosts the immune system, high in beneficial enzymes. Most medicinal honey is local (to you) and raw.
Tamarind – it's optional and not used in this recipe but if you have access to a Mexican or Indian grocery store, add a handful of tamarind paste (without the seeds) and follow the rest of the recipe instructions.
How much to drink?
Do you have a shot glass at home? That's all you need – about 1.5 ounces, once or twice per day.
When and how to drink it?
It might be a great drink first thing in the morning to prime your digestion for the food you will be eating – by stimulating enzymatic release. But, it can be intense so go slow! If you feel a tummy burn, have it at the end of a meal, or in-between meals. I also love it served with some sparkling water after a meal.
How long does it keep?
I would typically make it for a week's worth and keep it in the fridge.
Video Demo
Learn how to add more hormone-balancing ingredients to your meals with our FREE 15 Breakfasts to Rebalance Your Hormones guide here.

Jamu Shot and Spritzer - A Woman's Tonic
Jamu can either be enjoyed as a shot at breakfast, or mixed with carbonated mineral water for a nice evening spritzer.
Author:
Magdalena Wszelaki
Ingredients
½ cup sliced dried turmeric (or fresh, if you have access to it)
½ cup sliced ginger
4 cups filtered water
2 tablespoons lime juice
1-3 teaspoons honey
Carbonated mineral water for serving
Orange slices for serving
How To Make
Combine the ginger and turmeric in a blender along with the water. Puree until smooth.
Add turmeric-ginger mixture to the pot and bring to a simmer. Once it simmers, turn down the heat to the lowest possible and let the mixture simmer for 25 minutes.
Remove the mixture from the heat and let cool for about 10 minutes before straining it into the jar. Stir in the lime juice and the honey. Adding more honey if you prefer things on the sweeter side. Let the mixture cool completely before storing in the refrigerator.
To drink as a shot, just add 2-3 tablespoons to a glass and enjoy. To make a spritzer, add 2-3 tablespoons to a large glass along with a few orange slices and ice. Top with carbonated mineral water.
Notes
Equipment: blender, stainless steel pot, and a large tempered glass jar (like a mason jar)
Storage Instructions: The jamu can be stored in the refrigerator for up to two weeks.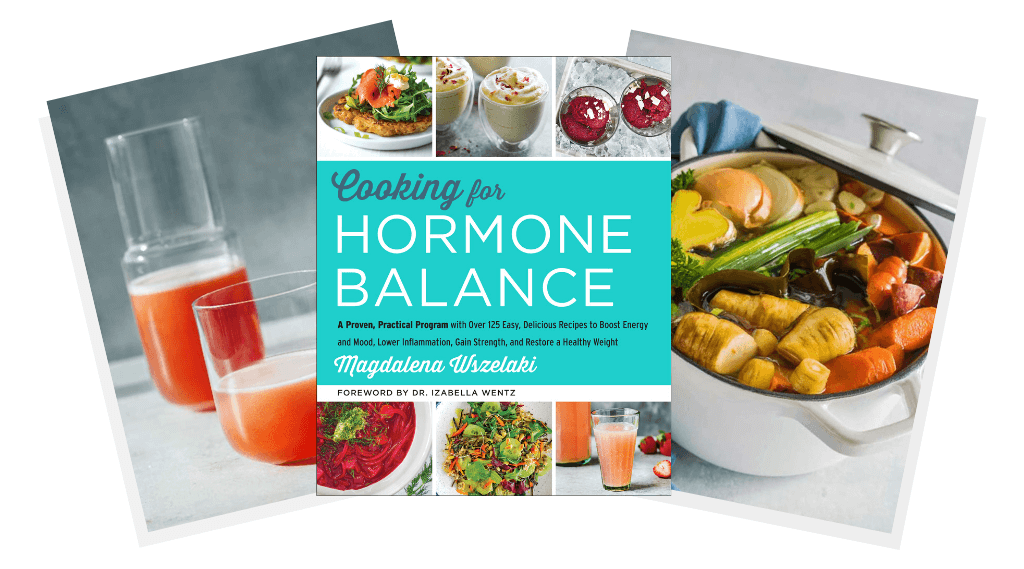 In my cookbook, Cooking For Hormone Balance, you'll find over 125 easy, delicious recipes to nourish your body and balance your hormones without calorie restriction or deprivation.
All of the recipes are based on 20 hormone-supporting superfoods and 20 hormone-supporting super herbs—with modifications for Paleo, Paleo for Autoimmunity (AIP), anti-Candida, and low-FODMAP diets.
You can get a copy of the cookbook here.