Here's a refreshing, cooling recipe to get additional herbs into your diet. You'll want to, since herbs are anti-inflammatory, nutritionally dense and some of them contain slight amounts of phytoestrogens (a good thing!).
This summer-friendly soup is packed full of nutrient-dense veggies, herbs and greens that will leave you feeling energized. It contains cilantro, which can safely pull heavy metals from the body in a gentle and natural way. Parsley is full of vitamin C, spinach is a nutritional powerhouse, and dandelion greens are great for healthy digestion and liver and gallbladder health. Bitter greens like dandelion greens are perfect at helping the liver out in spring and summer.
Chilled Herb and Cucumber Soup
Equipment: High-speed Blender
Author:
Magdalena Wszelaki
Ingredients
2 tablespoons extra-virgin olive oil
2–4 cloves garlic
¼ cup lemon juice
½ cup chopped parsley
½ cup chopped cilantro
½ cup chopped and packed dandelion greens
1 cup packed baby spinach
4 cups chopped english cucumber
Sea salt and pepper to taste
Radishes, avocado, zucchini noodles, fresh herbs, edible flowers, and sprouts to garnish
How To Make
Combine everything but the garnish ingredients in a blender and blend until smooth. Taste and adjust seasoning as needed.
Once properly seasoned, place in the fridge to chill for at least 15 minutes, or up to a few days.
When you are ready to serve, pour into two bowls and garnish with sliced radishes, avocado, more herbs, and zucchini noodles.
Notes
Leftover soup can be stored in the fridge for up to 5 days.
Find more hormone-balancing recipes in Overcoming Estrogen Dominance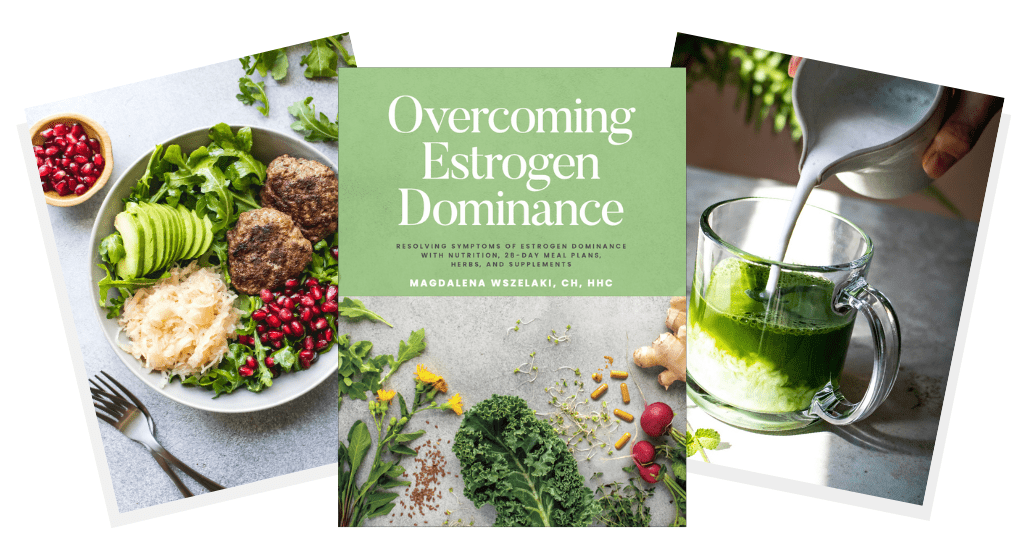 In Overcoming Estrogen Dominance, my goal is to empower and give you the tools to take control of your hormones and health.
More than 70% of women experience estrogen dominance. The symptoms range from lumpy and fibrocystic breasts to thyroid nodules, hot flashes, fibroids, uterine polyps, painful, heavy or irregular periods to infertility and miscarriages, from mood swings to insomnia, weight gain to fatigue.
In Overcoming Estrogen Dominance, I give women a roadmap to reverse estrogen dominance using food, herbs, supplements and natural protocols to rebalance hormones. You'll also find easy, hormone-balancing recipes that are free of gluten, dairy, soy, corn, eggs, and nightshades. These recipes are highly anti-inflammatory, low in sugar, and made with powerful medicinal ingredients to help heal your body naturally.
To get your copy of Overcoming Estrogen Dominance, go here.