Tuck into a big bowl of this flavorful immune-boosting veggie soup that's filled with anti-inflammatory and detoxing ingredients to help keep you nourished and healthy.
Benefits of Turmeric, Garlic, Ginger, and Lemon for the Immune System
This recipe includes ground turmeric, and fresh ginger, both of which are anti-inflammatory foods that can help reduce inflammation. Both turmeric and ginger are also rich in antioxidants that help to support a healthy immune system and combat free radicals.
Also included is lemon juice, which is rich in vitamin C and a great detoxifier. Garlic helps to reduce the severity of colds and flus, so it's perfect for preventing us from falling sick during the winter.
Benefits of Bok Choy and Shiitake
If you've never tried bok choy before, it's time to do so. Originating from the cruciferous family of vegetables (also known as the Brassica vegetable family), bok choy is commonly used in Asian cuisine. Extremely nutrient-dense, bok choy, as other Brassica vegetables, helps to fight and prevent cancer.
To add a "meaty" savory texture and flavor, this recipe also incorporates shiitake mushrooms. Shiitake mushrooms have long been used in traditional Asian medicine to improve blood circulation, the immune system and overall health. Benefits of the shiitake mushrooms include weight loss, improved gut immunity, lower inflammation, and reduced cancer risk.
Learn how to add more hormone-balancing ingredients to your meals with our FREE 15 Breakfasts to Rebalance Your Hormones guide here.
Recipe Tips
If you don't have fresh shiitake mushrooms on hand, dried shiitake mushrooms will work just as well. To prepare the dried mushrooms for use, place the dried shiitake in a bowl and cover with boiling water. Allow them to soak for 20 minutes until they almost double up in size. Drain the liquid (you can even reserve this liquid to use in stocks and soups), and use the soaked mushrooms as you would fresh ones.
I've also included two different versions of the recipe – one for cooking on the stovetop and one for a Crock Pot.
Immune-Boosting Turmeric Detox Veggie Soup
Equipment: Large pot or dutch oven
Author:
Magdalena Wszelaki
Ingredients
3 tablespoons olive oil
3 leeks, chopped
3 large carrots, sliced
1 tablespoon minced garlic
1 tablespoons sliced fresh ginger
8 cups vegetable stock
1 teaspoon ground turmeric
1 teaspoon dried rosemary
1 teaspoon red chili flakes
1 teaspoon Himalayan salt
4 cups fresh shiitake mushrooms, sliced (Can also use dried, see notes above)
4 cups bok choy
¼ cup fresh lemon juice
2 tablespoons chopped spring onions, for garnish
How To Make
In a large pot or dutch oven, heat oil over medium heat and sauté leeks and carrots until tender (approximately 10 minutes). Add chopped garlic and sliced ginger, and sauté until fragrant (approximately 5 minutes).
Add vegetable stock, lemon juice, ground turmeric, dried rosemary, red chili flakes, and salt, and stir well. Bring to a boil before reducing heat to low and allow to simmer for the next 30 minutes.
Add bok choy and sliced shiitake mushrooms and cook until bok choy is just tender (approximately 5 minutes). Discard ginger slices before serving.
Divide soup evenly between 4 bowls, top with fresh chopped spring onions, and serve.
Notes
Crock-Pot Directions
1. Place all the ingredients into the Crock Pot. Stir well to combine. Cover and cook on low for 5 to 6 hours, until carrots are tender.
2. Discard ginger slices before serving.
3. Divide soup evenly between 4 bowls, top with fresh chopped spring onions, and serve.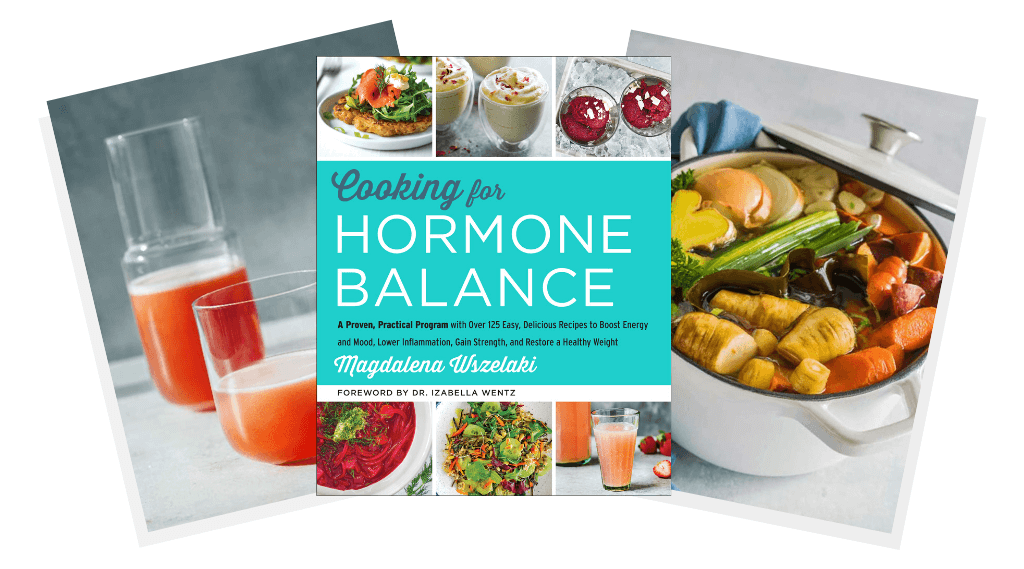 In my cookbook, Cooking For Hormone Balance, you'll find over 125 easy, delicious recipes to nourish your body and balance your hormones without calorie restriction or deprivation.
All of the recipes are based on 20 hormone-supporting superfoods and 20 hormone-supporting super herbs—with modifications for Paleo, Paleo for Autoimmunity (AIP), anti-Candida, and low-FODMAP diets.
You can get a copy of the cookbook here.