Eating clean can be problematic unless you have a plethora of recipes to choose from. This is especially true on Thanksgiving, a time for indulging.
But, if you have plenty of festive, healthy recipes at hand, it then becomes so nourishing that you never feel deprived.
That's what my team and I set out to do with this Thanksgiving guide. We compiled these wholesome Thanksgiving recipes, along with time-saving, foolproof tips to help you enjoy the day. We've got all of the main categories covered: turkey, side dishes, pies and sweets, and drinks.
We've also come up with the tips we wish we knew for our first Thanksgiving kitchen endeavors, including:
How to roast a turkey
How to prep ahead
How to style your dishes
How to make perfect gluten-free pie crust
How to lower the sugar content of treats
And where I go to get the goods for Thanksgiving
Your family may not even notice how healthy their Thanksgiving dinner is. Let us know what you decide to make!
The Turkey
Recipe: Garlic and Herb Roast Turkey
The truth is, there's nothing a turkey needs more than some herbs, aromatics, and a cooking fat to leave the skin golden brown and delicious.
This recipe from Delish keeps things fairly classic, with a blend of fresh garlic, thyme, and healthy fat-packed olive oil. Aromatics like lemon, carrots, and celery roast in the pan with the turkey for even more flavor and moisture.
Tips for the Perfect Turkey
Roasting the turkey is just one part of the turkey experience. Here are my tips for preparing a succulent Thanksgiving turkey.
1. Opt for a humanely-raised turkey free from antibiotics and artificial ingredients. Happy turkeys mean better, healthier meat.
2. Use veggies and herbs for aromatics. Like the recipe we've linked here, vegetables (like carrots, celery, and onions) and herbs (think thyme, rosemary, sage) add flavor when they're roasted in the pan with your bird, or stuffed in the turkey cavity.
3. To brine or not to brine? If you're looking to ensure a juicy, moist turkey, then brining might be your best bet. Here is an excellent turkey brine recipe we recommend by All Recipes. Just remember to use a high quality salt such as Himalayan salt or Celtic salt. We like to use Redmond's Real Salt.
4. Use cooking fat liberally. Whether you opt for olive oil or grass-fed butter, use it liberally. These are the ultimate tools to achieving golden brown perfection with a turkey.
5. Let it rest. Do not, under any circumstances, carve that turkey fresh from the oven. You'll be forgoing all its succulent juices. Let it rest and heat your prepped side dishes – more on that below.
Tip: Learn how to add more hormone-balancing ingredients to your meals with our FREE 15 Breakfasts to Rebalance Your Hormones guide here.
The Sides
"Cornbread" Thanksgiving Stuffing
Don't fret: Even if you're gluten-free, there are plenty of options to enjoy a crispy, roasty heaping of stuffing. This Paleo version whips up a gluten-free "cornbread," then tosses it with stuffing mainstays like mushrooms, apples, and pecans.
Wow your guests with a pumpkin serving vessel in this stuffed pumpkin side dish. The pumpkins are stuffed with fall flavors, including pecans, cranberries, and sage.
Fortunately, sweet potato casserole is made gluten and dairy-free with a few smart substitutions. You won't find cloying marshmallows in this version, but instead warm, maple flavor and lots of pecans.
This unique, festive side dish will entice your guests with its rich aroma as it cooks. This recipe is actually inspired by my mother, who often baked apples as I grew up. I especially loved this variation, with poppy seeds and nuts.
A loaf of bread is typical for a Thanksgiving spread, but this rosemary cashew focaccia keeps you in line with your health goals. This focaccia is gluten and grain-free.
A creamy, savory gravy elevates your meal to another level. This recipe is Paleo-friendly, and feel free to start with turkey drippings instead of stock if you have some after roasting the turkey.
How to Prep Ahead on Thanksgiving
Looking to make Thanksgiving day a bit less hectic? I recommend preparing several dishes in advance. Here's what I would do:
1. Whip up your casseroles in advance. Roasting a turkey and cooking several side dishes from scratch – all over the course of a few hours, while you try to mingle with guests – yeah, it can be stressful. I recommend preparing casseroles and easy sides a few days in advance, cooking them in the oven while the turkey rests.
2. Make the gravy ahead of time. Turkey gravy made with fresh turkey drippings is delicious, but if you'd like to save a step day of, go ahead and make your gravy in advance with stock, or better yet, bone broth.
3. Making a cranberry sauce or cold salad? Do it in advance. Cranberry sauce and other salads are easily made ahead, so go ahead and do it up to a few days in advance. If your salad includes dressing, leave that off until serving time.
4. You can freeze desserts! Want to get a jump on your Thanksgiving prep? There are a number of desserts you can prepare and freeze for the big day, including pies.
How to Style Your Sides
Follow these recipes, and you'll have an unforgettable meal. Let's make sure these sides look as appetizing as they taste.
1. Don't skimp on the garnishes. A few sprigs of thyme truly elevate a carved turkey, while a sprinkle of green onion or chives atop mashed potatoes (or cauliflower) livens things up.
2. Use whole fruit for a show-stopping bird. When presenting your completed roasted turkey, a few oranges, lemons or cranberries around the side look very inviting.
3. Sprinkle on some nuts. Made a fresh veggie side or perhaps even a veggie casserole? Nuts add tons of crunch and flavor, and they look amazing.
4. Finish off your desserts like a pro. For more decadence and a pretty finishing touch, whip up fresh coconut cream or zest a bit of lemon or orange atop. Shredded coconut works too.
The Pies
For a healthy and eye-catching twist on Thanksgiving dessert, give this nourishing sweet potato pie a try. The purple sweet potato is the cousin of the well-known orange sweet potato. It gets its purple color from anthocyanins (protect the liver from inflammation) and antioxidants. I find that this earthy recipe is a refreshing departure from using traditional sweet potato or pumpkin pie.
I learned how to make this recipe from my friend, Ease Oldham, who is a raw food chef. If you are looking for a Thanksgiving recipe with a difference, then this date-sweetened, no-bake pie is it.
This pie is so good, your guests may not believe it's totally free from gluten, grain, and dairy. Serve it with whipped coconut cream or dairy-free ice cream for extra oomph.
Tips for Flawless Gluten-Free Pie Crust
Gluten-free baking is tricky, since we're eliminating many traditional binding agents. But, it's not impossible. Follow these tricks, and you'll be a gluten-free pie crust pro.
1. Don't try to sub in gluten-free flours for conventional recipes. Sorry, you can't just sub in almond flour for all purpose in Nana's pie recipe. You'll want to follow a gluten-free recipe from the start, as different flours behave completely differently.
2. If you tolerate dairy, cold butter is an excellent tool. If you're able to, make your gluten-free crusts with cold butter. This makes any pie crust light and flaky.
3. Chill your dough. Because gluten-free pie doughs are a bit more fickle, you'll want to chill them before rolling them out to work with. Chill it for at least an hour (up to overnight), and it won't fall apart or drip melted butter.
4. FYI: It doesn't have to be a traditional crust. Gluten-free doughs that try to mimic original pies are cool, but there are plenty of alternatives. Use your food processor to whip up a nut-based "cookie" crust, or whip up a raw version that doesn't have to bake.
The Stuff That Isn't Pie
Sweet Potato Turmeric Truffles
These truffles offer up sweet potatoes – a Thanksgiving mainstay – in a fun, unconventional way. Plus, they're rich and packed with anti-inflammatory turmeric, cacao, and ginger.
No-Bake Brain Boosting Brownies
Free up some oven space with these no-bake brownies, complete with walnuts, cacao, and lion's mane for some major cognitive benefits.
I'll be honest. It's not often I get the urge to bake. But makowiec, or poppy seed cake, has always held a special place in my heart. This healthier version is perfect for Thanksgiving.
Cocoa and Cardamom Banana "Biscotti"
After consuming a major feast, sometimes, heavy cakes or pies are the last thing on your mind. This simple biscotti recipe satisfies a sweet craving without the sugar high. Pair it with a warm beverage.
How to Cut Down the Sugar in Your Thanksgiving Treats
Sugar finds its way into many Thanksgiving dishes, even ones you wouldn't expect. Here's the best way to nix added sugars.
1. Opt for natural sweeteners. In the above desserts, you'll only find natural sweeteners, like dates, maple syrup or honey. All of these sweeteners offer health benefits, unlike refined sugar.
2. Omit additional sweeteners entirely. In certain Thanksgiving treats, you might be able to nix any additional sweetener. If you cook apples down with spices, they might just be sweet enough in a pie to not require sweetener.
3. Or, at least, cut them back. If you think your treat still requires a bit more dates or honey, that's fine. Try cutting the amount you use back until it tastes appealing to you.
4. Also, try halving the amount of sugar. Half the amount of sugar and add stevia instead – you won't taste it but you'll reduce the sugar intake by half.
The Drinks
Most cocktails are a sugar bomb and cause more trouble than they're worth. That's why I developed this gin and tonic recipe, made with basil, lemon, and healthier-for-you gin.
If you're not in the mood to imbibe, no worries. This hibiscus rose cooler is refreshing and lightly sweet, and it's vibrant color matches the holidays. Feel free to serve it punch-bowl style.
Like cocktails, many wines and wine drinks are too packed with added sugar and artificial ingredients to be worth the (literal) headache. But this white wine spritzer requires only good, natural wine, a lime wedge, and mineral water.
By the way, I recommend you get your wine from Dry Farm Wines or their sister label, bolixir. These natural wines are free from additives, made with native yeasts, and lab-tested for purity. They're also sugar-free and low alcohol, so you won't have to regret sipping on them the next morning.
Plus, if you follow the link for Dry Farm Wines above, you'll be able to get an extra bottle for a penny if you sign up for their subscription (does not apply to bolixir). Check it out.
The Good Stuff I Personally Use and Recommend
Our turkey recipe in this guide calls for olive oil, and I strongly recommend a bottle of fresh-pressed olive oil from The Fresh-Pressed Olive Oil Club. Olive oil connoisseur T.J. Robinson sends out quarterly shipments of artisanal olive oil immediately after its harvest, and there's just nothing like it in flavor or freshness.
You're bound to be left with a fair share of Thanksgiving leftovers this holiday. Rather than using unsustainable plastic cling wrap, whip for these reusable food storage wraps. They're ideal for covering leftovers in bowls, baking dishes, or wrapping up leftover bread.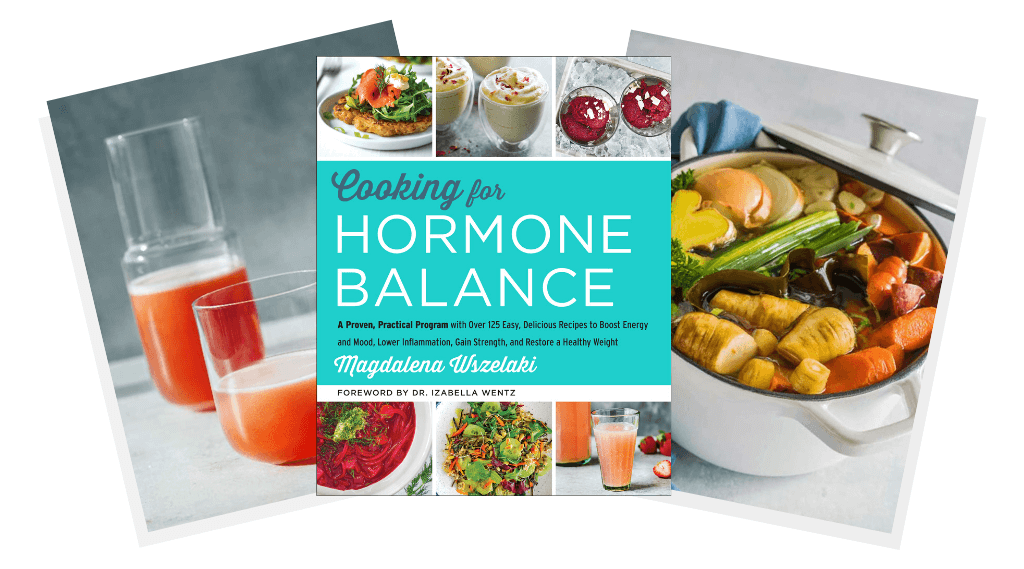 In my cookbook, Cooking For Hormone Balance, you'll find over 125 easy, delicious recipes to nourish your body and balance your hormones without calorie restriction or deprivation.
All of the recipes are based on 20 hormone-supporting superfoods and 20 hormone-supporting super herbs—with modifications for Paleo, Paleo for Autoimmunity (AIP), anti-Candida, and low-FODMAP diets.
You can get a copy of the cookbook here.