Here you go…a rich chocolate brownie that offers an abundance of health benefits too.  
Aside from being perfectly sweet, rich in chocolate, and moist, these brownies have a lot to offer for your health. I like to think of them as a brain-boosting brownie, perfect for that afternoon pick me up, dessert, or any time you feel the urge for chocolate. Along with beloved cacao, we are adding Lions Mane, which is a type of mushroom that is popular for its medicinal properties for the brain, heart, and gut. Its ability to increase cognitive function, especially focus and memory, has attracted many people to add this into their daily regimen.
In addition to the cacao and mushroom, we have also added walnuts as an additional brain-boosting ingredient.
The best part is that these brownies are super easy to make. There is no cooking required, and the batter can be eaten raw.
Stored in the refrigerator, they will last a few weeks. You may freeze them for longer storage, but I doubt they will last that long.
Learn how to add more hormone-balancing ingredients to your meals with our FREE 15 Breakfasts to Rebalance Your Hormones guide here.

No Bake Brain Boosting Brownie
Equipment: food processor
Author:
Magdalena Wszelaki
Ingredients
1½ cups pitted dates
1 cup water
3½ cups walnuts, divided
1½ cups cacao powder
1 tablespoon Lions Mane powder (try this one)
1 teaspoon ground cinnamon
¼ cup raw honey
¼ cup melted coconut oil
1 teaspoon vanilla extract
½ cup reserved date liquid
Pinch sea salt
How To Make
Soak the dates in water for about 15 minutes.
In a food processor, pulse 3 cups walnuts, cacao, lions mane, cinnamon, and salt into a fine crumble. This should be fine, but not so much that it starts to clump together.
Transfer dry mix to a medium size bowl.
Add the dates, ½ cup of the date water, vanilla, coconut oil, and honey to the food processor.
Pulse a few times, and scrape down sides. Then continue to puree into a smooth paste.
Add paste to dry mix and with a spatula mix well until it is all incorporated.
Line a 9 x12 dish with parchment paper.
Press brownie into the dish.
Add ½ more cup walnuts to the food processor and pulse into a crumble.
Top brownie with walnut crumble
Cover and refrigerate for 1 hour or place in freezer for an additional time to set.
Once brownies have set, gently lift the edge of parchment paper to pop them out.
Cut into squares, and enjoy!
Store in the refrigerator for up to 3 weeks, and in the freezer for months.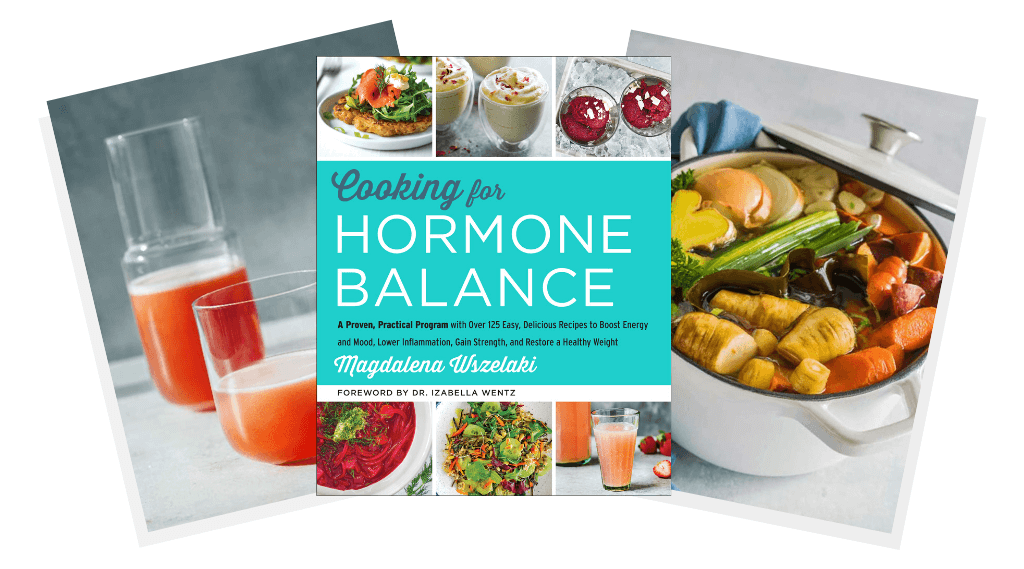 In my cookbook, Cooking For Hormone Balance, you'll find over 125 easy, delicious recipes to nourish your body and balance your hormones without calorie restriction or deprivation.
All of the recipes are based on 20 hormone-supporting superfoods and 20 hormone-supporting super herbs—with modifications for Paleo, Paleo for Autoimmunity (AIP), anti-Candida, and low-FODMAP diets.
You can get a copy of the cookbook here.