Your energy is running low, and you're looking for a bit of a snack. But you don't want something that's loaded with sugar – which will spike your blood sugar.
What should you snack on?
This bread is perfect for that conundrum.
It's chocolatey, but not loaded with sugar. It gets its sweetness from bananas and tigernuts.
If you're new to tigernuts, you're going to be in for an unbelievably pleasant surprise. They are paleo, nut and gluten-free. The reason that they fall into so many categories is because they're not nuts at all. Tigernuts are actually small root vegetables. They are also high in probiotics which feed the good gut bacteria.
You can buy tigernut flour, or you can make your own in just a couple of seconds. The trick is to purchase them sliced, and then just whiz them up in your spice grinder.
The flavors of cardamom, bananas, and chocolate combine perfectly in this little bread. And that's why I called it "biscotti," because it whips up a diminutive little loaf that resembles its Italian cousin. Unlike biscotti, it's not brittle – it's soft and succulent. This is a pretty guilt-free snack that will fill that sweet craving perfectly.
Learn how to add more hormone-balancing ingredients to your meals with our FREE 15 Breakfasts to Rebalance Your Hormones guide here.

Cocoa and Cardamom Banana "Biscotti"
Author:
Magdalena Wszelaki
Ingredients
2 tablespoons ground flax seed
5 tablespoons water
2 ripe bananas
¼ cup melted ghee
1 teaspoon apple cider vinegar or lemon juice
1 teaspoon ground cardamom
1 ½ cups tigernut flour - where to buy
1 teaspoon baking soda
½ teaspoon ground sea salt
1 tablespoon dark cocoa powder
How To Make
Preheat the oven to 350F.
Combine the flax seed and water in a small bowl and stir well. Refrigerate for 15 minutes.
Combine all of the wet ingredients (including the soaked flax "eggs") in a medium bowl. Mash to break up the bananas and stir until well mixed.
Combine dry ingredients in a standing mixer fitted with a paddle attachment. Mix on low for 15 seconds. Add wet ingredients and mix on low until just combined.
Line the loaf pan with parchment paper and grease it. Make sure that the parchment is tall enough that it runs up the sides to create handles to pull the bread out after it's baked.
Pour the dough into the prepared pan. Smooth out with an offset spatula.
Bake for 35-40 minutes, or until a toothpick inserted into the center comes out cleanly.
Let the pan cool on a cooling rack.
Once cooled, invert the bread onto the rack.
To store: Wrap the bread in plastic wrap. It will keep for 3-4 days at room temperature.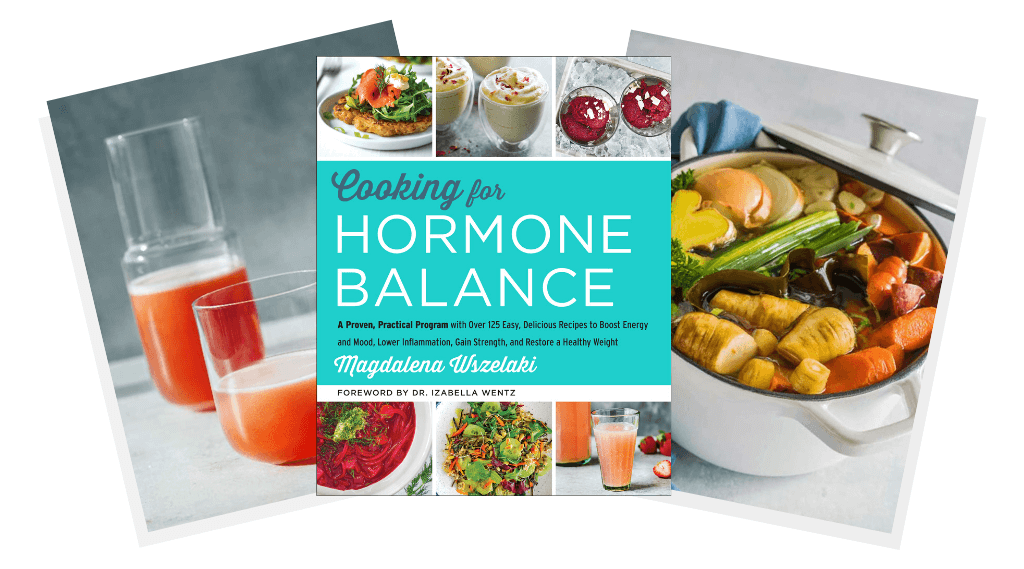 In my cookbook, Cooking For Hormone Balance, you'll find over 125 easy, delicious recipes to nourish your body and balance your hormones without calorie restriction or deprivation.
All of the recipes are based on 20 hormone-supporting superfoods and 20 hormone-supporting super herbs—with modifications for Paleo, Paleo for Autoimmunity (AIP), anti-Candida, and low-FODMAP diets.
You can get a copy of the cookbook here.