When we are on a gluten-free, egg-free and dairy-free diet, bread is one of the things that we miss the most. That is why I developed this rosemary cashew focaccia recipe, which is not only gluten-free but also grain free and uses no dairy or eggs.
This focaccia uses flax eggs (a combination of ground flaxseed and water) to give it the binding powder needed. Made mainly with raw cashews that have been soaked in hot water to reduce the phytic acid and to make the nuts gentler on the digestive system, this focaccia has a beautiful moist crumb and has a combination of savory rosemary and slightly sweet cashews.
When the focaccia is ready, it will be a beautiful golden brown. Allow the focaccia to completely cool for at least 30 minutes before slicing into it as it will continue cooking on the inside even after it is removed from the oven.
Learn how to add more hormone-balancing ingredients to your meals with our FREE 15 Breakfasts to Rebalance Your Hormones guide here.
Rosemary Cashew Focaccia
Author:
Magdalena Wszelaki
Ingredients
2 cups raw cashews
3 flax eggs: 3 tablespoons ground flaxseed + ½ cup water
2 tablespoons water
4 tablespoons coconut oil, melted
½ cup tapioca starch
2 teaspoons baking powder
1 teaspoon sea salt
1 tablespoon fresh rosemary, roughly chopped
1 teaspoon coarse sea salt, for sprinkling
How To Make
Pre-heat oven to 350F, and line a baking sheet with parchment paper or a silpat.
Combine flaxseed meal with water to form the flax eggs. Mix well and set aside for 15 minutes.
Soak raw cashews in hot water for 15 minutes, then rinse.
Place soaked cashews, flax eggs, water, melted coconut oil, tapioca starch, baking powder, and table salt in the bowl of an electric blender and process until you get a thick and homogeneous batter.
Stir in half the amount of rosemary into the batter.
Pour batter onto the prepared baking sheet and use a spatula to smooth it out into a ¾-inch thick circle.
Sprinkle coarse sea salt and the rest of the rosemary on top of the batter, using your fingers to gently press the rosemary and salt unto the batter.
Bake for 50 to 55 minutes, until the focaccia is golden brown and a toothpick inserted in the middle comes out clean.
Let focaccia cool for at least 30 minutes before slicing as it will continue cooking on the inside after being removed from the oven.
Slice rosemary cashew focaccia and serve with olive oil.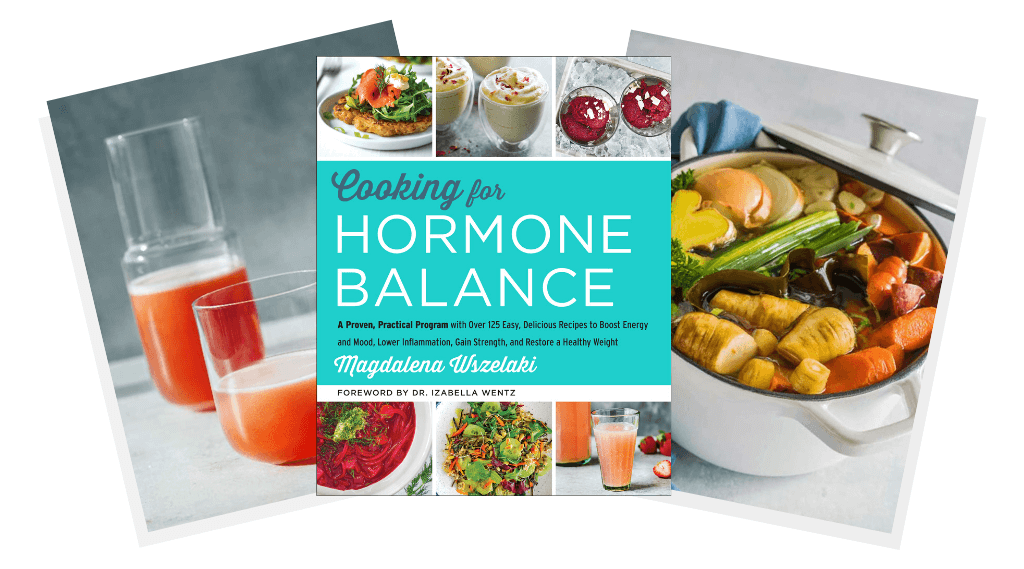 In my cookbook, Cooking For Hormone Balance, you'll find over 125 easy, delicious recipes to nourish your body and balance your hormones without calorie restriction or deprivation.
All of the recipes are based on 20 hormone-supporting superfoods and 20 hormone-supporting super herbs—with modifications for Paleo, Paleo for Autoimmunity (AIP), anti-Candida, and low-FODMAP diets.
You can get a copy of the cookbook here.