This baked stuffed pumpkin recipe is easy and fun to make. A perfect and nourishing meal for a cold winter dinner table. Also makes a tasty side dish for your dinner table.
Learn how to add more hormone-balancing ingredients to your meals with our FREE 15 Breakfasts to Rebalance Your Hormones guide here.

Baked Stuffed Pumpkin
Author:
Magdalena Wszelaki
Ingredients
1 medium size pumpkin
2 cups brown rice, cooked
1 cup pecans, chopped
1½ cups of cranberries
1 cup chicken stock
2 teaspoons of salt
2 tablespoons of flax seed meal (ground flax seed)
2 stalks of sage, chopped
2 tablespoons olive oil
How To Make
Preheat the oven to 400F (200C).
Cut the top of the pumpkin off with a sharp knife, scoop out the seeds, rub the outside the pumpkin with some olive oil.
Make the stuffing by combining all the ingredients in a bowl.
Stuff the pumpkin and cover it with the pumpkin top.
Place the pumpkin on a tray and bake for an hour or until very soft when poked with a fork.
Can be served as a main or as a side dish.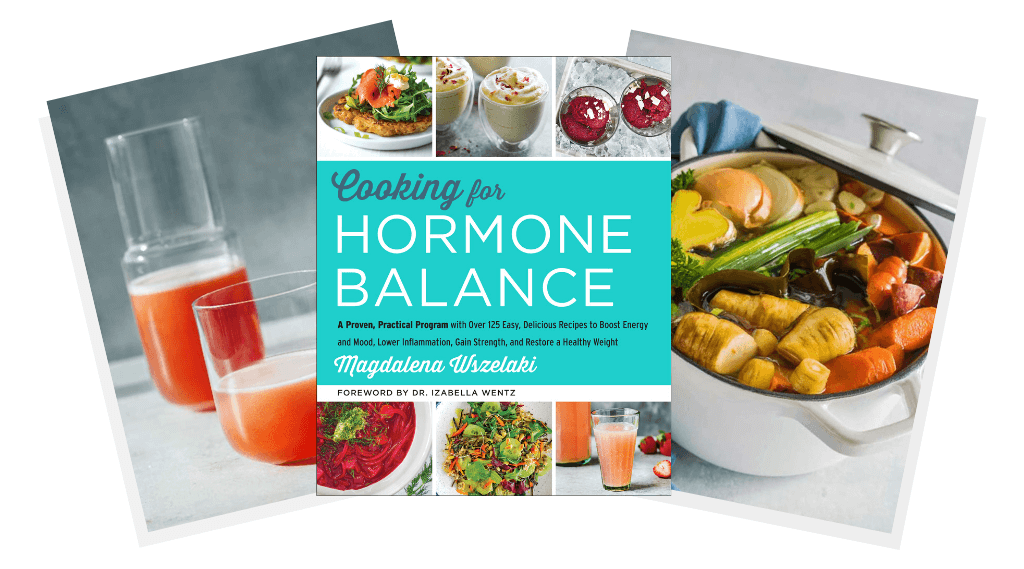 In my cookbook, Cooking For Hormone Balance, you'll find over 125 easy, delicious recipes to nourish your body and balance your hormones without calorie restriction or deprivation.
All of the recipes are based on 20 hormone-supporting superfoods and 20 hormone-supporting super herbs—with modifications for Paleo, Paleo for Autoimmunity (AIP), anti-Candida, and low-FODMAP diets.
You can get a copy of the cookbook here.