With this smoothie, I would like to show you how delicious breakfast can be without having any sugar at all. It might be a bit of an adjustment to be eating savory food for breakfast. The upside will be: far more energy and mental focus throughout the day. Your taste buds will adjust as well and sweet breakfasts might not be tasting as good as they once did.
Learn how to add more hormone-balancing ingredients to your meals with our FREE 15 Breakfasts to Rebalance Your Hormones guide here.

Supergreen Basil Smoothie
Equipment: Blender
Author:
Magdalena Wszelaki
Ingredients
1 small zucchini
Handful of basil
Handful of parsley
Handful of sprouts
1 carrot
2 tsp lime juice
zest from ½ lime
¼ tsp sea salt
¼ cup of olive oil
2 cloves of garlic
½ tsp ground cumin
¼ inch ginger root
½ cup of water
1 scoop collagen (get Wellena Collagen here)
How To Make
Just blend it all up!
Notes
Modifications

AIP: Skip the cumin. Optional: If eating as a breakfast, add a breakfast sausage or leftover meat for extra protein.

Low-FODMAP: Skip garlic. Optional: Replace olive oil with garlic infused olive oil.

Low-Histamine: Replace lime juice with apple juice. Replace lime zest with a pinch of sea salt. Skip garlic and olives. Optional: Replace olive oil with garlic infused olive oil.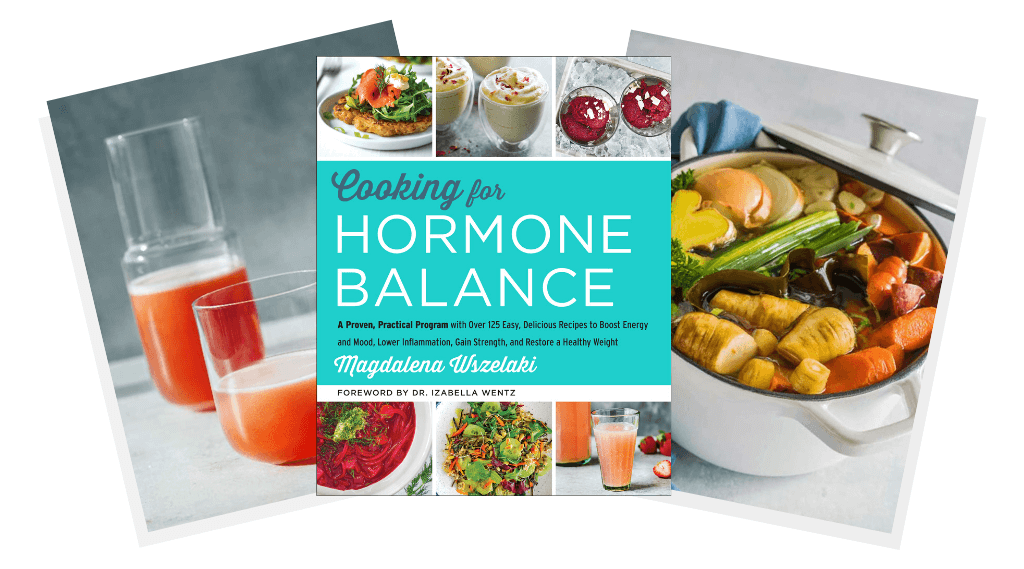 In my cookbook, Cooking For Hormone Balance, you'll find over 125 easy, delicious recipes to nourish your body and balance your hormones without calorie restriction or deprivation.
All of the recipes are based on 20 hormone-supporting superfoods and 20 hormone-supporting super herbs—with modifications for Paleo, Paleo for Autoimmunity (AIP), anti-Candida, and low-FODMAP diets.
You can get a copy of the cookbook here.