You probably know by now that I'm much more in favor of savory breakfasts than sweet ones. Every time I eat something sweet for breakfast, I feel hungry by 11am and need to eat again. Many of my clients also say that savory breakfasts keep them going for much longer as their energy levels are distributed much more evenly throughout the day.
When working on developing more savory breakfast ideas that are not egg-based, I suddenly recalled a breakfast I used to enjoy a long time ago when in an ashram in India. Many mornings, we were served millet porridge that was cooked with mustard seeds, ginger, cumin, green chilies and curry leaves. It was a divine breakfast and I made it for months after coming home. I have since forgotten it. Until now!
In this recipe, I chose to use amaranth (I prefer the taste) but you can easily replace it with millet.
The yellow color of the porridge comes from turmeric – an ancient, highly anti-inflammatory, warming and healing Indian spice.
Learn how to add more hormone-balancing ingredients to your meals with our FREE 15 Breakfasts to Rebalance Your Hormones guide here.

Warming Amaranth Porridge
Author:
Magdalena Wszelaki
Ingredients
1 cup of amaranth
4 cups of filtered water
1 tbsp ghee
½ tsp cumin
½ tsp mustard seeds
½ inch fresh ginger, julienned
½ tsp sea salt
½ tsp apple cider vinegar (ACV) or lemon
1 tsp dry turmeric
1 tbsp raw unsalted butter or ghee
a handful of raw pumpkin seeds
How To Make
Use a heavy-bottom pan to melt the ghee and add cumin, ginger and mustard seeds when hot.
When mustard seeds start popping, add water, amaranth and salt.
Bring to boil, then put on low-medium fire and cook covered for 25-30 minutes or until creamy and thick.
Take off the stove and add butter (or ghee), ACV and turmeric.
Sprinkle with pumpkin seeds.
Notes
Paleo: Replace amaranth with almond flour. Replace ghee with coconut oil, if sensitive to dairy.

AIP: Replace amaranth with plantain flour. Replace ghee with coconut oil. Skip the cumin and mustard seeds. Replace pumpkin seeds with 2 tbsp shredded coconut.

Low-FODMAP: Use lemon juice instead of ACV.

Low-Histamine: Replace lemon/ACV with apple juice. Replace pumpkin seeds with crushed cashews.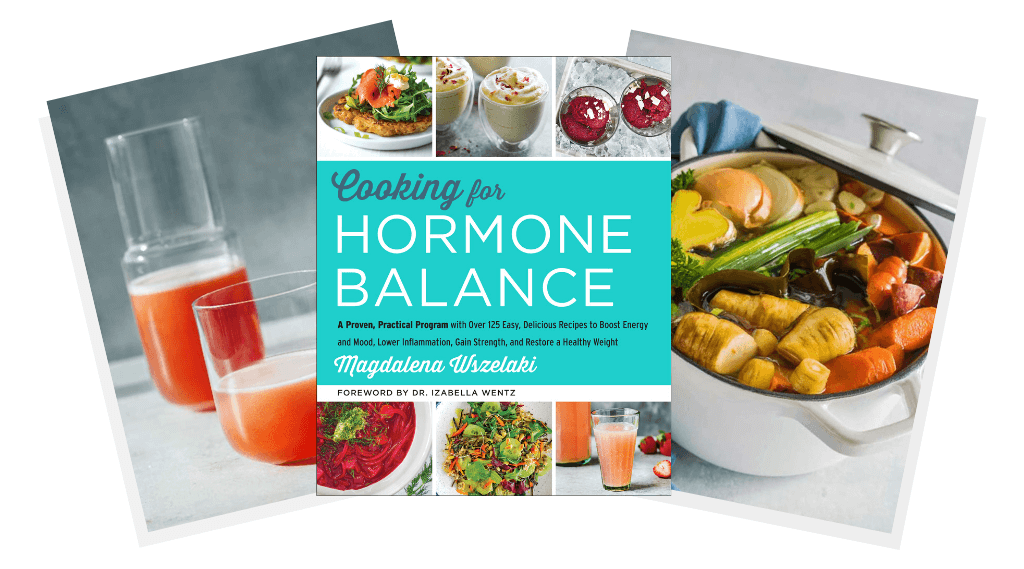 In my cookbook, Cooking For Hormone Balance, you'll find over 125 easy, delicious recipes to nourish your body and balance your hormones without calorie restriction or deprivation.
All of the recipes are based on 20 hormone-supporting superfoods and 20 hormone-supporting super herbs—with modifications for Paleo, Paleo for Autoimmunity (AIP), anti-Candida, and low-FODMAP diets.
You can get a copy of the cookbook here.