This recipe is fantastic in so many ways.
To start with, cold rice is high in resistant starch, which is a prebiotic, or food for the good bacteria. Resistant starch helps beneficial bacteria to colonize the gut for them to stay there longer and be more effective.
While most grains offer a healthy dose of fiber and beneficial carbohydrates, there are some that are superior to others, and wild rice is one of them.
Like quinoa, Wild rice has a higher protein content. It is also rich in antioxidants, B vitamins, magnesium, fiber, and many other nutrients. It is known for improving the digestive system and increasing energy levels.
Aside from the health benefits, the nutty and chewy texture is a fresh unique twist on other traditional rice dishes.
In this recipe, we combine red apple, chickpeas, pumpkin seeds, goji berries, and fresh mint to create a beautiful dish that satisfies all the senses. It is refreshing, wholesome, and filling.
This recipe is super fast, simple, and will store well refrigerated for up to one week.
For more information on resistant starches, go to this article.
Learn how to add more hormone-balancing ingredients to your meals with our FREE 19 Estrogen Balancing Superfoods Guide here.
Other RS Recipes to try:
Creamy Prebiotic Potato Salad
No Bake Green Banana RS Cookies

Prebiotic Rich Wild Rice Protein Salad
Author:
Magdalena Wszelaki
Ingredients
1 cup wild rice (option to soak rice overnight for optimal digestion)
2 cups water
1 red apple, chopped
¼ cup pumpkin seeds
¼ cup goji berries
½ cup cooked chickpeas (if using canned drain liquid and rinse)
¼ cup fresh mint, chopped
Juice of ½ lemon
¼ teaspoon sea salt
2 tablespoons EVOO
Black pepper to taste
How To Make
Rinse rice well
Transfer to a small pot along with water
Bring to a boil, reduce heat, and simmer for 40 minutes. Rice should be chewy but tender.
Allow rice to cool
In a bowl, add rice and all remaining ingredients
Mix and season to taste.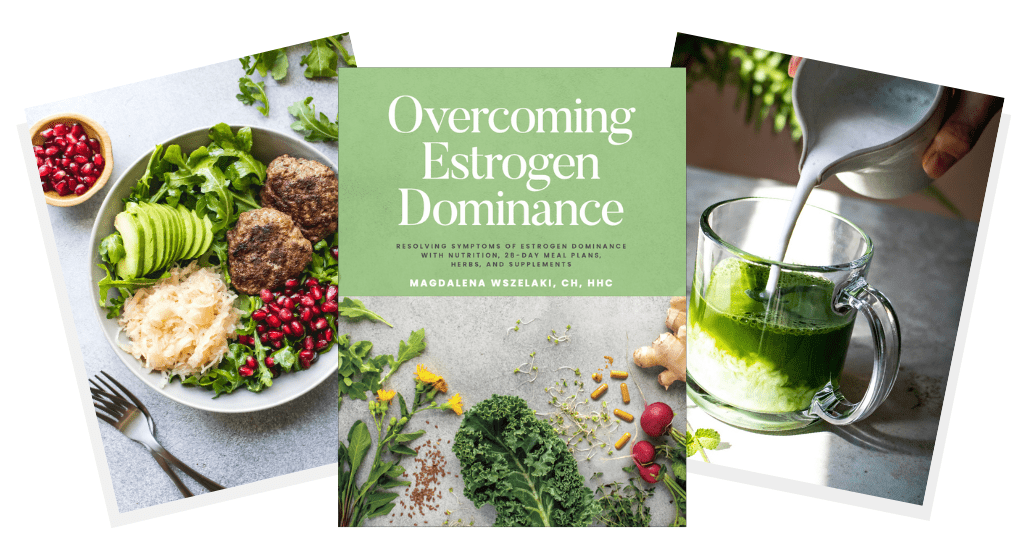 Learn more with Overcoming Estrogen Dominance
"The body has an amazing ability to heal. We just need to give it the right resources."
In Overcoming Estrogen Dominance, my goal is to empower and give you the tools to take control of your hormones and health.
More than 70% of women experience estrogen dominance. The symptoms range from lumpy and fibrocystic breasts to thyroid nodules, hot flashes, fibroids, uterine polyps, painful, heavy or irregular periods to infertility and miscarriages, from mood swings to insomnia, weight gain to fatigue.
So many women have experienced the pain and frustration that comes when they feel their symptoms and complaints are dismissed or minimized. This is particularly true for women who are experiencing the symptoms of hormone imbalance. Even when doctors do offer treatment, it's typically in the form of prescription medication or invasive surgical procedures.
In Overcoming Estrogen Dominance, I hope to show that those extreme interventions are often unnecessary, and to give women a roadmap to reverse estrogen dominance using food, herbs, supplements and natural protocols to rebalance hormones.
To get your copy of Overcoming Estrogen Dominance, go here.