Have you tried the Instant Pot yet? This multi-use device is a mainstay in my kitchen, for one good reason: It makes cooking healthy comfort food easy.
I can't be tempted by having no time to cook – the Instant Pot can prepare healthy, hormone-balancing meals in minutes. It's great for soups, stews, quinoa bowls, vegetable medleys and more.
Below, I'll discuss the main reasons I love my Instant Pot, along with tips to keep your Instant Pot cooking endeavors running smoothly. I hope this will encourage you to get your own, so you too can have this healthful cooking tool in your arsenal.
If you do decide to get an Instant Pot, or already have one, I've compiled some of the best hormone-balancing ingredients and recipes to put your Instant Pot to work. I've included meals that are vegetable-based, or with a healthy fat content, and high-fiber options.
Why I Love Using My Instant Pot
There's a simple reason why I love my Instant Pot: It makes healthy eating simple and accessible. There's no excuse for not eating well, because the Instant Pot produces healthy meals in minutes.
With the Instant Pot, you can have a wide array of healthy meals on the table in a fraction of the time it takes to cook them on the stove. It's also an excellent meal prep tool: Use it to prep large batches of meals to be enjoyed throughout the week, to make hard-boiled eggs, sweet potatoes, whole grains and more.
In fact, I own two Instant Pots for two different needs:
If you haven't taken the plunge and bought yourself an Instant Pot, I recommend it. I think you'll love it as much as I do.
Tips for Making Easy Instant Pot Meals
Once you get used to it, the Instant Pot is remarkably easy to use. Still, it's helpful to know some tips to make cooking your healthy meals run as planned.
1. Always use liquid when pressure cooking: The Instant Pot relies on steam to build the pressure that cooks your food. To make steam, it needs at least ½ cup to 1 cup of liquid.
2. Make use of all of the Instant Pot functions: The Instant Pot may be famous for its quick-cooking pressure cooker function, but there's a host of appliances built into this one pot. Use it to saute your meats before pressure cooking, use the slow cooker function, or use it to keep food warm. That's just a fraction of the things it can do.
3. Account for the time to come up to pressure: When you read Instant Pot recipes that tell you it only requires a 10 minute cook time, remember to account for the time the pot will take to come up to pressure. This is typically around 10 to 15 minutes.
4. And, account for the time the pressure needs to release: Once the Instant Pot has cooked your meal, you'll need to release the pressure. There are two options for this: A manual release, where you turn the dial as soon as the timer goes off, or a natural release, where you wait for the pressure to release on its own. A natural release takes a significant chunk of time. Instant Pot recipes typically tell you which option is best for the recipe.
Hormone-Balancing Ingredients to Use
Here, I'd like to list some of the best ingredients to keep your hormones in balance.
Cooking Fats:
Ghee
Olive oil
Coconut oil
Nuts/Seeds:
Flaxseed
Sesame seeds
Sunflower seeds
Pumpkin seeds
Walnuts
Brazil nuts
Fruits and Vegetables:
Broccoli sprouts
Cruciferous vegetables
Pomegranate
Coconut
Garlic
Onion
Berries
Citrus
Herbs/Spices:
Parsley
Cilantro
Dandelion (root and leaves)
Dong Quai (Angelica)
Thyme
Oregano
Rosemary
Cinnamon (Ceylon, not cassia)
Matcha
Maca
Tulsi tea
Turmeric
Slippery Elm
Ginger
Cumin
Fennel
Nettle
Cacao
Maca
Cardamom
Kudzu
Raspberry leaves
Fenugreek
Other:
Gelatin
Camu
Sauerkraut
Liver
Seaweed
Salmon
Medicinal mushrooms
Below, you'll find recipes with many of these ingredients, as well as healthy vegetable-based, healthy fat-based, and fiber-rich options.
14 Vegetable Instant Pot Recipes
Instant Pot Chickpea Warming Dhal
Cozy up to this hearty vegetable-based chickpea dhal on a cold day. Spices, like turmeric and ginger, will help with digestion and absorption of nutrients.
Instant Pot Steamed Vegetables
Pack your diet with vibrant vegetables made easy, thanks to the Instant Pot. This blend of broccoli, cauliflower, carrots, and colorful bell peppers is a real winner.
Instant Pot Asparagus with Garlic Lemon Pepper
This easy asparagus recipe cooks up in 15 minutes flat, with bright flavors like lemon and garlic.
Instant Pot Homestyle Vegetables
With a comforting blend of carrots, green beans, and potatoes, this dish is the perfect accompaniment to a nice, grass-fed steak. Plus, they offer lots of fiber.
This vegetable soup packs in nutrients in record time; it only takes 35 minutes to infuse big flavors with hearty vegetables like carrots and potatoes.
Did you know you could make this cruciferous vegetables in the Instant Pot? It takes just a few minutes, and can be customized to your liking.
Perfect Pressure Cooker Cauliflower Rice
This foolproof cauliflower rice recipe makes good use of the Instant Pot. Follow the instructions for a basic recipe, then customize it whichever hormone-balancing herbs you'd like.
You'll love all of the bold flavors and nutrient-packed vegetables in this Instant Pot curry, including delicata squash, kale, and chickpeas. You'll also get the anti-inflammatory benefits of cayenne and ginger.
While it's not quite a "recipe," this foolproof Instant Pot method for cooking sweet potatoes is a must-know. I definitely recommend the second step to crisp up the skin.
Did you know you can make hummus in the Instant Pot? It's the perfect tool for tenderizing your chickpeas.
Instant Pot Paleo Cauliflower Mushroom Risotto
This cauliflower mushroom risotto is hearty and satisfying, even without the grains. The Instant Pot offers a convenient alternative to standing over the stove and constantly stirring.
These butter chickpeas are every bit as satisfying as the chicken-based Indian dish. You get the benefit of an anti-inflammatory spice blend with turmeric, cayenne, and more.
Instant Pot Mashed Cauliflower
Get a healthy dose of vitamin C with this mashed cauliflower recipe. I'd add a nice dollop of grass-fed butter for richness.
Instant Pot Jackfruit Carnitas
These meat-free carnitas are an excellent way to pack in more produce, as jackfruit makes a very convincing pork substitute.
Learn how to add more hormone-balancing ingredients to your meals with our FREE 15 Breakfasts to Rebalance Your Hormones guide here.
12 Healthy Fat Instant Pot Recipes
Instant Pot Salmon with Chili-Lime Sauce
The chili-lime sauce is what really sets this salmon apart, thanks to the blend of jalapeño, lime, garlic, honey, and spices.
Instant Pot Lemon Pepper Salmon
Here's a salmon recipe to convince you that you need to try salmon in your Instant Pot. You'll enjoy silky, luscious fish every time.
This hands-off salmon recipe comes together in 20 minutes. It fills you up on healthy omega 3 fatty acids, too.
Perfect Instant Pot Soft-Boiled Eggs
More of a method than a recipe, this Instant Pot tutorial for soft boiled eggs has them come out perfect every time. Serve it atop your favorite vegetable stir fry for a hearty meal.
Instant Pot Lemon-Dill Salmon and Asparagus
Make a complete meal in the Instant Pot with this asparagus and salmon recipe. Dill, lemon, garlic, and sea salt offer bright flavors.
Instant Pot Breakfast Casserole
Even without dairy or grains, this healthy fats-filled breakfast casserole satisfies in the morning.
Instant Pot Chicken Tikka Masala
Creamy coconut milk brings a healthy fat content to this tasty. Chicken Tikka Masala.
This chili cuts carbs, but offers a good dose of fat, as ground beef is naturally higher in fat. Note, make sure to use grass-fed, free-range beef when possible to get the most benefits.
Deviled eggs allow you to enjoy the healthy fat content of eggs in the most delicious way possible. These deviled eggs invite customization, like guacamole and radish, or prosciutto and cucumbers.
Instant Pot lemon-infused chicken breast joins bacon, crunchy radish, eggs, and avocado for a vibrant, fueling meal any time of day.
Savory, creamy, and sustaining, this chicken avocado soup is the perfect meal prep lunch or dinner.
Use your Instant Pot to prep the eggs for this creamy, healthy fat-packed egg salad.
11 High Fiber Instant Pot Recipes
Instant Pot Bison and Cabbage Stew
Load up on fibrous vegetables including carrots, cabbage, and onion along with bison, which has as many omega 3 fatty acids as salmon.
Quinoa offers plenty of fiber when compared to most grains. This easy Instant Pot quinoa pilaf packs in savory flavor with ingredients like celery, onion, paprika, garlic, and more.
Be sure to use brown rice in this hearty soup recipe, as white rice is comparatively much lower in fiber and health benefits.
This well-spiced Instant Pot Spanish quinoa makes for a perfect, fiber-rich alternative to Spanish rice on a Mexican-themed night.
Mix things up and sub in quinoa for your rice in this recipe. It still boasts all the same delicious trappings of fried rice, like carrots, peas, and egg.
Instant Pot Chicken and Wild Rice Soup
Creamy and rich, this chicken and wild rice soup is still dairy-and-gluten-free.
Keto Beef Stew in the Instant Pot
This beef stew packs in vegetables that offer a healthy dose of fiber, along with plenty of protein, Vitamin K, B6, B12 and Zinc.
Instant Pot Chicken Soup with Kale
You can enjoy the immunity-boosting benefits of chicken soup, with a side of healthy fiber thanks to the addition of kale.
Instant Pot Lemon Quinoa Vegetable Salad
Bright, flavorful, and filling, this quinoa salad features crunchy bell peppers, Persian cucumbers, olives, dried cranberries, and pumpkin seeds.
Quinoa Vegetable Biryani in Instant Pot
Ready for a hearty, healthy one-pot meal? This quinoa vegetable biryani includes whichever vegetables you'd like. Skip the paneer option to keep it dairy-free.
The earthy flavor of wild rice is complemented by sliced almonds, mushrooms, and dried cranberries in this pilaf.
Where to get an Instant Pot
You can find instant pots at most major retailers, or you can buy them directly from the source, here. As I mentioned earlier, I use the 3-quart (for quick rice, oatmeal, and buckwheat) and the 6-quart (for bone broths, soups, stews). There are many other options when it comes to Instant Pots, and I encourage you to browse and find the right one that fits your lifestyle.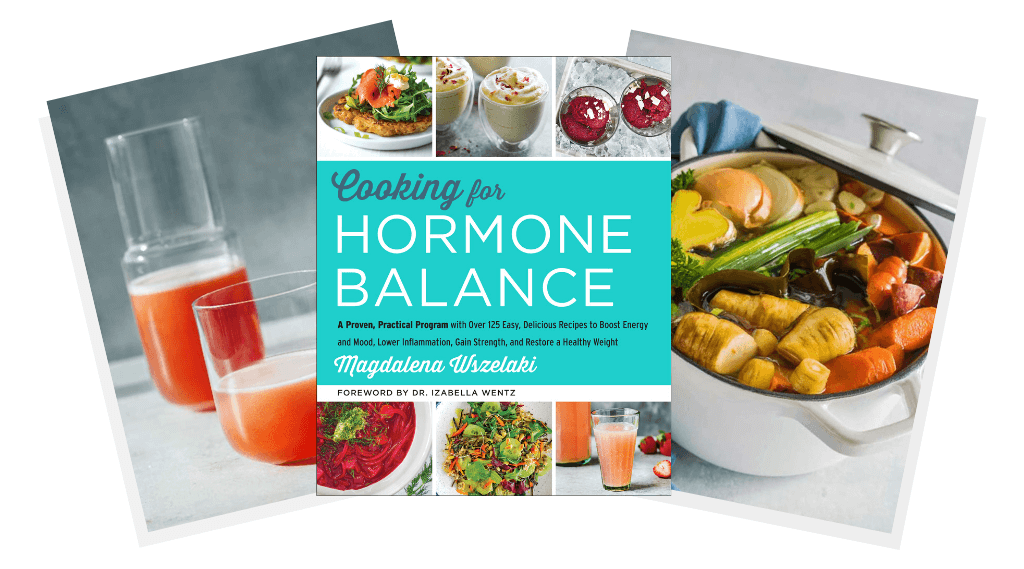 In my cookbook, Cooking For Hormone Balance, you'll find over 125 easy, delicious recipes to nourish your body and balance your hormones without calorie restriction or deprivation.
All of the recipes are based on 20 hormone-supporting superfoods and 20 hormone-supporting super herbs—with modifications for Paleo, Paleo for Autoimmunity (AIP), anti-Candida, and low-FODMAP diets.
You can get a copy of the cookbook here.