Here is another recipe using simple seeds to be enjoyed for its healing medicinal qualities.
Seed Rotation can be used by anyone experiencing symptoms of estrogen dominance (can be menopausal women, too)
Here is the key idea: Seed rotation can be used to boost estrogen levels in the first part of your cycle (called the follicular phase) and progesterone levels in the second part (called the luteal phase).
Women in perimenopause and menopause will also benefit from this method.
Alternate using the luteal seeds (sesame and sunflower) and the follicular seeds (pumpkin and flax) depending on where you are in your cycle.
[adrotate banner="26″]
Seed Rotation Pesto
Author:
Magdalena Wszelaki
Ingredients
1 cup parsley, packed
1 cup cilantro, packed
1 cup dandelion greens, packed
1 tablespoon lemon juice
2 cloves garlic, minced
1 teaspoon sea salt
½ cup olive oil
2 tablespoons ground sesame seeds during luteal stage (or ground pumpkin seeds during the follicular stage)
2 tablespoons ground sunflower seeds during luteal stage (or ground flax during the follicular stage)
How To Make
Place everything in a high-speed blender or food processor and pulse until the mixture is bright green and all the herbs are chopped. Taste and adjust seasoning as needed
Notes
EQUIPMENT: High-speed blender or food processor
STORAGE: Best enjoyed fresh, but any leftovers should be stored in the fridge for up for 5 days
Find more hormone-balancing recipes in Overcoming Estrogen Dominance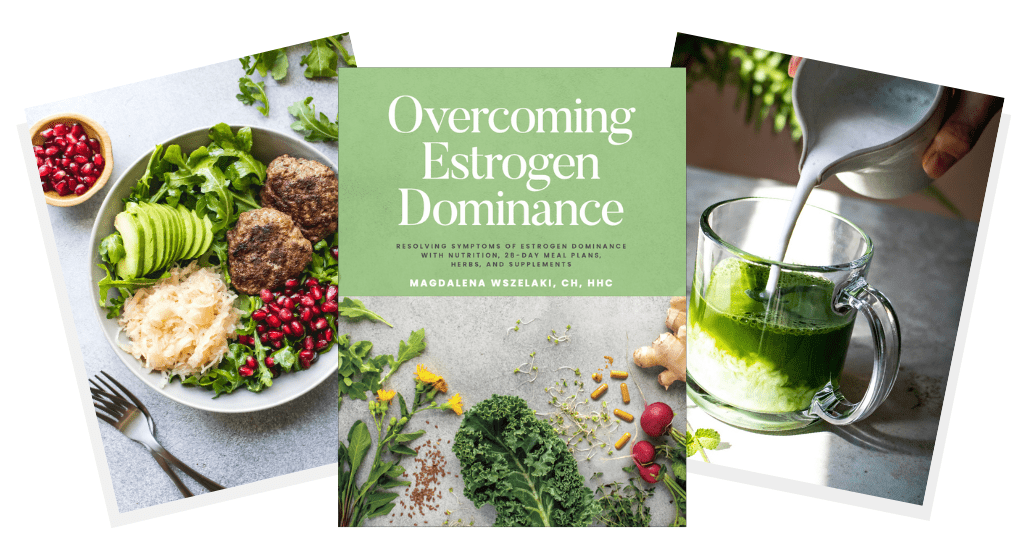 In Overcoming Estrogen Dominance, my goal is to empower and give you the tools to take control of your hormones and health.
More than 70% of women experience estrogen dominance. The symptoms range from lumpy and fibrocystic breasts to thyroid nodules, hot flashes, fibroids, uterine polyps, painful, heavy or irregular periods to infertility and miscarriages, from mood swings to insomnia, weight gain to fatigue.
In Overcoming Estrogen Dominance, I give women a roadmap to reverse estrogen dominance using food, herbs, supplements and natural protocols to rebalance hormones. You'll also find easy, hormone-balancing recipes that are free of gluten, dairy, soy, corn, eggs, and nightshades. These recipes are highly anti-inflammatory, low in sugar, and made with powerful medicinal ingredients to help heal your body naturally.
To get your copy of Overcoming Estrogen Dominance, go here.