Starting the day right is extremely important, and whether you have a good breakfast or not can determine how you feel for the rest of the day. As the weather gets cooler it's always good to wake up to a breakfast that's filling, tasty and warm, and that is filled with protein to help you last a long day.
That is why I developed this gluten-free recipe for chocolate buckwheat porridge. Using buckwheat groats as the base, this porridge keeps you feeling satiated for much longer because of its high fiber content, and the cocoa powder gives the porridge flavor as well as provides you with magnesium, a mineral that most women tend to crave. The porridge is also sweetened with just enough maple syrup to make it sweet without overdoing the sweetness.
This chocolate buckwheat porridge can be made from scratch in just 30 minutes, so if you get it cooking when you wake up, it will be done by the time you're all dressed and ready to eat. I strongly recommend it eaten with fresh strawberries, which go great with the chocolate taste, as well as sliced almonds and some seeds for an extra boost of protein.
Learn how to add more hormone-balancing ingredients to your meals with our FREE 19 Estrogen Balancing Superfoods Guide here.

Chocolate Buckwheat Porridge Recipe
Author:
Magdalena Wszelaki
Ingredients
1 cup buckwheat groats
2 ½ cups filtered water
2 tablespoons unsweetened cocoa powder
2 tablespoons maple syrup
1 teaspoon pure vanilla extract
½ cup sliced strawberries, for topping
1 tablespoon sliced almonds, for topping
1 tablespoon mixture of seeds (chia seeds, flax seeds, sunflower seeds, sesame seeds), for topping
How To Make
Rinse buckwheat groats until water runs clear.
Place buckwheat groats and filtered water in a pot, and bring to a boil. Once mixture starts boiling, reduce heat to low and allow the mixture to simmer for 20 minutes until groats are cooked and tender.
Once groats are tender and most of the water has been absorbed, add in the unsweetened cocoa powder, maple syrup and vanilla extract. Mix well, and cook for another one minute until you get a homogeneous porridge.
Serve porridge warm topped with sliced strawberries, almonds and seeds.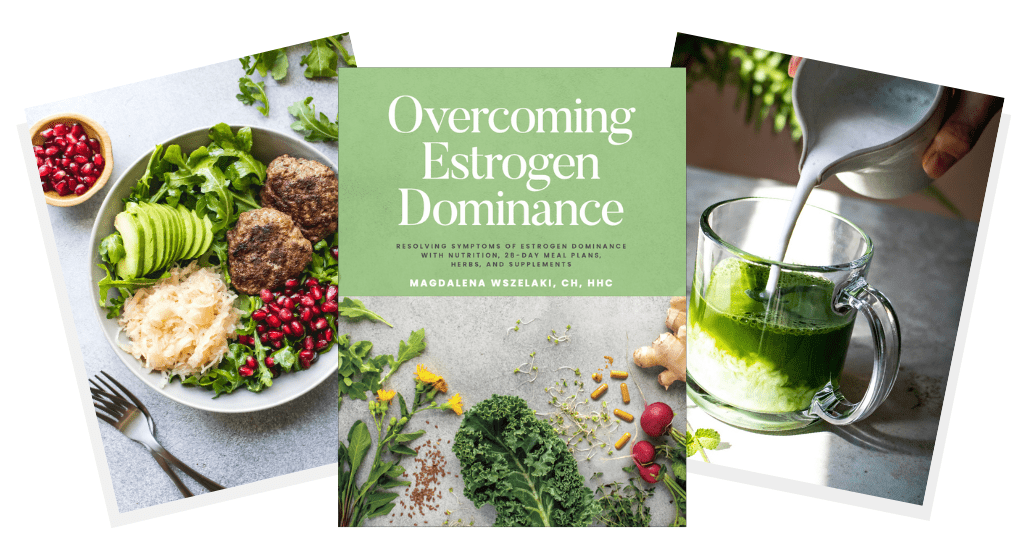 Learn more with Overcoming Estrogen Dominance
"The body has an amazing ability to heal. We just need to give it the right resources."
In Overcoming Estrogen Dominance, my goal is to empower and give you the tools to take control of your hormones and health.
More than 70% of women experience estrogen dominance. The symptoms range from lumpy and fibrocystic breasts to thyroid nodules, hot flashes, fibroids, uterine polyps, painful, heavy or irregular periods to infertility and miscarriages, from mood swings to insomnia, weight gain to fatigue.
So many women have experienced the pain and frustration that comes when they feel their symptoms and complaints are dismissed or minimized. This is particularly true for women who are experiencing the symptoms of hormone imbalance. Even when doctors do offer treatment, it's typically in the form of prescription medication or invasive surgical procedures.
In Overcoming Estrogen Dominance, I hope to show that those extreme interventions are often unnecessary, and to give women a roadmap to reverse estrogen dominance using food, herbs, supplements and natural protocols to rebalance hormones.
To get your copy of Overcoming Estrogen Dominance, go here.