Bitter greens make a delicious fall or winter salad–especially when tossed with a warm dressing that softens the greens and mellows their bite. Earthy, meaty wild mushrooms, sweet shallots, garlic, sherry vinegar and good olive oil combine to make a rich, simple and satisfying salad.
Learn how to add more hormone-balancing ingredients to your meals with our FREE 15 Breakfasts to Rebalance Your Hormones guide here.

Bitter Greens with Sauteed Mushrooms Recipe
Author:
Magdalena Wszelaki
Ingredients
4 cups assorted bitter greens
(such as escarole, endive, curly endive, dandelion greens)
1 large shallot, minced
2 cloves garlic, minced
2 cups sliced assorted wild or domestic mushrooms
½ teaspoon Celtic sea salt
¼ teaspoon freshly ground pepper
1 tablespoon clarified butter (ghee)
¼ cup extra virgin olive oil
2 tablespoons sherry wine vinegar
How To Make
Wash and dry the greens and tear into bite size pieces.
Place in a medium sized salad bowl and set aside.
Add the clarified butter and 1 tablespoon of olive oil to a medium sized skillet.
Heat over medium high heat for 1 minute.
Add the minced shallot and garlic and cook, stirring constantly for 1 minute.
Add the mushrooms and sprinkle with salt.
Cook the mushrooms for 3 – 4 minutes, stirring occasionally until the mushrooms are golden brown.
Pour the sherry vinegar into the pan. Using a spatula or a spoon, scrape up any browned bits
on the bottom of the pan.
Cook for 20 seconds.
Add the remaining olive oil and cook for an additional 20 seconds.
Pour hot mushroom mixture over greens.
Toss greens and mushrooms together, making sure to thoroughly coat the greens.
Divide the mixture evenly between two plates and serve.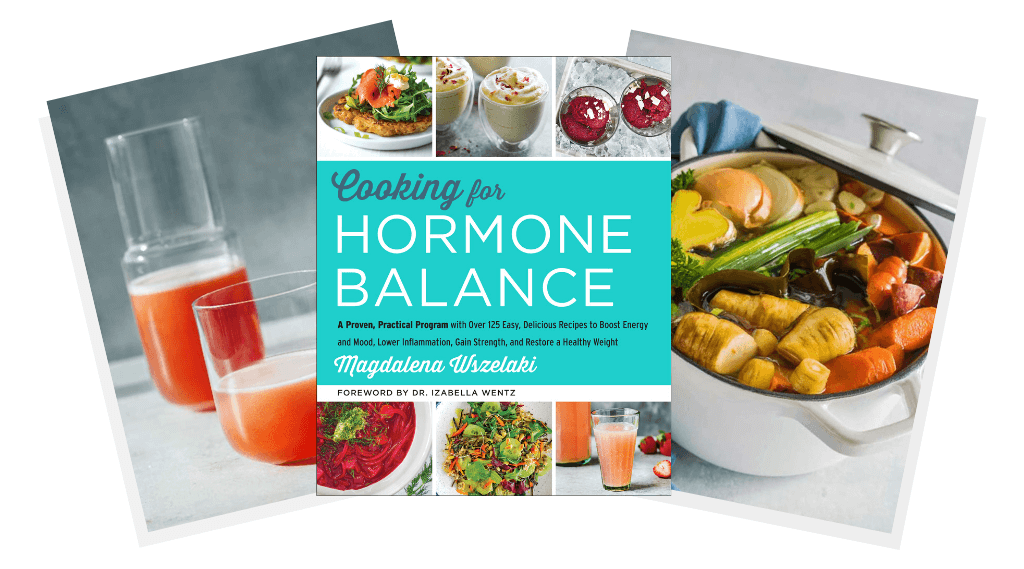 In my cookbook, Cooking For Hormone Balance, you'll find over 125 easy, delicious recipes to nourish your body and balance your hormones without calorie restriction or deprivation.
All of the recipes are based on 20 hormone-supporting superfoods and 20 hormone-supporting super herbs—with modifications for Paleo, Paleo for Autoimmunity (AIP), anti-Candida, and low-FODMAP diets.
You can get a copy of the cookbook here.