This is one of my all-time favorite drink recipes on a chilly winter morning or as an afternoon pick-me-up. Made with wonderfully warming spices that also aid digestion, chai has been a staple drink in the Indian cuisine for generations. No day starts without a chai. No afternoon can go on without a chai. The serving rack you see here is one I bought from a "chaiwala" (a boy who serves tea) on my last trip to India.
This rich, silky and foamy beverage gives you much room for tweaks to suit your own personality. It allows for so much of creativity and exploration. For example, you can replace the masala chai mix with pumpkin pie spice. You can avoid the caffeine by skipping the black tea (I do it all the time) and use tulsi tea, also known as holy basil. If you like more kick, add more ginger and pepper.
For all practical reasons, I make the masala chai mix and keep it in a jar as we drink it almost every day. I keep most of my spices whole and only crush or blend them in the spice grinder when I need them – this way they remain flavorful and medicinally potent. If you like this mix, make your own (or modify it to suit your taste buds) in a large quantity to save time.
I used turmeric powder here but if you have access to fresh turmeric root, feel free to use it (about 1-inch in this recipe). On the same note, if fresh ginger root is not available, you can replace it with dried ginger although the taste will be slightly different (I personally don't like dried ginger).
Are you getting inspired yet? If you have any creative ideas, I would love for you to share it with us in the below comments.
Learn how to add more hormone-balancing ingredients to your meals with our FREE 15 Breakfasts to Rebalance Your Hormones guide here.

Turmeric Chai Latte (dairy free)
Equipment: blender
Author:
Magdalena Wszelaki
Ingredients
Masala chai mix
2 teaspoons rooibos or black tea
1 large Ceylon cinnamon stick, broken to pieces
2-inch fresh ginger root, sliced
8 cardamom pods, crushed
5 cloves, crushed
1 teaspoon fennel seed
½ teaspoon black pepper corns, crushed
Other ingredients
2 pitted dates
3 tablespoons ghee or coconut butter
1 teaspoon turmeric
¼ teaspoon vanilla powder (optional)
½ teaspoon nutmeg powder (optional)
How To Make
Place the water and the masala chai mix in the saucepan and bring water to a boil. Reduce the heat and simmer for 10-15 minutes.
Strain and transfer to the blender.
Add dates and ghee and blend on high for 1 minute.
Add turmeric powder and blend again for a few seconds.
Pour to serving glasses and sprinkle with vanilla powder and nutmeg powder, if using.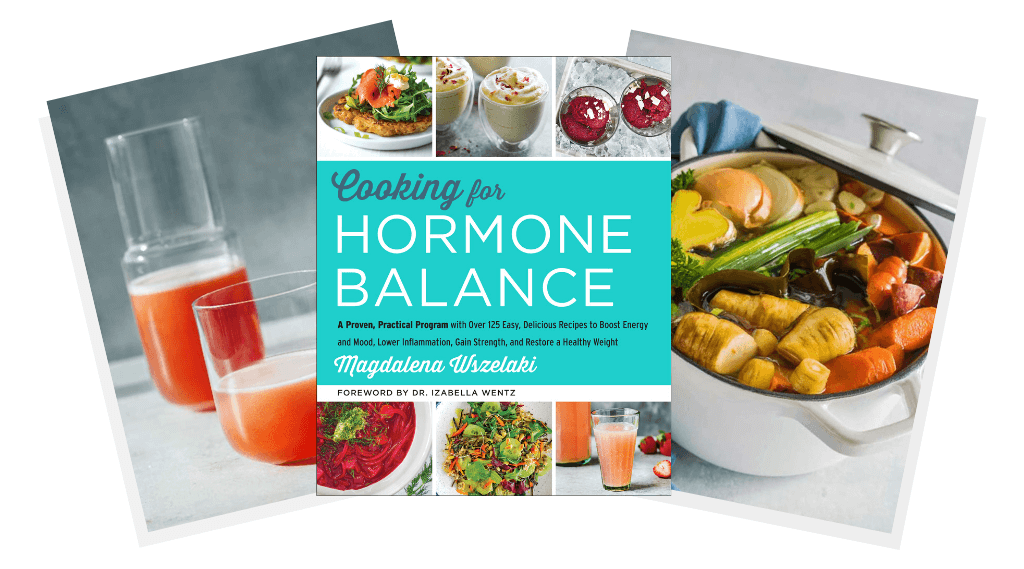 Get more delicious healing recipes and learn how to rebalance your hormones with food in my book, Cooking for Hormone Balance, with over 125 tempting, nutrient-dense recipes for thyroid conditions, Hashimoto's, adrenal fatigue, menopause, endometriosis, fibroids, breast health, PMS, PCOS, and other hormonal imbalances.
Get Cooking for Hormone Balance on Amazon here.