Ashwagandha is an adaptogenic herb popular in Ayurvedic medicine that has shown great results for lowering cortisol and balancing thyroid hormones. Ashwagandha has also been proven effective in supporting adrenal function, helping you overcome adrenal fatigue and chronic stress.
It also may protect the brain from degeneration and can improve symptoms of Alzheimer's, depression, and anxiety. Many women have reported deeper and more restful sleep after drinking this Ashwagandha Latte. 
This is a wonderful drink to enjoy about an hour before bedtime as part of your night time winding down rituals.
---
One of our iconic programs—Herbs for Balance—shows how to use everyday herbs and DIY skincare recipes to restore hormonal health. It's a self-guided, 6-week program with live online community support.
Herbs for Balance was developed to help our community bring the power of common herbs (such as dandelions, nettles, red clover) into everyday life; whether it's your kitchen, bathroom, food, or topical applications.
Here are just a few of the things you'll learn:
Which simple herbs can support your liver on a daily basis?

Which herbs should I use when I get hot flashes?

How do I make a truly medicinally potent herbal infusion?

How do I make a quick latte using ashwagandha?

What can I do with common weeds such as yarrow, red clover, dandelions, nettles or plantains?
Our Herbs for Balance is available for just $57. Get it here.
---
Ashwagandha Latte
Equipment: Medium saucepan, whisk, strainer
Author:
Magdalena Wszelaki
Ingredients
1 cup of milk (almond or hazelnut works well, if using coconut milk, I would suggest ½ cup coconut milk and ½ cup water)
1 teaspoon ashwagandha powder
½ teaspoon cinnamon powder
½ teaspoon maple syrup or honey
How To Make
Warm the milk, then add the powdered spices and maple syrup or honey
Stir well, using the whisk to blend, adjusting for sweetness if necessary
Pour into a nice cup and drink an hour before bed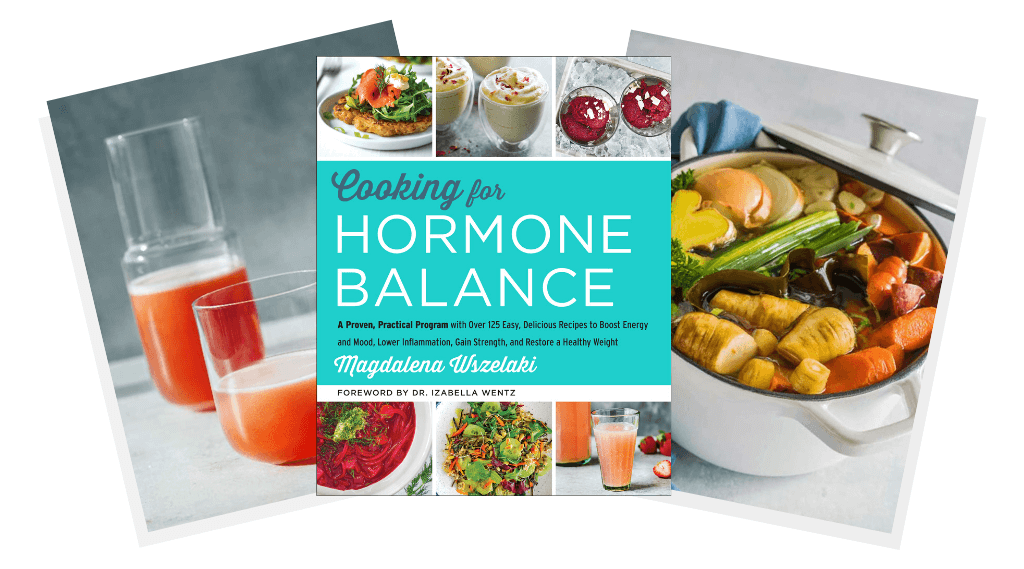 In my cookbook, Cooking For Hormone Balance, you'll find over 125 easy, delicious recipes to nourish your body and balance your hormones without calorie restriction or deprivation.
All of the recipes are based on 20 hormone-supporting superfoods and 20 hormone-supporting super herbs—with modifications for Paleo, Paleo for Autoimmunity (AIP), anti-Candida, and low-FODMAP diets.
You can get a copy of the cookbook here.