Don't be fooled by the simplicity of this recipe! Nettles are deeply restorative for many of our body systems, providing a variety of phytonutrients, vitamins, and minerals. They are adrenal, kidney and urinary tract supportive and this tea is a wonderful general tonic.
Here are some of their key medicinal properties:
Very safe, slightly diuretic
Highly nutritive; calcium, iron, magnesium, potassium and silica
High in chlorophyll and vitamin C
Gentle kidney tonic
Uterine tonic
Alkalizing
Anti-inflammatory:

Joint pain
Osteoporosis
Psoriasis
Hot flashes
PMS
Nettle Infusion
Author:
Magdalena Wszelaki
How To Make
Put the nettles in the jar
Fill the jar with 1 cup of room temperature water. Top it off with 3 cups of hot water just off the boil.
Tightly close the lid and allow to steep for 24 hours.
Strain the plant material out (squeeze well).
Enjoy warm or over ice.
Notes
Equipment
Weighing scales
Quart Jar (heat proof)
Kettle
Your hands

Storage
Refrigerate and drink/use within 24 hours.
Find more hormone-balancing recipes in Overcoming Estrogen Dominance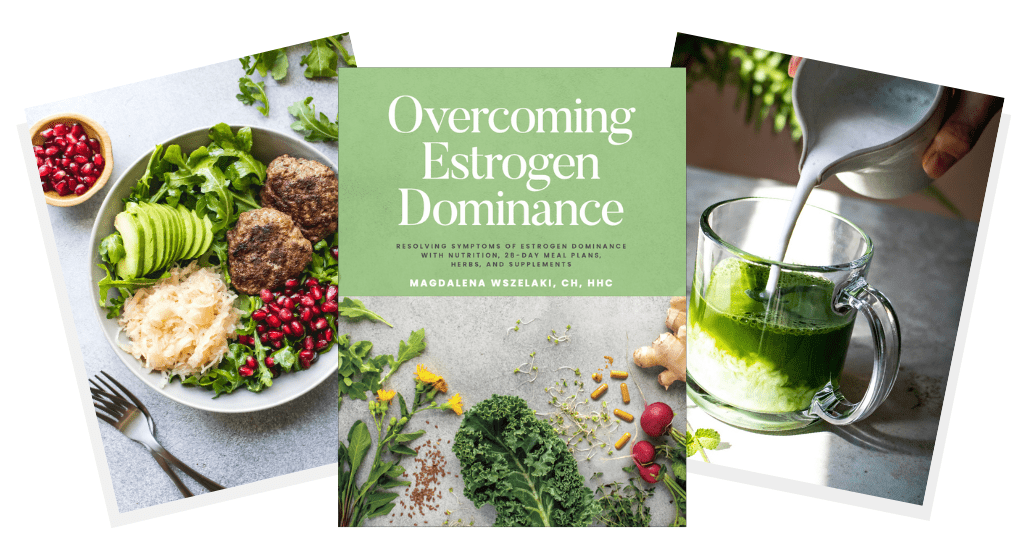 "The body has an amazing ability to heal. We just need to give it the right resources."
In Overcoming Estrogen Dominance, my goal is to empower and give you the tools to take control of your hormones and health.
More than 70% of women experience estrogen dominance. The symptoms range from lumpy and fibrocystic breasts to thyroid nodules, hot flashes, fibroids, uterine polyps, painful, heavy or irregular periods to infertility and miscarriages, from mood swings to insomnia, weight gain to fatigue.
So many women have experienced the pain and frustration that comes when they feel their symptoms and complaints are dismissed or minimized. This is particularly true for women who are experiencing the symptoms of hormone imbalance. Even when doctors do offer treatment, it's typically in the form of prescription medication or invasive surgical procedures.
In Overcoming Estrogen Dominance, I hope to show that those extreme interventions are often unnecessary, and to give women a roadmap to reverse estrogen dominance. You'll find easy and healing recipes, meal plans, and natural protocols to  help rebalance your hormones.
To get your copy of Overcoming Estrogen Dominance, go here.