For more than two thousand years the kudzu root has been used in Japan and China for its medicinal benefits. Though in some parts of America this hardy creeping vine is regarded as a pest, in Asian cultures the purple mountain plant is highly valued for its health benefits.
A Healing Digestive Aid
As the kudzu root is high in complex starch, it has long been used to aid digestion and heal digestive issues like nausea, bloating, and acidic stomach pain. Kudzu (also called kuzu) contains high levels of a flavonoid called puerarin. This is believed to help reduce high blood pressure, stabilize blood sugars, and alleviate issues like muscle tension and headache–calming effects that also make the root beneficial for sleep. Kudzu also helps alkalize the body so it is sometimes given as a thick soupy drink to people who are sick, or used instead of rice as a base for meals.
Cooking With Kudzu
Kudzu can be used to make noodles or tea. The starch from the root also comes in white crumbly chunks that need to be crushed or dissolved in cool water. It's this form of the kudzu plant that is used in this pudding recipe.
Because of its starchy consistency, kudzu makes a great thickener for soup, stews, sauces or puddings. About 1.5 tablespoons of kudzu are needed per cup of liquid. For more of a gelling effect, use about 2 tablespoons. Unlike thickeners such as cornstarch, kudzu it is not bleached or highly processed.
Full of Mountain Goodness
The traditional process of drying kudzu takes about three months. During that time, the roots are ground, repeatedly washed in mountain springs and then they are dried for 90 days. No part of the plant goes to waste. The roots are used for medicine, the powder used for cooking, the leaves are fed to livestock, and the vines are used to make clothing and weave baskets.
Sleepy Lime Pudding
One of the most common reasons why we wake in the middle of the night is due to fluctuating blood sugar levels. If you must have something sweet-ish before going to bed, this pudding might hit the spot. To thicken the coconut milk, I used kudzu root which has some serious medical properties too, one of which is a sleeping aid. Kudzu is available in many health stores as well as Amazon.
Learn how to add more hormone-balancing ingredients to your meals with our FREE 15 Breakfasts to Rebalance Your Hormones guide here.

Sleepy Lime Pudding
Author:
Magdalena Wszelaki
Ingredients
3 tablespoons kudzu powder (where to buy)
1 (13.66-ounce) can full-fat coconut milk
2 tablespoons maple syrup
1 tablespoon lime zest
¼ cup lime juice
1 teaspoon vanilla extract
¼ teaspoon sea salt
pistachio nuts, crushed, for garnish
How To Make
Crush the kudzu powder in a mortar and pestle to remove all the lumps.
Pour the coconut milk to a saucepan, mix in the maple syrup, lime zest, lime juice, vanilla and salt. Bring to a simmer over medium heat.
Whisk in the kudzu powder and continue cooking until the pudding thickens, about 4 to 5 minutes.
Pour into individual ramekins and let it cool. The pudding will continue to thicken as it's cooling.
Sprinkle with pistachios.
Notes
Supports: Paleo, AIP, low-FODMAP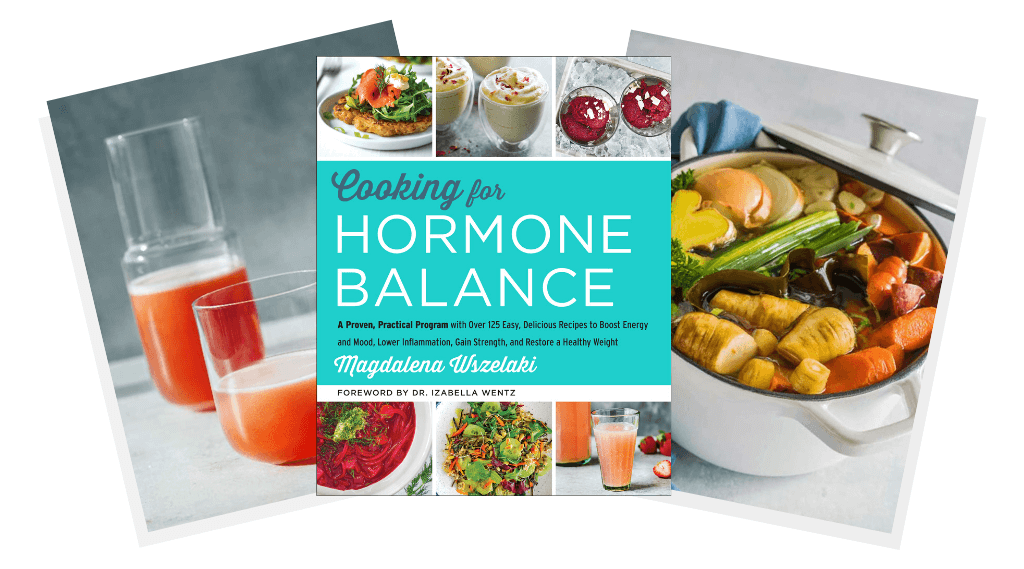 In my cookbook, Cooking For Hormone Balance, you'll find over 125 easy, delicious recipes to nourish your body and balance your hormones without calorie restriction or deprivation.
All of the recipes are based on 20 hormone-supporting superfoods and 20 hormone-supporting super herbs—with modifications for Paleo, Paleo for Autoimmunity (AIP), anti-Candida, and low-FODMAP diets.
You can get a copy of the cookbook here.