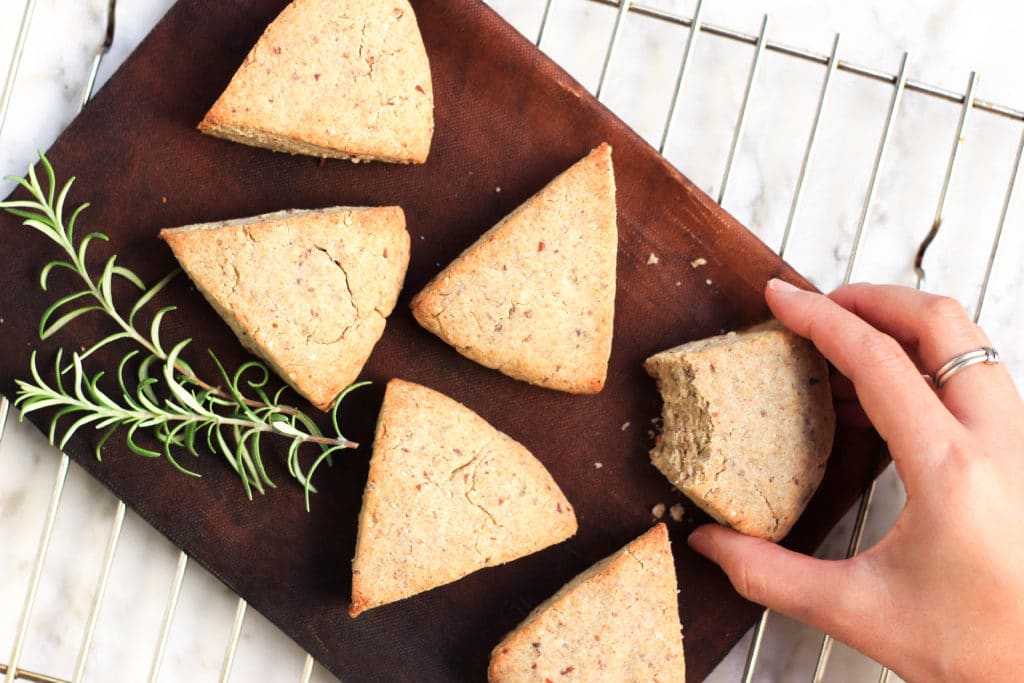 When you're craving something just before bedtime, it's best to eat something that is high in protein and low in sugar in order to stabilize your blood sugar levels as you sleep. Today, we're going to be making gluten-free buckwheat scones that are delicious, healthy and super simple to make!
If you've never cooked with buckwheat before, you're in for a pleasant surprise. Buckwheat is a naturally gluten-free seed whose nutrients help to control blood sugar levels and leads to a lower risk of diabetes. Buckwheat has a nice nutty flavor that is distinct from other flours and makes baked goods stand out. If you've got buckwheat groats on hand, you can easily grind the groats in your blender to get buckwheat flour, or you can simply buy store-bought buckwheat flour.However, I'd recommend grinding the groats at home as it is so simple and much cheaper.
These gluten-free buckwheat scones come together in less than 30 minutes and have a beautifully earthy taste thanks to the buckwheat. There is also have a hint of citrus flavor because of the lemon zest. A bit of chopped rosemary also gives it a savory flavor profile. Delicious with a fine crumb, these scones are the perfect snack!
Gluten-Free Buckwheat Scones
Author:
Magdalena Wszelaki
Ingredients
1 tablespoon ground flaxseed meal
2 ½ tablespoons water
¼ cup raw honey
½ cup coconut oil, softened
4 tablespoons almond milk (or other nut milk of choice)
1 ½ cup buckwheat groats (or 1 ¾ cup buckwheat flour) - where to buy
1 teaspoon gluten-free baking powder
2 teaspoons lemon zest
1 teaspoon chopped fresh rosemary
Pinch of salt
How To Make
Pre-heat oven to 350F (180C) and line a baking sheet with parchment paper or a silpat
Combine flaxseed meal with water to create a flax egg. Set aside.
Grind buckwheat groats in your blender ½ cup at a time, until you have 1 ¾ cup of buckwheat flour. (If you already have buckwheat flour, you can skip this step.)
In a large bowl, mix honey and coconut oil together, and then add in flax egg and almond milk and mix until combined.
In a medium bowl, combine buckwheat flour, baking powder, lemon zest, chopped rosemary and salt and mix well.
Add dry ingredients to the bowl with the wet ingredients and mix until you get a thick, homogeneous cookie dough.
Shape the dough into a small disc and place on the prepared baking sheet.
Slice dough into 6 pieces (like you would slice a pizza) and separate each piece slightly, leaving 2 inches of space between each piece.
Bake scones for 10 to 12 minutes, until the bottom of scones are golden brown.
Serve scones warm with coconut oil or ghee.