I created this drink because I had to stop drinking coffee (full article here: 11 Ways Coffee Impacts Your Hormones). I discovered that my body does not metabolize coffee well and the result was very visible: I was impatient and even mean. It sucks when the one person you love the most (my partner, Brad) is on the receiving end of your moods. I had to own it and this is how I threw myself into looking for tasty, satisfying and healthy alternatives.
Lattes can be so versatile. You can play with so many different teas, coffees, coffee substitutes (like dandelion root or chicory root), fats like coconut butter, coconut oil, coconut milk, butter (if you tolerate dairy) or ghee. It allows for so much of creativity and exploration of your own taste bud preferences.
In this recipe I'm using roasted chicory root and roasted dandelion. You can get it online and pick the organic version. If you have been to New Orleans, you know chicory coffee.
Even though I called the recipe "coffee," this drink does not contain caffeine. In fact, both dandelion and chicory have have been used medicinally in Western herbalism for centuries.
Dandelion root is known to support the liver function and chicory root is rich in inulin which is a "prebiotic" for the good bacteria to feed on. Chicory is also known to stimulate bile production which facilities our liver's detoxification process – keeping our hormones in check. I wrote a full article about the surprising connection between the liver and our hormones.
I hope you enjoy this drink as much as I love developing recipes that not only taste great but can be our medicine, too.
Learn how to add more hormone-balancing ingredients to your meals with our FREE 15 Breakfasts to Rebalance Your Hormones guide here.
Better Than Coffee (Chicory Latte)
Equipment: blender, grater
Author:
Magdalena Wszelaki
How To Make
Place chicory and dandelion root in a cooking pot and cover with water.
Bring it to a boil, reduce the heat and simmer for 2 minutes.
Turn off the heat and let it steep for 10 minutes.
Strain and transfer to the blender, then add the ghee, collagen, and the dates. Blend for 1 minute.
Grate some fresh nutmeg and enjoy.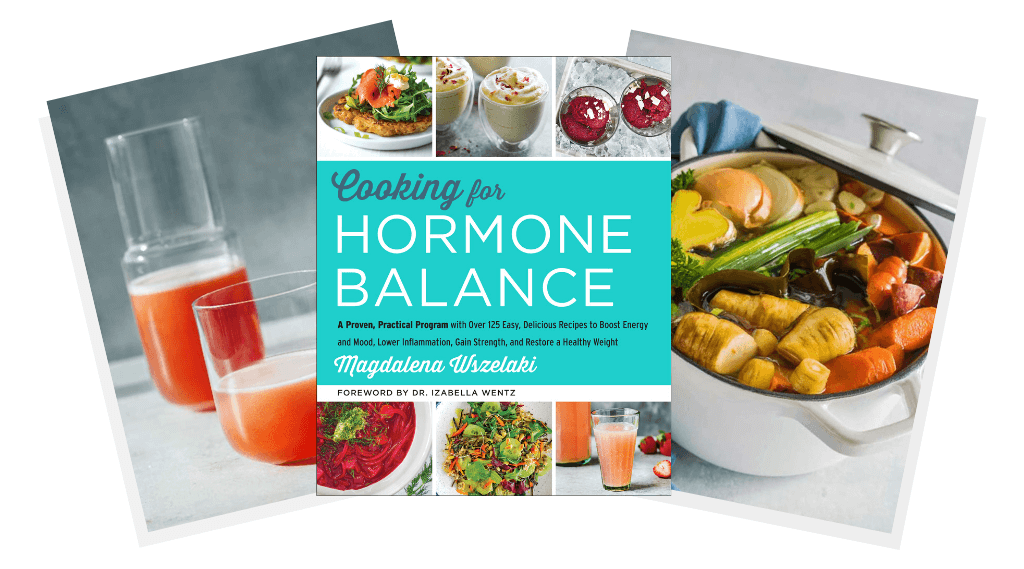 In my cookbook, Cooking For Hormone Balance, you'll find over 125 easy, delicious recipes to nourish your body and balance your hormones without calorie restriction or deprivation.
All of the recipes are based on 20 hormone-supporting superfoods and 20 hormone-supporting super herbs—with modifications for Paleo, Paleo for Autoimmunity (AIP), anti-Candida, and low-FODMAP diets.
You can get a copy of the cookbook here.