I reach for these Oat Flour Muffins with Berries and Pistachios because I love to pack my muffins with berries and nuts so they become nutritional wonders; a balanced source of good carbs as well as proteins. I tend to keep the sugars low, so if you like your life sweet, just add more. As always, this is yet another gluten-free, egg-free muffin recipe.
See, there is [good] life after gluten.
Learn how to add more hormone-balancing ingredients to your meals with our FREE 15 Breakfasts to Rebalance Your Hormones guide here.

Oat Flour Muffins with Berries and Pistachios
Author:
Magdalena Wszelaki
Ingredients
1 cup oat flour
1 tsp baking powder
½ tsp sea salt
2 tbsp honey, agave syrup or coconut syrup
⅓ cup buttermilk or yoghurt (use coconut yoghurt for vegan option)
½ cup dry or 1 cup fresh berries
½ cup pistachios
1 tbsp coconut oil
2 tbsp flax meal
3 tbsp water (to combine with flax meal)
12 muffin cups
How To Make
Pre-heat the oven to 375F or 190C.
Combine flaxseed meal + 3 tbsp. water and let it stand for a few minutes.
Combine all dry ingredients (flours, salt, baking powder).
Combine all wet ingredients (honey, coconut oil, buttermilk).
Mix dry, wet ingredients and flaxseed into a liquid mixture; if it's not liquid enough, add some oil.
Gently fold in pistachios and berries to muffin batter.
Dish out mixture to about 12 muffin cups.
Bake for 25-30 min or till tops are firm.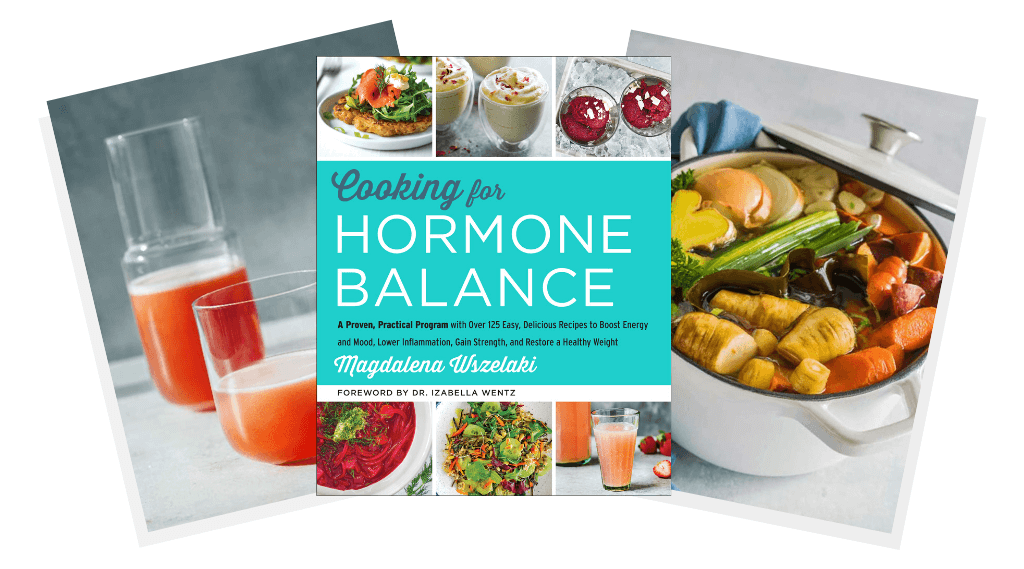 In my cookbook, Cooking For Hormone Balance, you'll find over 125 easy, delicious recipes to nourish your body and balance your hormones without calorie restriction or deprivation.
All of the recipes are based on 20 hormone-supporting superfoods and 20 hormone-supporting super herbs—with modifications for Paleo, Paleo for Autoimmunity (AIP), anti-Candida, and low-FODMAP diets.
You can get a copy of the cookbook here.