These deliciously cozy biscuits nix the gluten, and eggs. The best part? They're a cinch to make and a dream to eat.
There's no kneading required to achieve fluffy bakery-worthy biscuits. Keeping hormone balance a priority, this recipe skips processed flour in favor of more mindful ingredients. To keep things egg-free, chia seeds step in as an easy replacement, making this a recipe an instant crowd pleaser.
The Benefits of Using Quinoa Flour
Quinoa flour is a high protein plant-based flour that is light and airy with a nutty aroma similar to sesame.
Quinoa flour is also rich in fiber, helping to flush toxins from the digestive system. It's high fiber content also helps to keep you full.
Contains all 9 essential amino acids
Rich in iron, magnesium and B-vitamins
Kitchen Tips and Tricks
Cashew kefir stands in for buttermilk adding the same rich texture and tang. Look for cashew or coconut kefir in the refrigerated section of specialty grocery stores or order online.
Refrigerating keeps the ingredients firm and chilled so they don't flatten in the oven.
The ghee should be soft but not melted when adding it to flour. It will melt in the hot oven creating steam inside the dough and result in a more flaky texture.
Ghee gives the biscuits a buttery flavor and aroma without the digestive upset butter can cause for those with lactose sensitivities. Virgin coconut oil can also be used.
Before scooping biscuit dough, dust measuring cup with quinoa flour and tap off excess. A light coating of flour helps to keep the dough from sticking when transferring to the baking sheet.
Slather warm biscuits with coconut butter or homemade jams.
Learn how to add more hormone-balancing ingredients to your meals with our FREE 15 Breakfasts to Rebalance Your Hormones guide here.

Fluffy Gluten-Free Biscuits
Author:
Magdalena Wszelaki
Ingredients
1 tablespoon raw honey
⅔ cup plain cashew kefir
1 tablespoon chia seeds
1 cup quinoa flour
1 cup blanched almond flour
⅓ cup ghee
½ teaspoon sea salt
1 teaspoon aluminum-free baking powder
How To Make
Preheat oven to 400ºF and line a baking sheet with parchment paper. Stir together chia seeds and kefir in a small bowl and set aside to "bloom" chia seeds for 10 minutes.
Combine dry ingredients in a medium mixing bowl. Add ghee and use hands or a pastry cutter to mix. Mixture should be grainy and coarse. Gradually fold in kefir mixture using a spatula until thoroughly combined and moist. Transfer mixture to refrigerator for 10 minutes to chill.
Scoop ¼ cup mounds of dough onto baking sheet 2 inches apart. Bake for 14-16 minutes. Cool biscuits on baking sheet 10 minutes before enjoying.
Notes
Storage: Once biscuits cool to room temperature, store in an airtight container in a dry spot for 3 days or refrigerate for up to 5 days.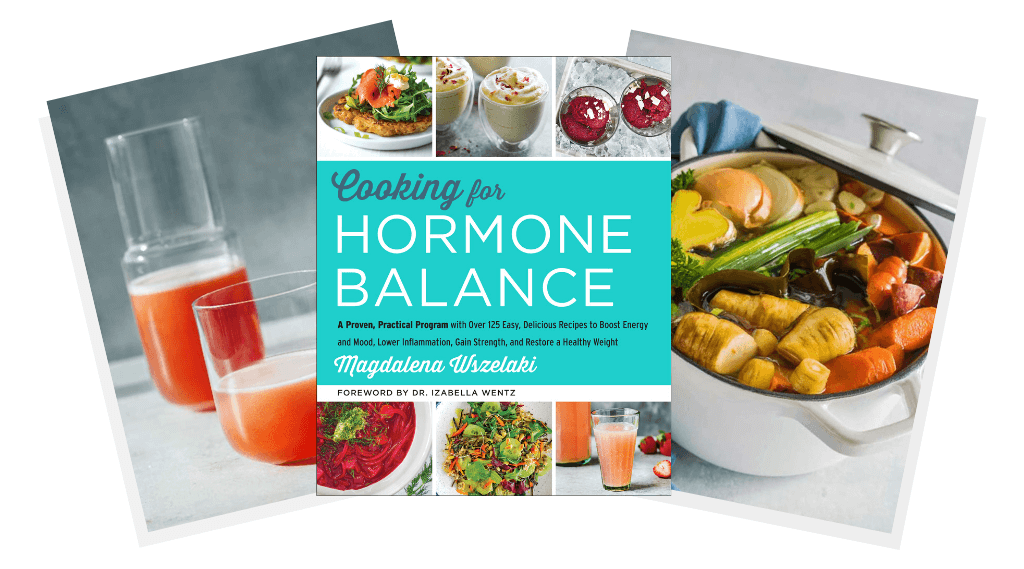 In my cookbook, Cooking For Hormone Balance, you'll find over 125 easy, delicious recipes to nourish your body and balance your hormones without calorie restriction or deprivation.
All of the recipes are based on 20 hormone-supporting superfoods and 20 hormone-supporting super herbs—with modifications for Paleo, Paleo for Autoimmunity (AIP), anti-Candida, and low-FODMAP diets.
You can get a copy of the cookbook here.
Psst: For a fun breakfast treat, slather these warm biscuits with No-Not Tigernut Butter for a nutrient-dense snack to fuel your mornings. Get the Original Tigernut Butter here.