This hearty stew is full of warm and smoky flavors and plenty of fall-off-the-bone oxtail for a protein-rich meal.
Not only do oxtails add fall-off-the-bone beef flavor and texture to the stew, but because oxtail contains cartilage, the broth is infused with collagen and amino acids similar to bone broth.
Oxtail Benefits at Glance
Rich source of iron
High in protein
High collagen content supports healthy skin, joint and tissue elasticity
Where to find Oxtail
Call your butcher ahead of time to make sure they carry oxtails. Often times they are sold frozen and can be thawed a day or two before using.
Cooking with Oxtail
Because oxtails are very sinewy and tough, they must be braised for long periods of time in order to break down the connective tissue and tenderize the meat. Braise, slow cook or pressure cook oxtails with wine, beef stock or water. Once cooked, oxtail has a texture similar to short ribs with a more silky mouthfeel.
To add rich flavor to the Jamaican-inspired stew, ginger, allspice and clove are added. These spices are aromatic and help balance the flavor of the oxtail. To round out these warm spices, bay leaves and thyme are added for a punch of herb flavor. Briney anchovies and sugar-free bbq sauce add depth.
Tip: save any leftovers of the gelatin-rich broth to use in soups, pasta sauce and gravy.
Learn how to add more hormone-balancing ingredients to your meals with our FREE 15 Breakfasts to Rebalance Your Hormones guide here.

Smoky Jamaican-Inspired Oxtail Stew
Equipment: Large heavy bottomed pot, frying pan
Author:
Magdalena Wszelaki
Ingredients
4.5 lbs oxtail
4 tablespoons bacon fat, lard or EVOO, divided
1 large onion, diced
1 cup red wine such as cabernet sauvignon
3 cups filtered water
¼ cup organic BBQ sauce (if avoiding nightshades, substitute for 2 tablespoons of apple cider vinegar)
5 anchovies, minced
10 cloves
2 bay leaves
1 tablespoon sea salt
1 tablespoon dried thyme
1 tablespoon finely grated fresh ginger
1 tablespoon allspice
1 teaspoon chili flakes
How To Make
Pat dry the oxtail pieces and set aside.
In a large pot, melt 2 tablespoons of the fat and brown half of the oxtail pieces. Heat up the rest of the fat in the frying pan, add the rest of the oxtail pieces. Brown all the meat chunks on all sides.
Start consolidating all the ingredients in a large pot, then add the meat.
Use the leftover fat in the frying pan to sauté the onions until lightly browned. Transfer them to the big pot.
Use the wine to deglaze the frying pat (these are the good bits). Add the wine over to the large pot.
Add water, BBQ sauce, anchovies, cloves, bay leaves, salt, thyme, ginger, allspice and chili flakes to the pot.
Cover, bring to a boil and reduce to a simmer.
Simmer, covered for 3 hours, stirring occasionally. Continue simmering with the lid left ajar for 4 hours or until the meat falls off the bones.
Serve over mashed cauliflower or potatoes.
Notes
Storage: Keep refrigerated for up to 5 days or freeze for up to 3 months.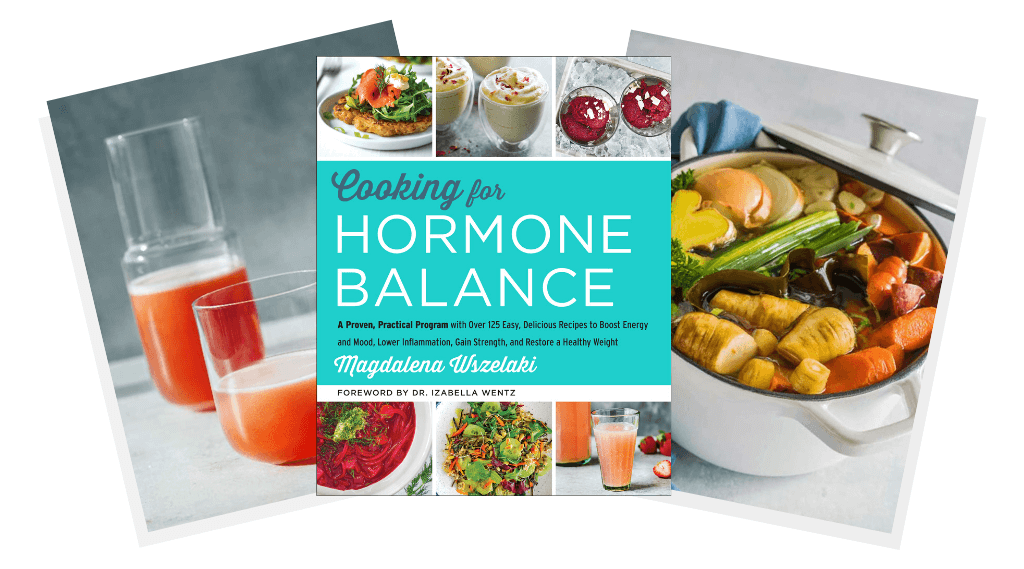 In my cookbook, Cooking For Hormone Balance, you'll find over 125 easy, delicious recipes to nourish your body and balance your hormones without calorie restriction or deprivation.
All of the recipes are based on 20 hormone-supporting superfoods and 20 hormone-supporting super herbs—with modifications for Paleo, Paleo for Autoimmunity (AIP), anti-Candida, and low-FODMAP diets.
You can get a copy of the cookbook here.
Got leftovers? Store them with smart and chic Z-wraps, reusable beeswax wraps that are kind on the environment and look good, too. Get them here.