You'll want to spread this creamy sweet potato butter on everything. The best part? There's not an ounce of dairy in sight.
How to Use Sweet Potatoes to Make a Dairy-Free Butter
Making a dairy-free butter that doesn't include nuts is easier than you'd think. All you need are some sweet potatoes, a bit of olive oil, salt and ground cinnamon and you'll have homemade dairy-free butter in just one hour.
Sweet potatoes are highly nutritious and are packed with fiber for better digestion and antioxidants to combat free radicals. When roasted, this root vegetable softens and releases its natural sugars, melding beautifully with the cinnamon and olive oil.
Cooking Tips
For this recipe, the best way to roast the sweet potatoes would be to wash them and then roast them with their skins on. Once tender, simply slice the sweet potatoes in half lengthwise and scoop out the flesh. If you are short on time, simply use cooked sweet potato puree.
If you'd like a more savory butter, swap the sweet potatoes with yams.
Enjoy this sweet potato butter on grain-free toast (like this sourdough buckwheat bread recipe), on top of your favorite baked goods, or straight from the spoon.
Learn how to add more hormone-balancing ingredients to your meals with our FREE 19 Estrogen Balancing Superfoods Guide here.

Sweet Potato Butter
Equipment High-speed Blender
Author:
Magdalena Wszelaki
Ingredients
4 medium sweet potatoes or yams ( or 3 cups puree)
¼ cup extra virgin olive oil
2 tablespoons water
½ teaspoon sea salt
½ teaspoon ground cinnamon
How To Make
Preheat oven to 375F.
Wash sweet potatoes and prick each one with a fork all over. Place on a baking sheet and roast for approximately 1 hour until the sweet potatoes are tender and can be easily sliced with a fork. Let cool for 15 minutes.
Slice sweet potatoes in half and scoop out the flesh into a bowl, mashing it well.
Combine the mashed sweet potato flesh, olive oil, water, salt, and ground cinnamon in a high-speed blender. Blend well for a few minutes, scraping down the sides as necessary until you get a smooth and creamy consistency.
Notes
Storage: Store yam butter in a sealed jar and keep refrigerated for up to a week.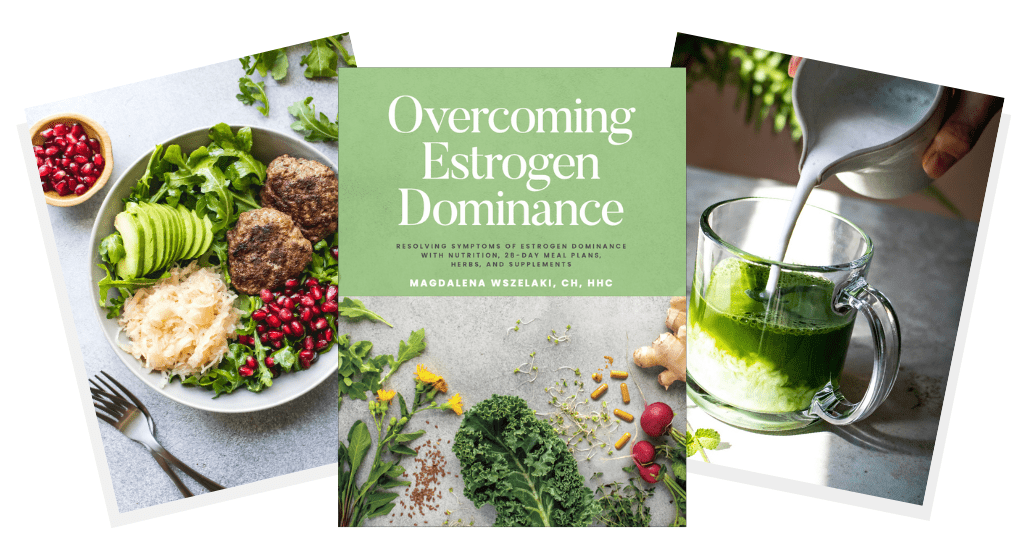 Learn more with Overcoming Estrogen Dominance
"The body has an amazing ability to heal. We just need to give it the right resources."
In Overcoming Estrogen Dominance, my goal is to empower and give you the tools to take control of your hormones and health.
More than 70% of women experience estrogen dominance. The symptoms range from lumpy and fibrocystic breasts to thyroid nodules, hot flashes, fibroids, uterine polyps, painful, heavy or irregular periods to infertility and miscarriages, from mood swings to insomnia, weight gain to fatigue.
So many women have experienced the pain and frustration that comes when they feel their symptoms and complaints are dismissed or minimized. This is particularly true for women who are experiencing the symptoms of hormone imbalance. Even when doctors do offer treatment, it's typically in the form of prescription medication or invasive surgical procedures.
In Overcoming Estrogen Dominance, I hope to show that those extreme interventions are often unnecessary, and to give women a roadmap to reverse estrogen dominance using food, herbs, supplements and natural protocols to rebalance hormones.
To get your copy of Overcoming Estrogen Dominance, go here.