Credit for this recipe goes to MALK Organics. I was in luck to find their eggless eggnog at my health food store (Natural Grocers) here in Boulder, CO where I live.
More dairy and egg-free eggnogs are arriving at various stores; sadly, most of them taste so sickly sweet (this becomes very apparent when you break up with sugar and then everything tastes overly sweet) and use many preservatives and additives.
Inspired by the Malk Organics eggnog, here is a new recipe that tastes fabulous and only takes a few minutes to make.
If you can't eat pecans, replace them with hemp seeds, almonds or cashews. If you are having a problem digesting nuts, try tigernuts (that's what the original horchata was made from). I use the ones from Gemini Organics. In my cookbook, Cooking for Hormone Balance, on page 300, I cover how to home make various plant-based milks, including tigernut milk.
Add alcohol only for a special occasion and only in moderation. If you are dealing with Candida, omit alcohol altogether and enjoy the pure goodness of the drink.
To make it Candida-friendly, replace the maple syrup with stevia or monk fruit.
Learn how to add more hormone-balancing ingredients to your meals with our FREE 15 Breakfasts to Rebalance Your Hormones guide here.

Eggnog - Dairy and Egg free
Author:
Magdalena Wszelaki
Ingredients
1 ½ cups filtered water
⅓ heaping cup pecans
1 tablespoon maple syrup or raw honey
1 teaspoon vanilla extract
½ teaspoon freshly ground nutmeg
¼ teaspoon ground Ceylon cinnamon
⅛ teaspoon ground cloves
Pinch of sea salt
½ ounce rum, optional
How To Make
Place all the ingredients in the blender and whizz until smooth.
Serve warm or cold.
Notes
Equipment: blender or Nutribullet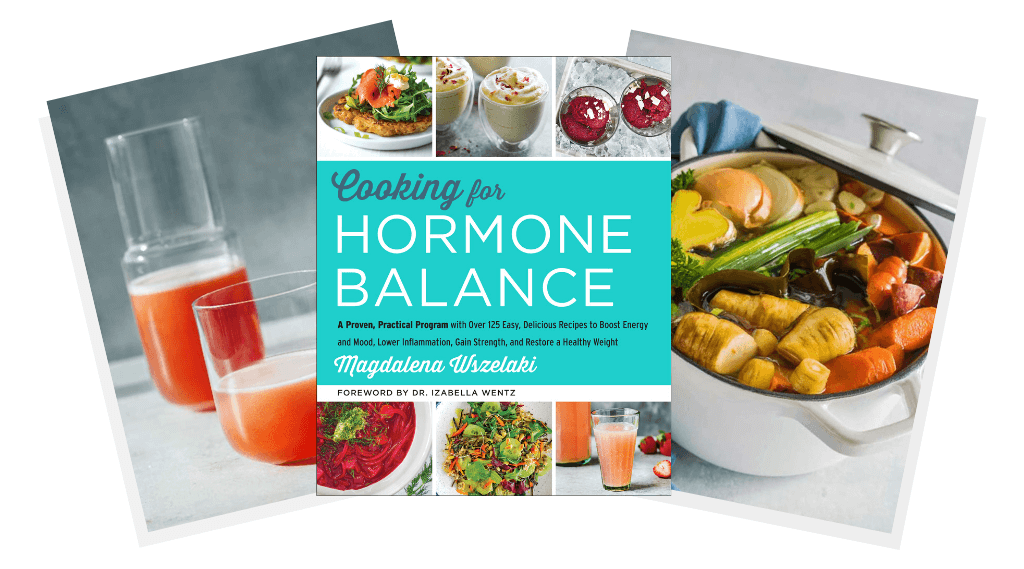 In my cookbook, Cooking For Hormone Balance, you'll find over 125 easy, delicious recipes to nourish your body and balance your hormones without calorie restriction or deprivation.
All of the recipes are based on 20 hormone-supporting superfoods and 20 hormone-supporting super herbs—with modifications for Paleo, Paleo for Autoimmunity (AIP), anti-Candida, and low-FODMAP diets.
You can get a copy of the cookbook here.