Summer is here – and with that comes dinner with friends and neighbors, family reunions, and days filled with adventures. Whether you're traveling this summer or sticking close to home, we rounded up some of our favorite hormone-healthy, gut-friendly shareable tapas-style recipes that are sure to please.
Olive and Preserved Lemon Tapenade
This salty olive and preserved lemon tapenade is tasty on crackers (like the herbed quinoa crackers below), toast, eggs, roasted fish, or added to salad dressing. Packed with probiotic-rich and liver-cleansing lemons, it's the perfect addition to a healthy summer spread or side dish.
Herbed Quinoa Crackers
From start to finish, these crackers take only 30 minutes and are crunchy, flavorful, and delicious. Serve with our olive and preserved lemon tapenade (recipe above), or any of our other hormone- and gut-friendly dips here.
Zucchini Herb Fritters With Dairy-Free Dill Yogurt Sauce
Organic zucchinis are plentiful in summer, and bursting with water and fiber, contributing to healthy digestion and various gut functions, like regulating the circulation of estrogen. Try these fritters with a squeeze of lemon and a dollop of dill yogurt sauce as a small plate or snack.
Savory Chive and Sundried Tomato Muffins (Gluten-Free)
These savory muffins pack so much flavor and are sure to impress. Make a batch in under and hour and be out of the house with a delicious, healthy, and gut-friendly snack to pass at the picnic or beach.
Basil Lemon Gin and Tonic
A refreshing summer cocktail that can be made with or without the alcohol. While gin is an alcohol, and any alcohol in excess is never good for you, small doses of this spirit that is distilled from juniper berries can have potent health benefits. This recipe also replaces tonic water, which often has added sugars, with sparkling water.
In this recipe, we also use lemon and basil. Lemon juice is highly alkalizing and a great detoxifier. It's rich in vitamin C and natural bioflavanoids, too. Together with the lemon, basil helps temper the gin while bringing a bright and aromatic aroma to the drink.
Rehydrating Lemon Spritzer
The perfect drink to quench your thirst after a long day at the beach or hike, or to serve it at a picnic, reunion, or other gathering. This rehydrating lemon spritz is not only refreshing but replenishes electrolytes – and it tastes delicious.
Lazy Strawberry Cake
Make the most of abundant summer strawberries with this simple yet delicious cake. A perfect summer sweet treat that's sure to please even the pickiest of eaters.
Learn more with Overcoming Estrogen Dominance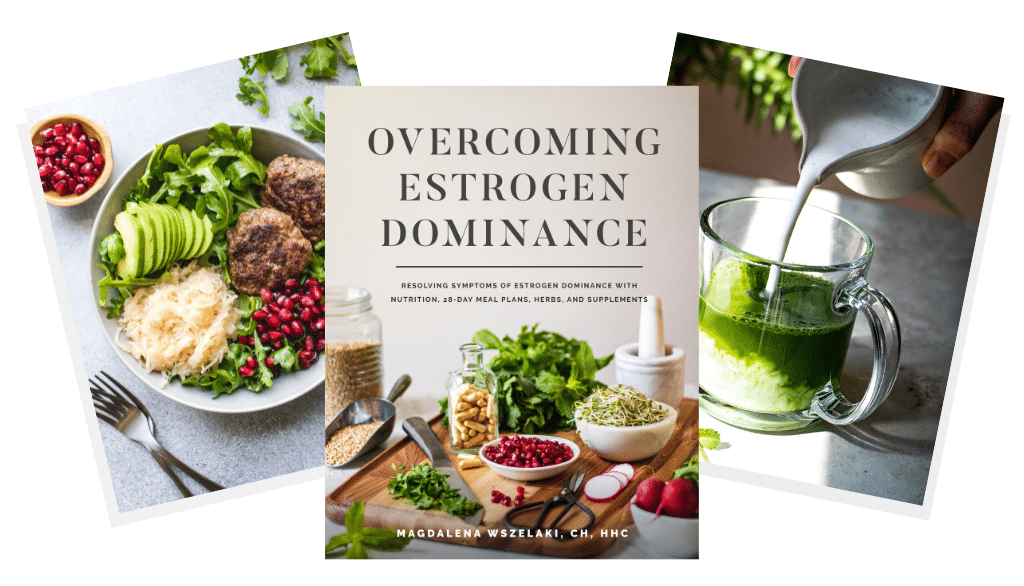 "The body has an amazing ability to heal. We just need to give it the right resources."
In Overcoming Estrogen Dominance, my goal is to empower and give you the tools to take control of your hormones and health.
More than 70% of women experience estrogen dominance. The symptoms range from lumpy and fibrocystic breasts to thyroid nodules, hot flashes, fibroids, uterine polyps, painful, heavy or irregular periods to infertility and miscarriages, from mood swings to insomnia, weight gain to fatigue.
So many women have experienced the pain and frustration that comes when they feel their symptoms and complaints are dismissed or minimized. This is particularly true for women who are experiencing the symptoms of hormone imbalance. Even when doctors do offer treatment, it's typically in the form of prescription medication or invasive surgical procedures.
In Overcoming Estrogen Dominance, I hope to show that those extreme interventions are often unnecessary and to give women a roadmap to reverse estrogen dominance using food, herbs, supplements, and natural protocols to rebalance hormones.
To get your copy of Overcoming Estrogen Dominance, go here.
Disclaimer
These statements have not been evaluated by the Food and Drug Administration. This product is not intended to diagnose, treat, cure or prevent any disease.