During the height of summer strawberries are abundant and there's no better time to take advantage of the summer bounty than by eating plenty of strawberries. Strawberries are naturally rich in antioxidants and vitamin C, which keeps our immune system healthy.
Apart from eating strawberries fresh, one other way that I've been enjoying them is in the form of this Lazy Strawberry Cake, that I've adapted from the New York Times.
I've made a few tweaks to the original recipe and "healthified" it, reducing the amount of oil and sugar used and also adding more fresh fruit. I've also used gluten-free all-purpose flour in place of wheat flour, and replaced whole milk with non-dairy milk, making this a gluten-free cake that even those with gluten and dairy intolerances can enjoy.
In short, this is an impossibly easy-to-make cake – which is why it's called a "Lazy Strawberry Cake". There's very little hands-on prep, you probably already have all the ingredients required to make it, and it's oh-so good. It's best served warm and eaten with a spoon straight from the baking dish.
Learn how to add more hormone-balancing ingredients to your meals with our FREE 15 Breakfasts to Rebalance Your Hormones guide here.

Lazy Strawberry Cake
Author:
Magdalena Wszelaki
Ingredients
⅓ cup olive oil plus more for greasing
1½ cups (heaping) organic strawberries (8 ounces)
1 tablespoon brown sugar
Pinch of salt
1 tablespoon vanilla extract
⅓ cup brown sugar
½ cup plant-based milk such as almond or oat milk
½ teaspoon salt
1 cup gluten-free flour (I use Bob Redmill's 1:1)
1 teaspoon baking soda
How To Make
Preheat the oven to 350 degrees and grease an 8-inch baking dish (it can be round or square) with olive oil.
In a medium bowl, place the strawberries, add sugar, sea salt and vanilla extract. Lightly press the strawberries to release their juices (but not too hard, so that they retain their shape), using your hands or the back of a fork. Set aside.
In a large bowl, whisk together the olive oil and brown sugar, milk and salt. Add the flour and baking powder and continue whisking just until the batter is smooth. Transfer the batter (it's not much) to the greased baking dish, and spread evenly into corners (otherwise the strawberry juice will seep out when baking).
Spoon the strawberries and all their juices over the top of the batter.
Bake for 35 to 40 minutes, or just when a toothpick comes out clean in the center. Remove from the oven and allow to cool for 3 to 5 minutes before spooning into bowls.
Notes
• Given that the strawberries will release water as they cook, the top of the cake will definitely be a lot more moist than the sides and the bottom, but that is perfectly fine. Just make sure to bake until a toothpick inserted in the middle comes out more or less clean.

• Please note, if you would like to incorporate less sugar, feel free to cut the amount down to ¼ cup.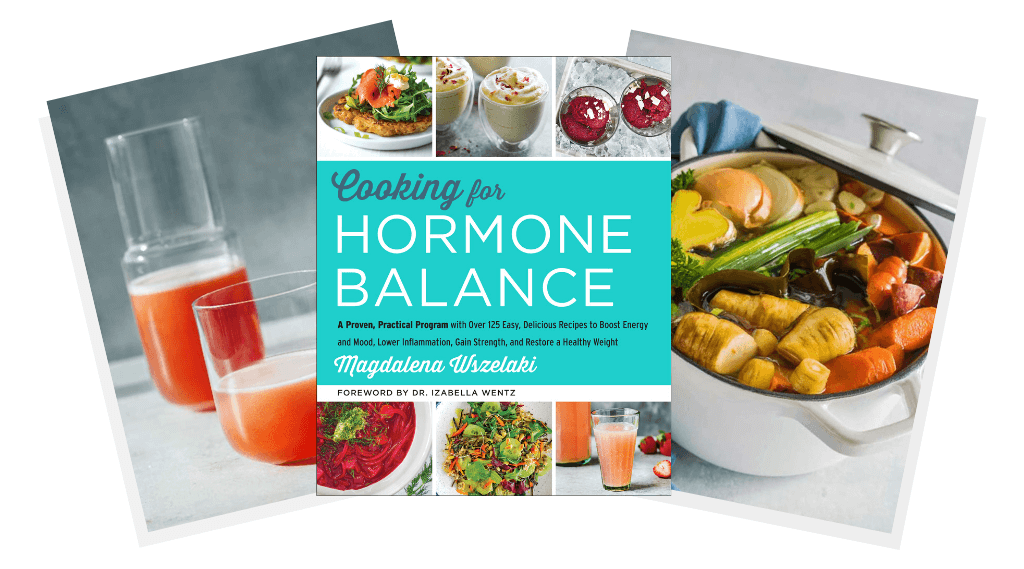 This bright strawberry cake is as easy as it is delicious. You can find more recipes like it in my cookbook, Cooking For Hormone Balance, with over 125 easy, delicious recipes to nourish your body and balance your hormones without calorie restriction or deprivation.
All of the recipes are based on twenty hormone-supporting superfoods and twenty hormone-supporting super herbs—with modifications for Paleo, Paleo for Autoimmunity (AIP), anti-Candida, and low-FODMAP diets. Get the cookbook here.