I turn 50 on the 5th day of January 2023. 
As I sat down to write this blog post, I started pondering why women are reluctant to speak about and reveal their true age. I think it's a combination of external and internal factors. External being shaming of women's signs of aging, preference for younger-looking women, and menopause making us hyper-visible and subject to many stereotypes; from jokes to shaming. 
Then there is the internal factor; how we see ourselves. We can't change the external factors and how the world chooses to see us, but we can change how we see ourselves. 
I've never been shy about revealing my age; in fact, I enjoy sharing it because I know I look and feel strong and healthy as a 50-year-old. This is what I want to impart in today's post. I will share with you what has worked for me and let you see that I'm far from perfect and have my own struggles to stay on track. 
On most days, I choose progress over perfection. 
If I screw up, I go back to taking care of myself the best way I can.
When I fail, I forgive myself and move forward. 
The non-negotiables and things I still struggle with
Here are things that are non-negotiable in my life which I largely attribute to feeling and looking good as a 50-year-old. Here's the list of things that have worked and I've done them well, for the most part. 
Clean diet 

Supplements 

Clean products 

Sleep and rest 

Community 
And, here is the list of things I've struggled with 
Alcohol 

Exercise 

Oxalates 
More on each below. 
My 5 non-negotiables
1. Clean diet
I live the life I advocate (90% of the time) and it's gotten easier to be on auto-pilot and not look back. But, it took me a few years to get there. 
People often ask me "But don't you miss a cannoli or a croissant? What life is it without 'some joys'?" 
First of all, this question implies that these foods are the only source of joy which is a limiting belief in itself – I get tremendous joy from eating healthy, at times decadent, foods that don't make me sick and therefore I don't miss much of anything. I think it's key to find these deeply pleasing "healthified" foods so they replace the old comfort foods. For me, that would be a miso soup (I grew up in Asia and a bowl of soup is what mac-n-cheese might be to you) or gluten-free buckwheat bread or apple muffins.  
Secondly, when I have a moment of weakness (ie I debate if I should have something that doesn't serve me), I think about how the 2 minutes of pleasure will feel later on. Dairy makes me constipated for days and frequent consumption gives me full-on IBS. Gluten suppresses my immune system, causes headaches, and makes me bloated. So why eat them? Is the 2-minute pleasure worth the 2-day aftermath? For me, it's not. 
I eat organic as much as I can. There is enough troubling research about "conventionally grown" food (I find this term awful in itself because it normalizes food sprayed with poisons) for me to justify spending more money on organic produce now, rather than paying for medical bills later on, to treat preventable diseases. 
I try to eat as much at home as I can (probably 90%). Not only is it kinder on the wallet but it's much healthier, too. I also don't order in unless I have to. After covid, it's become exorbitantly expensive to order in. Instead, I've learned to make simple meals that are also tasty, satisfying, and healthy. 
Sugar is a big contributor to "inflammaging" (inflammation + aging) and I, therefore, pay attention to it, especially in packaged goods. I mean, Odwalla's green juice contains 36 grams of sugar (making it 9 teaspoons of sugar). I typically don't eat more than 20 grams of sugar per day (including sugar found in food) and recommend that for anyone who wants to keep inflammation at bay. 
If you've been in this space for a while, you know that I eat just like the recipes in Overcoming Estrogen Dominance and Cooking for Hormone Balance. 
2. Supplements
I'm a strong believer that diet alone isn't good enough these days. When in herbal school, what shook me were charts showing the decline of the nutritional value of all fruit and vegetables – it was heart-breaking (and still is) and it also shed the light on why, in spite of such a clean and varied diet, most of us don't feel at our optimal. It took me a while to arrive at this conclusion as for the longest time I was opposed to taking supplements and believed that a good diet can fix it all. It can't. 
Having said that, it works the other way too. Taking heaps of supplements without a clean, varied, and nutrient-dense diet isn't a guarantee of good health either. If a person is creating inflammation in the body by eating gluten, dairy, excessive sugar, processed foods, and eating outside most of the time, supplements won't combat that. Instead, I see a clean diet + supplements working together to give you a 1 + 1 = 5 result. 
I often get asked what supplements I take on a daily basis. Here is the list: 
To celebrate my 50th birthday, we've put the above supplements together the in the Thriving 50s Kit. You can save $50 on the entire kit with MAG50 coupon code, which is valid until February 15th, 2023.
What I also take and use on a regular basis
3. Clean products
You know you're using clean products when you pass a person on a hiking trail smelling the offensive chemical concoction of the washing powder, fabric softeners, and perfumes. It's too big a topic to discuss here but to keep it simple: reducing the toxic load of the food and products I use is of very high importance to me. Not only do these chemicals increase inflammation (and inflammaging) but many also cause DNA damage which is the leading cause of cancers. 
Not to lose my mind on what is toxic and what is not (it keeps changing and many companies are making unfounded safety claims) I keep it simple by shopping at health food stores (such as Natural Grocers or Lucky's) where the department buyers have done their homework; they evaluate cleaning, skincare, and cosmetic companies for their ingredient toxicity but also the environmental impact on our planet. 
For skincare, I use our Wellena skincare and my joke became one of our marketing taglines; "it's so clean, you can eat it" – because you can and it doesn't taste gross or chemical. For shower and hand soap, I keep things simple – Dr. Bronner's it is all the way. 
For house cleaning products, I use either water, vinegar, baking soda, and essential oils; or Branch Basics. I use Molly's Suds for laundry and never use any fabric softeners. 
For cooking, I use a hybrid of enamel-coated cast iron pots (from Dansk) and carbon steel pans (from deBuyer) which, when seasoned, are totally non-stick. I threw away all the "green pans" and have a real grudge against Caraway who's misleading so many consumers – you can read about it here. 
The cleaner products one uses, the less inflammation, and the more graceful aging.  
4. Sleep and rest
Sleep and day rest have become my non-negotiable. It wasn't always this way – in my 30s, I used to say that "I will sleep when I die" and now you would hear me say: "Can we meet for dinner at 5 pm because I want to be in bed by 9 pm." 
I've written extensively about the many things I researched about sleep over an 8-month period using the Oura Ring to partly guide my research and observations. 
Another indispensable tool was Dr. Matthew Walker's book Why We Sleep which gave me so much appreciation for Deep and REM sleep (which the Oura ring shows) that I'm very protective over it now. 
I've summed up what my sleep killers are in the Fixing Sleep After 45 article and the short of it is alcohol (especially close to bed), a late and rich meal (I sleep best when I eat complex carbohydrates 4 hours before bed), blue light (from phone, computer, iPad), and magnesium deficiency. 
I always feel like I've aged 5 years after a lousy night's sleep – and then come the cravings for sugar and caffeine to get some energy boost – all big inflamm-agers. 
5. Community
I am alone, but I'm not lonely. 
With a community of smart, spirited, gifted, worldly girlfriends who are not only high in EQ but who care about this world's affairs, and their own health, I can't feel lonely. 
As I'm writing this blog post, I'm putting final touches to my 50th birthday retreat get-away with 10 girlfriends and I can't even tell you how happy this makes me. 
The Blue Zone experts often argue what makes these pockets of people live so long. Diets are often used to make an argument. What is often forgotten is the community and support system that exists in these communities and can't be overlooked as one to gracefully carry a person into her next decade. 
I will never forget reading about a pact women in Okinawa make – four of them get together at a young age and pledge to support each other, for life. 
I have a secret plan that we buy a house with six other girlfriends and share our lives as a unit of seven, all the way to our late years. 
As I write this, I realize there are lots of things I'm doing right and due credit needs to be given. And, by no means do I want to portray my life as being with no faults and weaknesses. There are many and here are some of them. 
The 3 things I still struggle with
1. Alcohol
I have a "strange" relationship with alcohol. I'm using the word "strange" probaby as a softer version of "problematic." If there is alcohol at home, I will drink it – not excessively, not to get drunk but I would have a hard time saying no to it.
The bigger issue is how my body responds to alcohol – which is poorly. It triggers IBS, causes diarrhea, and destroys my sleep. It doesn't help that I'm a former bartender (in my 20s) and mixing cocktails is one of my favorite creative pursuits. 
I've resorted to giving away ALL the alcohol (over 30 bottles, most top-shelf liquors) to my neighborhood and only have it once in a while, mostly in social settings. It's certainly a win but I really wish I had a healthier and more balanced relationship with booze. 
2. Exercise
Yes, I know it's important. As a natural and a former competitive athlete, I fell out of love with exercise when my hips gave way (I ended up with a bilateral hip replacement in 2017, age 44) and never got back to it in a consistent way. 
Rain or shine, I walk my two beloved dogs every day for 1.5 hours on our mountain trails. It however does not compare to the weight training that makes me feel so so good.
To better deal with it, I've signed up to a weight training gym and pre-purchased classes so I have to show up. It's kinda working – except in winter, the mountain road going down to town can be treacherous and I'm finding excuses not to go. It's an ongoing battle with myself. 
3. Oxalates
In August this year, I developed cellulitis (a staph infection) on my leg while on the East Coast trip in my camper van, and had no choice but to take an antibiotic. That disrupted my already delicate microbiome and I'm currently (as of now, January 2023) unable to metabolize oxalates which results in a host of symptoms; the worst being extreme fatigue, sharp, debilitating pain in my legs, brain fog, poor sleep, mood swings, and inflammatory weight gain.
Oxalates, found in so many healthy foods (including all nuts, seeds, chards, beets, pomegranates, most grains, sweet and white potatoes, and lots more) are hard to avoid and it's made my food selection and social eating-out limited and frustrating to navigate. 
Health isn't linear – but I'm grateful
As you can see, health isn't linear and I have to remind myself of the same. 
Someone like me, who not only takes care of herself but has dedicated my professional and largely personal life to helping women balance hormones in the most natural ways, can also experience serious setbacks. 
Just like in 2008 when diagnosed with Hashimoto's disease, it led to changing my profession (from an advertising strategist) to a women's hormone advocate. Who knows where the recent health challenges will take me? 
I'm entering the next decade of my life with excitement and optimism. As my dear friend Dani Williamson said (when I was complaining of hot flashes): "Shut up and be grateful. Many women have not made it that far to even experience a hot flash." 
Learn more with Overcoming Estrogen Dominance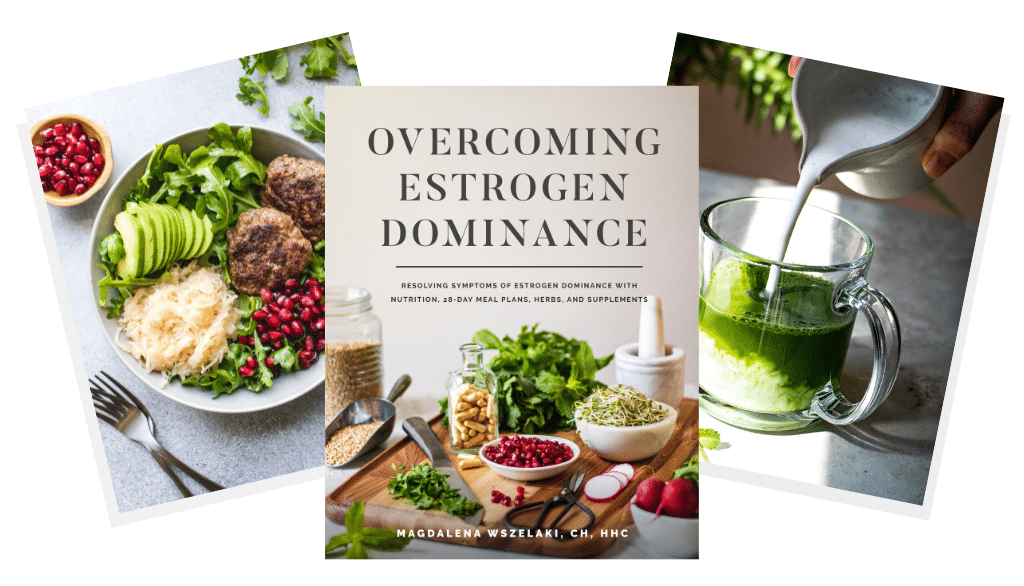 "The body has an amazing ability to heal. We just need to give it the right resources."
In Overcoming Estrogen Dominance, my goal is to empower and give you the tools to take control of your hormones and health.
More than 70% of women experience estrogen dominance. The symptoms range from lumpy and fibrocystic breasts to thyroid nodules, hot flashes, fibroids, uterine polyps, painful, heavy or irregular periods to infertility and miscarriages, from mood swings to insomnia, weight gain to fatigue.
So many women have experienced the pain and frustration that comes when they feel their symptoms and complaints are dismissed or minimized. This is particularly true for women who are experiencing the symptoms of hormone imbalance. Even when doctors do offer treatment, it's typically in the form of prescription medication or invasive surgical procedures.
In Overcoming Estrogen Dominance, I hope to show that those extreme interventions are often unnecessary, and to give women a roadmap to reverse estrogen dominance using food, herbs, supplements and natural protocols to rebalance hormones.
To get your copy of Overcoming Estrogen Dominance, go here.