Welcome to the 15-minute Kitchen Magic series. I'm on a mission to show you that cooking does not have to be a complicated, time-consuming activity which is often labeled as a chore. If you know what to do, you can turn 15 kitchen minutes into a moment of fun, functional and healthy magic.
Today, I'm cooking a creamy (but dairy-free) broccoli and asparagus salad which can be eaten cold in the office, stays good in the fridge for up to 5 days, and can be frozen if you make extras. Today, I played around with tahini, a staple food in Arabic cuisine which is a sesame paste, and miso, which is the Japanese staple of fermented soybeans. Both can be easily purchased in any health store.
You can eat this salad just like this or add some grains like quinoa if you are feeling a little grainy 😉
Voila! Kitchen magic in 12 minutes…
Watch the video for time-saving tips and tricks.
Creamy Asparagus Broccoli Salad
Author:
Magdalena Wszelaki
Ingredients
1 bunch of organic broccoli
1 bunch of asparagus (it's OK if it's not organic)
1 box (or handful) of sprouted beans

Dressing:
1.5 tablespoon tahini paste
1 tablespoon miso paste (preferably white miso)
1 tablespoon olive oil
1 inch fresh ginger root
1 tablespoon soy sauce
Juice of ½ lemon or apple cider
Water to dilute
How To Make
Bring water to a boil and put in the steaming basket
Chop broccoli and asparagus to ½ inch chunks, throw into the steaming basket, and steam for 5-7 minutes
Prepare dressing by whisking together tahini, miso, olive oil, grated ginger, soy sauce (or coconut aminos), lemon juice or apple cider vinegar.
Add water to the dressing if it's too thick
If you like the sprouted beans to be steamed, throw them in 1-2 minutes before the end of steaming
Once the veggies are done, place them in a bowl and mix in the dressing
Toss till all vegetables are well-covered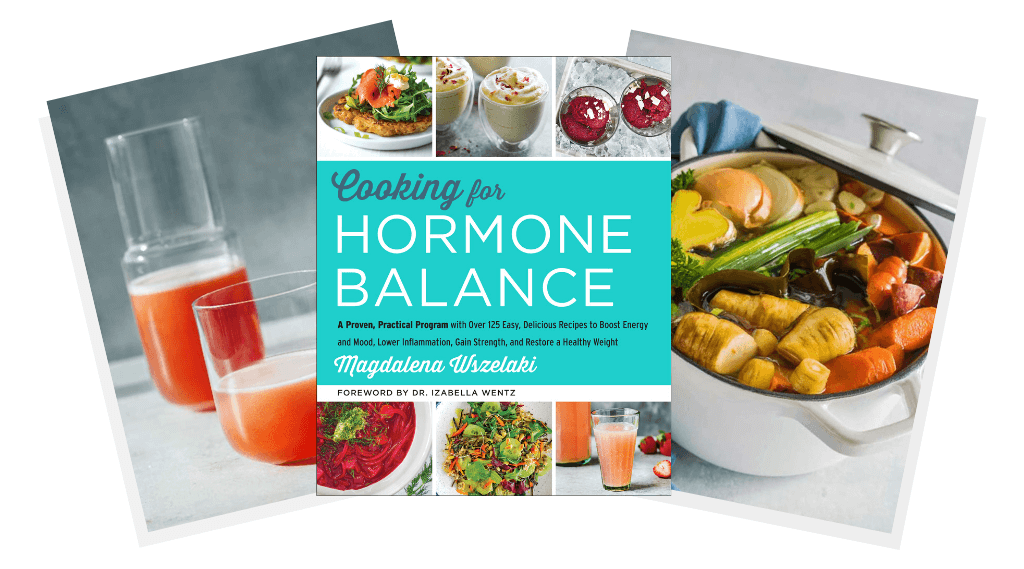 In my cookbook, Cooking For Hormone Balance, you'll find over 125 easy, delicious recipes to nourish your body and balance your hormones without calorie restriction or deprivation.
All of the recipes are based on 20 hormone-supporting superfoods and 20 hormone-supporting super herbs—with modifications for Paleo, Paleo for Autoimmunity (AIP), anti-Candida, and low-FODMAP diets.
You can get a copy of the cookbook here.