If you need a quick fix of iron, put away your vitamin pills and cook a few chicken livers. These are easily found in the frozen section of most stores and health stores. Like many "organ meats," this is an amazing source of Vitamin A (288% of the RDA), over 100% of Vitamin B, and very high in iron and selenium. Both are essential in thyroid health.
I have very bad memories of chicken livers which scarred me for a long time – it was at a summer sports camp, I was probably 12 and I don't remember much of it except that they fed us chicken livers for lunch and dinner every day without fail, until we put up a hunger strike. It was probably the first public protest I attended, and one that produced the greatest results in the history of my protests. They could have made the chicken livers so much more appealing had they not overcooked them so badly and added some spice and kick to them.
When I was found to be low on iron and my hair started falling out, I needed an effective solution other than Fe pills. This recipe wipes out my chicken liver phobia. I hope you try and like it too.
Got a new date? Make this the first dinner.  If he/she can take it, it's a done deal.
P.S. To maximize the absorption of iron, never consume it with calcium-rich food like milk, cheese or yoghurt as they inhibit iron absorption. Instead, add Vitamin C-rich foods such as broccoli.
Learn how to add more hormone-balancing ingredients to your meals with our FREE 15 Breakfasts to Rebalance Your Hormones guide here.
Chicken Livers Magda's Style
Author:
Magdalena Wszelaki
Ingredients
1 pound chicken livers
1 pound mushrooms (any you like)
3 tbsp olive oil
3 tbsp balsamic vinegar
1 tbsp lemon juice
1 inch ginger root, grated
4 cloves garlic, crushed
2 tsp ground cumin
2 tsp ground coriander
2 tsp crushed red pepper flakes
3 bay leaves
a pinch of salt and freshly ground black pepper to taste
2 tbsp unrefined virgin olive or coconut oil
2 tbsp butter from grass-fed cows
1 medium onion, chopped
2 tbsp Worcestershire sauce
2 tbsp sherry
How To Make
Place chicken livers in a large bowl, and pour in 3 tablespoons olive oil, vinegar, and lemon juice; season with garlic, cumin, coriander, chili flakes, bay leaves, salt, and pepper. Stir together, and refrigerate for 1 to 2 hours.
Remove livers to a bowl, and reserve marinade.
Heat 1 tablespoon olive oil and butter in a large skillet over medium heat. Stir in onion, and cook until tender, about 7 minutes.
Add ginger and mushrooms and cook till mushrooms turn soft. Increase heat to medium-high, and stir in chicken livers.
Cook for 5 minutes, being careful not to overcook the livers. Stir in the Worcestershire sauce and the reserved marinade. Simmer gently for 5 minutes. Pour in sherry, and heat through.
Serve with steamed broccoli and a grain of your choice.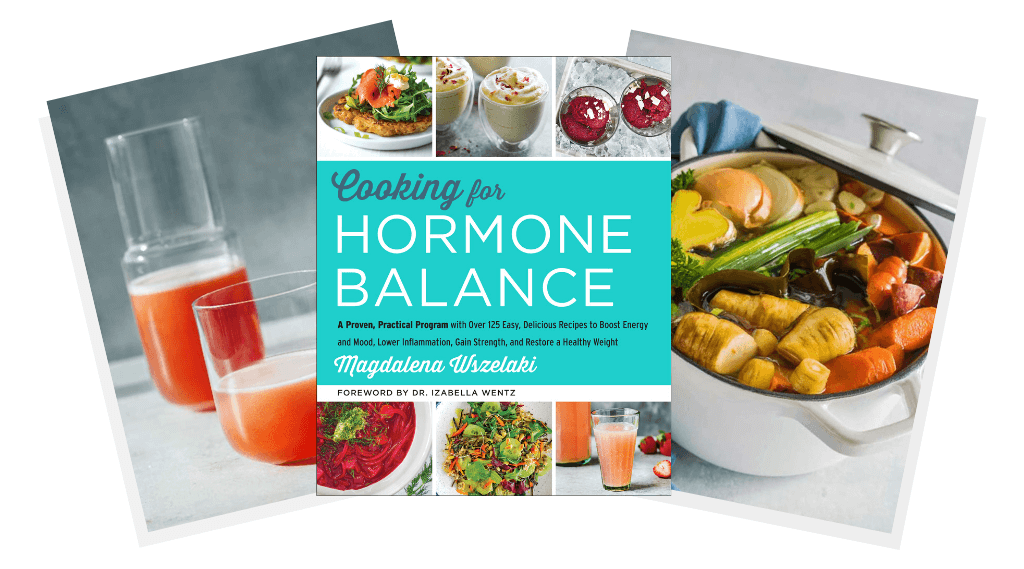 In my cookbook, Cooking For Hormone Balance, you'll find over 125 easy, delicious recipes to nourish your body and balance your hormones without calorie restriction or deprivation.
All of the recipes are based on 20 hormone-supporting superfoods and 20 hormone-supporting super herbs—with modifications for Paleo, Paleo for Autoimmunity (AIP), anti-Candida, and low-FODMAP diets.
You can get a copy of the cookbook here.