Lentils are one of the easiest and most versatile foods to cook. They are easier on the tummy than their cousins – beans – and they come in so many forms and colors. Just by adding different veggies or herbs into a lentil stew, you can transform it into something totally different. So go ahead and experiment with green, brown or red lentils (the latter will cook very fast). Puree it if you like for a very warming, filling soup or a stew.
Make a big pot of lentils and freeze it up in glass containers for future meals to save time and money. Lentils keep well in the freezer for 6 months.
Lentils are extremely high in protein; this is why vegetarians use them to get a complete meal when served over rice or any grain like amaranth or quinoa. They are also rich in folic acid, which is another key micronutrient essential for balancing the hormones.
This stew is great for anyone looking for a healthy, easy meal they can make in bulk. It can be frozen and can also be used as a base and served with roasted chicken. If you are hyperthyroid, you can add spinach, chard and kale to the final cooking step, and let them be cooked by the warmth of the stew. You can also add fresh vegetables like watercress to reheated portions to give it new flavors and textures. Ah, options!
Learn how to add more hormone-balancing ingredients to your meals with our FREE 15 Breakfasts to Rebalance Your Hormones guide here.
Lentil Stew
Author:
Magdalena Wszelaki
Ingredients
1 lb or 450g brown lentils
4 large carrots, chopped
4 medium celery sticks, chopped
3 small yellow potatoes (skip if following Thyroid-GAPS diet)
1 bay leaf
2 teaspoon chopped fresh thyme or 4 teaspoons dry thyme
1 large yellow onion
4 tablespoons olive oil
4 cloves garlic, chopped
2 teaspoons cumin seeds, roasted and ground
3 teaspoons sea salt
1 lemon, juice
Freshly ground black pepper
2 cups or 500g chicken stock or veggie broth
⅔ cup cilantro, chopped
1 cup parsley, chopped
How To Make
It is recommended that you soak the lentils overnight – this is to remove the phytic acid which is often a problem for people with digestive issues. If you are not experiencing digestive issues, rinsing the lentils will do.
Put the lentils in a pot with 10 cups of filtered water, add vegetables (carrots, sweet potato, celery) and bay leaf.
Bring water to boil and lower the heat to simmer for about 1 hour.
Meantime, sauté the onions in oil until soft, then add garlic and continue sautéing till brown.
Add the onions and garlic to your soup as it simmers.
Add chicken stock, lemon juice, cumin and salt in the last 15 minutes of cooking.
Turn off the heat and add cilantro and parsley.
Correct the seasoning with salt, pepper or cumin.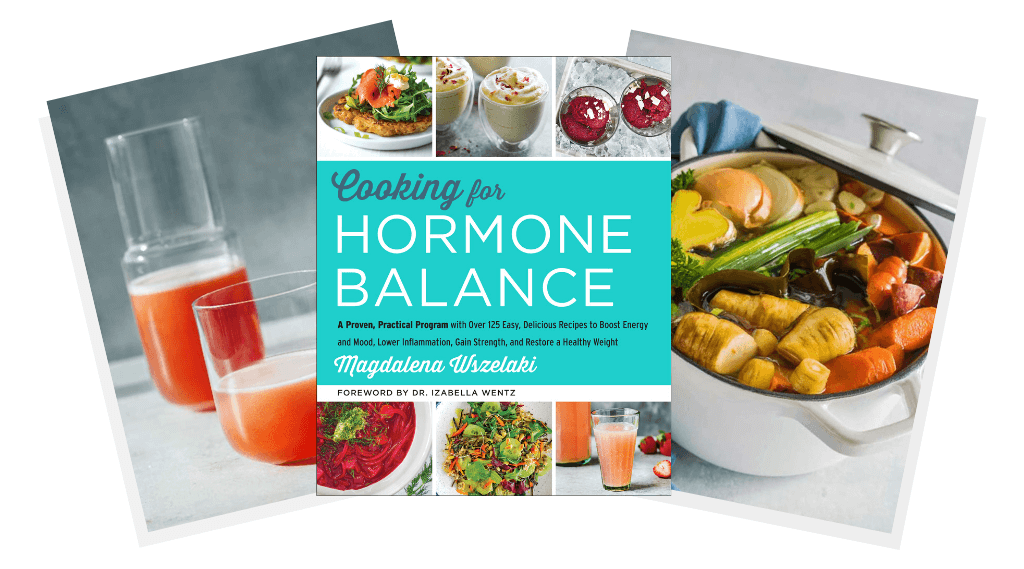 In my cookbook, Cooking For Hormone Balance, you'll find over 125 easy, delicious recipes to nourish your body and balance your hormones without calorie restriction or deprivation.
All of the recipes are based on 20 hormone-supporting superfoods and 20 hormone-supporting super herbs—with modifications for Paleo, Paleo for Autoimmunity (AIP), anti-Candida, and low-FODMAP diets.
You can get a copy of the cookbook here.