A good beef stock needs to be made with several type of bones: knuckle bones and feet, as they impart generous amounts of gelatin (essential in gut healing), and marrow bones, as they contribute highly dense nutrition from the marrow and meat provides the taste and color. Beef stock is wonderful, as it is very versatile and has a variety of uses in a thyroid diet.
The longer you cook the bones, the more you will "get out" of the bones and the more nutritious your stock will be. If leaving the pot on fire for long periods of time worries you, get a large slow cooker (aka crock pot) and leave it on for 12-72 hours.
Learn how to add more hormone-balancing ingredients to your meals with our FREE 15 Breakfasts to Rebalance Your Hormones guide here.

Beef Stock for Thyroid Diet
Author:
Magdalena Wszelaki
Serves:
4 quarts of broth
Ingredients
about 4 pounds of beef marrow and knuckle bones
1 calves foot (optional)
3 pounds meaty ribs or neck bones
4 quarts (liters) of cold filtered water
¼ cup of apple cider vinegar
3 large onions, coarsely chopped
3 carrots, peeled and coarsely chopped
3 celery sticks, coarsely chopped
several sprigs of thyme, tied together
1 teaspoon dried green peppercorns, crushed
1 bunch parsley
How To Make
Place knuckles, marrow bones and optional calves foot in a large pot with water and apple cider vinegar and let it stand for one hour.
In the meantime, place the meaty ribs in an oven and brown at 350F (175C) – skip steps 2-5 if you are on the Thyroid-GAPS Introduction diet.
When well browned, add to the pot together with the fat from the roasting tray.
Fill the roasted fat tray with hot water and scrape the coagulated juices.
Add this liquid to the pot.
Add all the vegetables.
Add extra water, if needed, to cover the bones but keep the water level below 1 inch from the rim of the pot.
Bring to a boil.
A large amount of scum will come to the top – it's important to remove it with a spoon.
After removing the scum, add thyme and peppercorns and lower the heat to simmer.
Simmer for 12 to 72 hours.
Add parsley 10 minutes before finishing.
The pot will look and smell repulsive at this point but do not despair – it is a delicious foundation of many recipes and a healing food.
Remove all bones with tongs and strain the stock to glass containers.
Let it cool down before refrigeration or freezing.
Freeze some of the stock for maximum freshness but be sure that if you are using a glass container (recommended) and always leave an inch from the rim of the jar for the stock to expand when it freezes.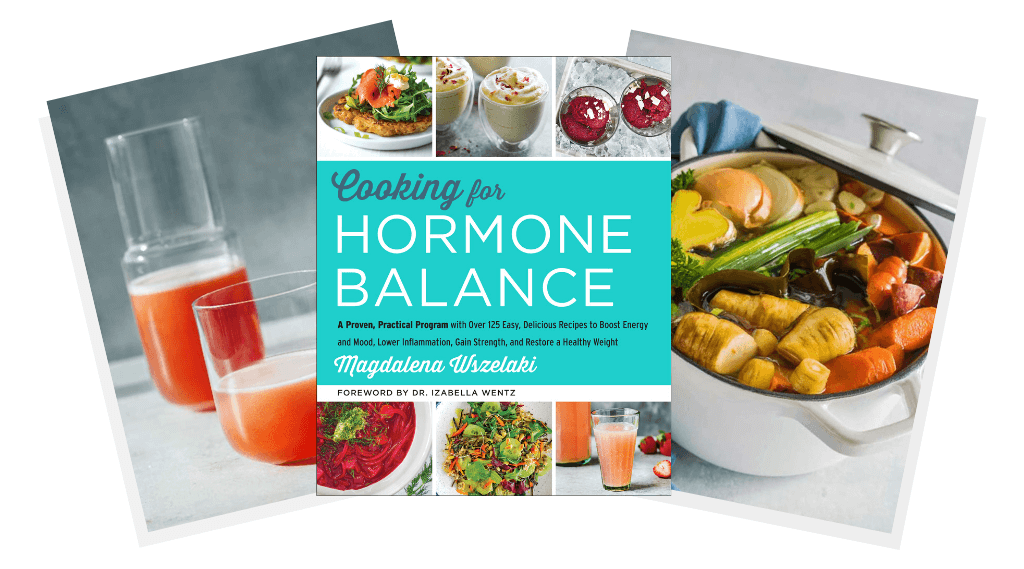 In my cookbook, Cooking For Hormone Balance, you'll find over 125 easy, delicious recipes to nourish your body and balance your hormones without calorie restriction or deprivation.
All of the recipes are based on 20 hormone-supporting superfoods and 20 hormone-supporting super herbs—with modifications for Paleo, Paleo for Autoimmunity (AIP), anti-Candida, and low-FODMAP diets.
You can get a copy of the cookbook here.
Beef stock recipe inspired by Nourishing Traditions, by Sally Fallon.