This Savory Oatmeal Sweet Potatoes Breakfast Recipe is a new spin on your typical oatmeal classic! While oatmeal is a breakfast favorite, it's mostly carbs. Rebalance your hormones with this Protein, Fat, and Fiber (PFF) breakfast idea. Turn it up a notch with a full-flavored savory blend by adding sweet potatoes, which are rich in vitamin A and B6. This warm and filling breakfast will give you that early morning energy boost. Add your favorite garnishes, like coconut flakes and walnuts to make it your own, turning our beloved oatmeal into a PFF breakfast.
Learn how to add more hormone-balancing ingredients to your meals with our FREE 15 Breakfasts to Rebalance Your Hormones guide here.
Savory Oatmeal Sweet Potatoes Breakfast Recipe
Author:
Magdalena Wszelaki
Ingredients
½ cup red peppers, diced
¼ cup rolled oats
¾ cups water
½ small sweet potato, diced
1 scallion, chopped
1 tsp coconut oil
1 tbsp maple syrup
2 slices of bacon
Optional ingredients for garnish:
¼ cup walnuts, chopped
¼ cup cranberries
1 tbsp coconut flakes
How To Make
In a large skillet, heat 1 tbsp coconut oil over medium heat
Add the red peppers, sweet potatoes, and sauté for 10 mins until the sweet
potatoes begin to soften
Add half of the scallion and cook for another 5 mins
Next cook the bacon according to desired crispiness
Next bring ¾ cups of water to a boil and stir in ¼ cups of rolled oats
Reduce the heat to a simmer, continue to stir frequently for 5-10 mins or until the oats are tender and the water has evaporated.
For extra sweetness, stir in 1 tbsp of maple syrup
Add the red pepper & sweet potato mixture, bacon, and the rest of the chopped scallion.
Garnish with walnuts, cranberries, and coconut flakes and enjoy!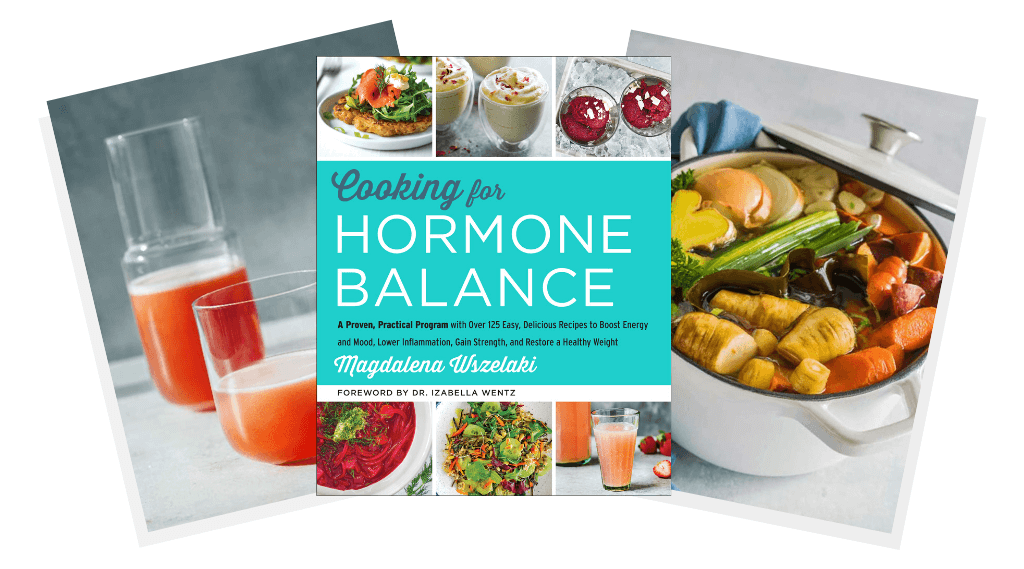 In my cookbook, Cooking For Hormone Balance, you'll find over 125 easy, delicious recipes to nourish your body and balance your hormones without calorie restriction or deprivation.
All of the recipes are based on 20 hormone-supporting superfoods and 20 hormone-supporting super herbs—with modifications for Paleo, Paleo for Autoimmunity (AIP), anti-Candida, and low-FODMAP diets.
You can get a copy of the cookbook here.