I love this quick on-the-go salad as it literally requires not much more than placing a few delicious and healing ingredients in one bowl. This is often my go-to quick dinner or lunch. You can have it over a slice of a gluten-free bread, a bowl of grains like rice or quinoa or with a piece of meat.
Sauerkraut can be sour and intimidating if you are just starting out on this journey. Adding fats like avocado and olive oil help balance out this salad and reduce the acidity of the kraut.
I added some broccoli sprouts for their nutritional super powers.  Apart from having estrogen- and liver-detoxifying properties, they also contain high levels of sulforaphane which has been linked to be as effective in the management of breast cancer as Tamoxifen, without the side effects.
Sauerkraut contains high levels of vitamin C and B vitamins (much higher bio-availability compared to raw or cooked cabbage) and is packed with probiotics that help rebalance your gastro-intestinal health. Be sure to pick the lacto-fermented form of sauerkraut, typically found in the refrigerated section of the store. You do not want to pick up kraut in vinegar as it lacks any probiotics.
Learn how to add more hormone-balancing ingredients to your meals with our FREE 15 Breakfasts to Rebalance Your Hormones guide here.

Quick Sauerkraut Salad
Equipment: grater.
Author:
Magdalena Wszelaki
Ingredients
1 cup lacto-fermented sauerkraut
1 teaspoon cumin seeds, roasted
½ cup broccoli sprouts
½ avocado, sliced
1 medium carrot, grated
1 teaspoon black sesame seeds (optional)
How To Make
Combine sauerkraut and cumin seeds.
Add all other ingredients into a serving bowl. Sprinkle sesame seeds if using.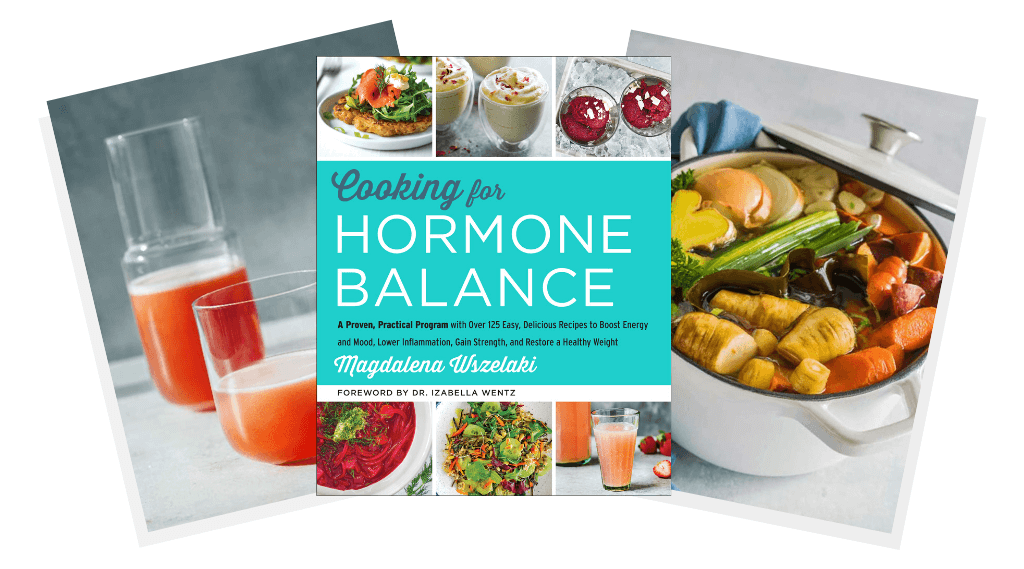 In my cookbook, Cooking For Hormone Balance, you'll find over 125 easy, delicious recipes to nourish your body and balance your hormones without calorie restriction or deprivation.
All of the recipes are based on 20 hormone-supporting superfoods and 20 hormone-supporting super herbs—with modifications for Paleo, Paleo for Autoimmunity (AIP), anti-Candida, and low-FODMAP diets.
You can get a copy of the cookbook here.