If you are looking at getting off caffeine (because of one of the "11 Ways Coffee Messes With Your Hormones and How to Substitute It" article, or another reason) I want to congratulate you. As with many addictive substances, coffee is hard to kick. If you can tolerate caffeine, try matcha tea. I've got a full article here on the background, sources and health benefits of matcha if you want to know more.
This recipe combines matcha tea with creamy coconut milk to create a simple and tasty latte to help keep you energized.
Learn how to add more hormone-balancing ingredients to your meals with our FREE 15 Breakfasts to Rebalance Your Hormones guide here.

Matcha Latte
Equipment: blender
Author:
Magdalena Wszelaki
Ingredients
2 teaspoons matcha tea (I use DoMatcha or Teavana brands)
1 cup room temperature filtered water
½ cup full fat coconut milk (if you don't have milk at hand, you can also use ½ cup of water with 2 tablespoons of coconut butter, I like the Artisana brand)
1 cup hot water
2 teaspoons maple syrup or any sweetener of your choice
4 drops liquid stevia (I use Sweet Leaf)
¼ teaspoon vanilla power
1 scoop collagen (I use Wellena collagen)
¼ teaspoon cinnamon powder (optional)
How To Make
Put all the ingredients in the blender but add the hot water as the last ingredient (matcha loses its enzymatic potency in high temperature).
Blend for 30 seconds and serve as a warm drink or over ice.
Sprinkle with cinnamon, if using.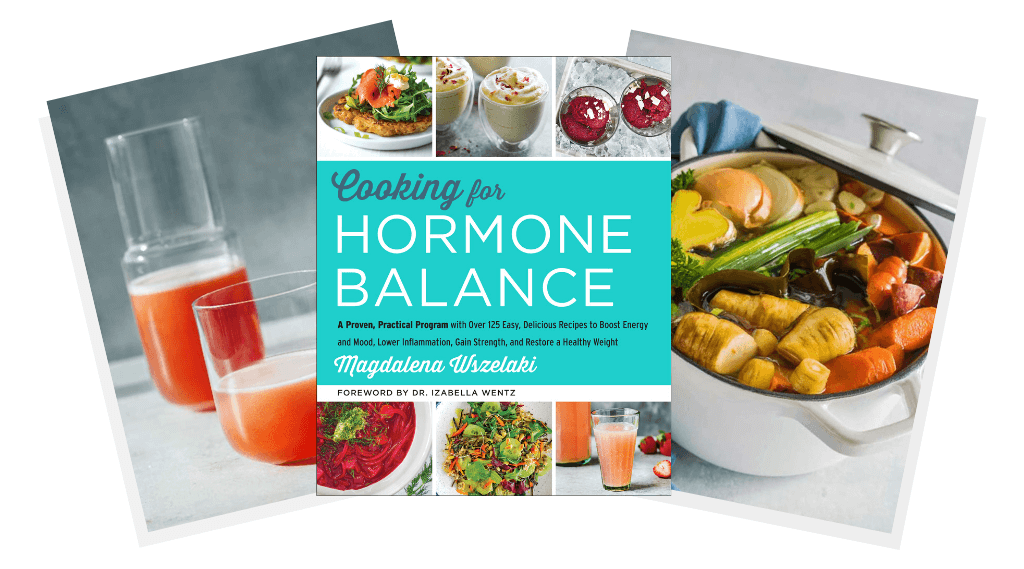 In my cookbook, Cooking For Hormone Balance, you'll find over 125 easy, delicious recipes to nourish your body and balance your hormones without calorie restriction or deprivation.
All of the recipes are based on 20 hormone-supporting superfoods and 20 hormone-supporting super herbs—with modifications for Paleo, Paleo for Autoimmunity (AIP), anti-Candida, and low-FODMAP diets.
You can get a copy of the cookbook here.