You know a meal is a winner when you have picky teenagers (living on hot dogs and burgers) coming back for seconds.
I love to serve this traditional Polish recipe on a cold winter night.  It is the ultimate comfort food.
Feel free to use whatever leftover meat cuts you may have – the story has it that when the hunters got together at night, they each put their lunch leftovers into one communal pot to create this simple but exquisite stew.
The method calls for cooling and reheating the stew – it's an important step to developing rich, deep flavor but it's not an absolutely necessary step.
I hope you enjoy it as much as my guests have over the years!
Learn how to add more hormone-balancing ingredients to your meals with our FREE 15 Breakfasts to Rebalance Your Hormones guide here.
Hunter's Stew
Author:
Magdalena Wszelaki
Ingredients
32 ounces of sauerkraut (not traditional vinegar based)
32 ounces, or a small head of green cabbage, finely chopped
1 ounce dried porcini mushrooms
1 cup hot water
1 tablespoon lard, duck fat or olive oil
1 large yellow onion, diced
10 ounces hickory smoked bacon, about 10 slices, diced
1 pound boneless pork loin chops, diced to ½-inch cubes
12 ounces Polish kielbasa, cut to ½-inch pieces
1 cup red wine, Cabernet Sauvignon
1 tablespoon tomato paste, optional
3 laurel leaves
2 teaspoons caraway seeds
6 allspice berries
8 juniper berries
12 peppercorns
1 teaspoon smoked paprika
2 teaspoons pink Himalayan or sea smoked salt
How To Make
In a medium bowl, soak mushrooms in hot water.
In a large heavy bottomed stew pot, saute the onions on medium high heat.
In a separate frying pan, brown the bacon over medium-high heat. Add pork cubes and brown on all sides.
Transfer bacon and pork to the stew pot. Deglaze the frying pan with the red wine and transfer it to the stew pot.
Add the sauerkraut, cabbage, kielbasa, spices, and salt to the stew pot.
Strain the mushrooms but retain the liquid. Slices the mushrooms and add them together with the liquid to the pot.
Cover the pot and bring to a boil. Reduce the heat to low and simmer for 4 hours. Stir once in a while to ensure the bottom isn't getting burned.
Cool and refrigerate for a day. Simmer again for 2 hours. Adjust salt, if needed.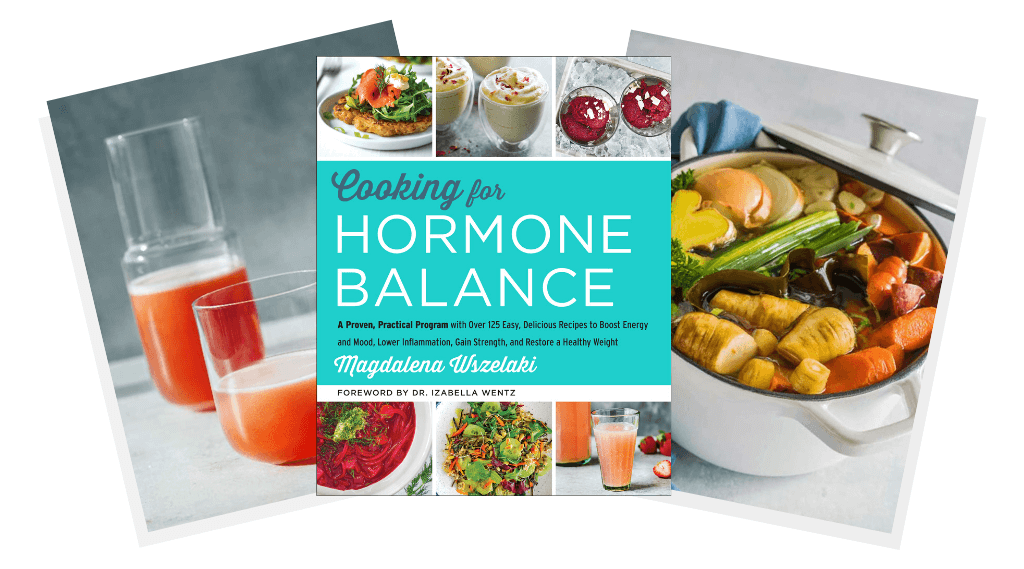 In my cookbook, Cooking For Hormone Balance, you'll find over 125 easy, delicious recipes to nourish your body and balance your hormones without calorie restriction or deprivation.
All of the recipes are based on 20 hormone-supporting superfoods and 20 hormone-supporting super herbs—with modifications for Paleo, Paleo for Autoimmunity (AIP), anti-Candida, and low-FODMAP diets.
You can get a copy of the cookbook here.