These hormone balancing chai bliss balls are the best type of sweet treat: quick and easy, no added sugar, and filled with health benefits for you and your hormones, too.
Cinnamon, ginger, and nutmeg offer a classic chai flavor with a natural sweetness and richness from soaked dates. And while they may be bite-sized, these Chai Bliss Balls have big nutritional benefits.
Ingredients
How to Seed Cycle with Chai Bliss Balls
Seed rotation is a simple method to boost estrogen levels in the first half of your menstrual cycle (with pumpkin seeds and flaxseeds) and progesterone levels in the second half (with sesame and sunflower seeds). It's also beneficial to women in perimenopause and menopause.
Enjoying a Chai Bliss Ball during days 1-14 of your cycle (the follicular phase) can help naturally increase estrogen levels. We need more good estrogens during this time to build up our uterine lining.
You can download the free Seed Rotation Starter Kit for a full breakdown of this method so that you can apply it right away.
Tips
Store in a single layer or add a layer of wax paper or parchment paper to prevent sticking.
If coconut isn't for you, you can skip rolling the Chai Bliss Balls in coconut flakes, or try rolling in raw cacao powder instead (or Elements Truffles Dark Drinking Chocolate mix for an extra adaptogenic kick). For texture, try finely chopped raw nuts, hemp seeds, or dried rose or lavender.
Play around with your favorite chai flavors. Cardamom, black pepper, or vanilla can be added to the base recipe, while lemon or orange zest mixed with the coconut flakes brightens the flavor.
Hormone Balancing Chai Bliss Balls
Author:
Magdalena Wszelaki
Ingredients
9-10 pitted dried dates
½ cup hot water + 2 tablespoons water
½ cup freshly ground flaxseed
1 teaspoon maca powder
½ cup shelled pumpkin seeds
½ teaspoon ground cinnamon
½ teaspoon ground ginger
⅛ teaspoon ground nutmeg
⅛ teaspoon sea salt
½ cup shredded unsweetened coconut flakes for rolling
How To Make
Combine dates and ½ cup of hot water in a small bowl and soak for 5 minutes. Drain water and add dates to a food processor.
Add ground flaxseed, pumpkin seeds, cinnamon, Maca, ginger, nutmeg, sea salt and 2 tablespoons of water. Blend until dates are smooth and mixture starts to stick together, scraping sides as needed.
Add shredded coconut to a shallow bowl. Remove blade from food processor and roll 1 tablespoon amounts of mixture using clean hands. Roll bliss balls in coconut and place on a wax paper lined plate or tray. Refrigerate for 15 minutes to firm.
Store bliss balls in an airtight container in the refrigerator or a cool dry spot.

Find even more hormone-balancing recipes in Overcoming Estrogen Dominance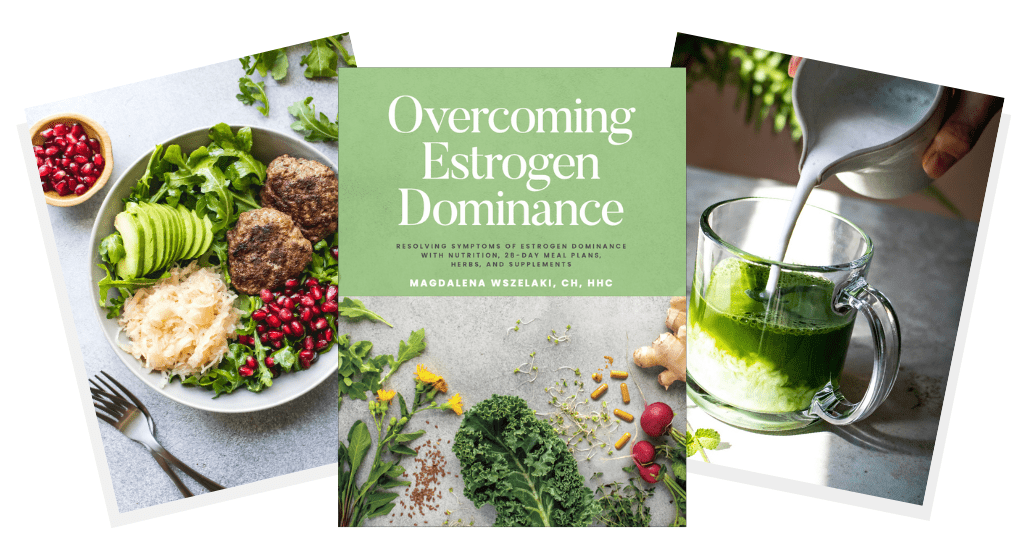 In Overcoming Estrogen Dominance, my goal is to empower and give you the tools to take control of your hormones and health.
More than 70% of women experience estrogen dominance. The symptoms range from lumpy and fibrocystic breasts to thyroid nodules, hot flashes, fibroids, uterine polyps, painful, heavy or irregular periods to infertility and miscarriages, from mood swings to insomnia, weight gain to fatigue.
In Overcoming Estrogen Dominance, I give women a roadmap to reverse estrogen dominance using food, herbs, supplements and natural protocols to rebalance hormones. You'll also find easy, hormone-balancing recipes that are free of gluten, dairy, soy, corn, eggs, and nightshades. These recipes are highly anti-inflammatory, low in sugar, and made with powerful medicinal ingredients to help heal your body naturally.
To get your copy of Overcoming Estrogen Dominance, go here.
References