The PFF (Protein, Fat, Fiber) Breakfast
Every Sunday, I go to our local farmers' market – it's a little ritual to honor the start of the week in the best way possible.
One of the vendors who captured my admiration and my taste buds is The Farmer's Wife. When I first read about her in the local magazine, she was the queen of grilled cheese sandwiches. I therefore never even tried her food.
Then, I overheard her offering gluten-free options. OK, that was a notch up but still not good enough in my books. Lately, she started offering paleo plates – a succulent fennel sausage on a bed of greens served with ferments from her next-door neighbor. Bingo.
This is another great example of what your PFF (protein, fat, and fiber) breakfast could look like and sustain you till lunch with no sugar dips, cravings and feeling guilty about snacking.
Learn how to add more hormone-balancing ingredients to your meals with our FREE 19 Estrogen Balancing Superfoods Guide here.
Farmer's Wife Sunday Breakfast
Author:
Magdalena Wszelaki
Ingredients
Sausage (serves six)
1 tablespoon of ghee
1 lb. of ground lamb
1 teaspoon sea salt
2 teaspoons ground fennel seed
2 tablespoons apple cider vinegar
2 tablespoons coconut aminos
Plate (for one)
½ avocado
Handful of organic green mix (e.g. arugula, mizuna, baby kale, etc)
1 cup of ferments (here: sauerkraut and cauliflower)
1 tablespoon olive oil
Juice from ½ lemon
Pinch of salt
How To Make
Mix all remaining sausage ingredients (except for the ghee) kneading well. Taste and adjust flavors as you like.
Shape your sausage to your desired form – round or long.
Heat up a skillet with ghee in it.
Add sausages and fry them for approximately 7 minutes on one side and 4 minutes on the other.
Mix green salad mix with olive, lemon and salt and toss till all the baby leaves are well covered.
Place greens on a large plate, then add your sausage, avocado and ferments to the plate.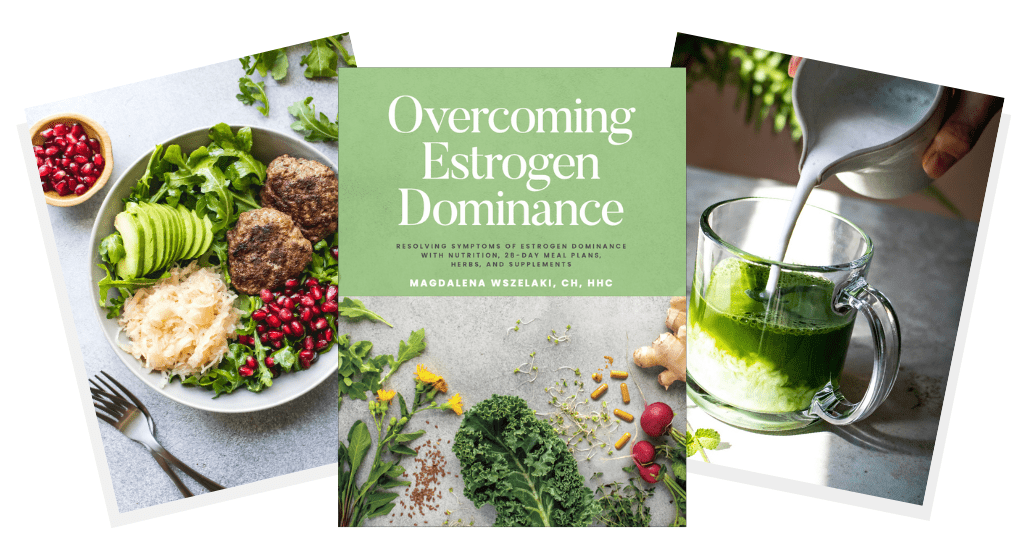 Learn more with Overcoming Estrogen Dominance
"The body has an amazing ability to heal. We just need to give it the right resources."
In Overcoming Estrogen Dominance, my goal is to empower and give you the tools to take control of your hormones and health.
More than 70% of women experience estrogen dominance. The symptoms range from lumpy and fibrocystic breasts to thyroid nodules, hot flashes, fibroids, uterine polyps, painful, heavy or irregular periods to infertility and miscarriages, from mood swings to insomnia, weight gain to fatigue.
So many women have experienced the pain and frustration that comes when they feel their symptoms and complaints are dismissed or minimized. This is particularly true for women who are experiencing the symptoms of hormone imbalance. Even when doctors do offer treatment, it's typically in the form of prescription medication or invasive surgical procedures.
In Overcoming Estrogen Dominance, I hope to show that those extreme interventions are often unnecessary, and to give women a roadmap to reverse estrogen dominance using food, herbs, supplements and natural protocols to rebalance hormones.
To get your copy of Overcoming Estrogen Dominance, go here.