This Warming Mushroom Stew brings together three types of culinary mushrooms for a hearty vegetable-based stew that is wonderfully rich in nutrients. Porcini, portobello, and shiitake are excellent sources of B vitamins, protein, copper, potassium, zinc, and selenium. Combined with celery, carrots, and parsnips, this is a high-fiber soup that will fill you up without overwhelming your digestive system.  
Culinary mushrooms offer plenty of health benefits, such as supporting the maintenance of healthy cholesterol (1), anti-cancer properties (2), and supporting gut immunity and the body's natural anti-inflammatory response (3). 
Fill up a bowl of this savory soup and find comfort in knowing you're enjoying a nourishing meal for your body and hormones.
Warming Mushroom Stew
Author:
Magdalena Wszelaki
Ingredients
2 tablespoons olive oil
1 cup sliced celery
1 cup chopped carrots
1 cup chopped parsnips
½ cup chopped white onion
2 minced garlic cloves
2 cups dried porcini mushrooms
2 cups cleaned shiitake mushrooms, tough stems discarded
2 cups cleaned/sliced portobello mushrooms
8 cups water
2 sprigs fresh thyme
2 dried bay leaves
1 ½ teaspoons sea salt
¼ teaspoon cracked black pepper
How To Make
Heat olive oil over medium heat in a large pot or Dutch oven. Add celery, carrots, parsnips and onion. Cook for 6-7 minutes, stirring occasionally. Add garlic to the pan and cook 1 minute longer.
Add mushrooms, thyme, bay leaves, pepper, salt and water. Bring to a boil. Reduce heat to low and simmer uncovered for 25-30 minutes.
Discard thyme sprigs and bay leaves. Remove 2-3 cups of vegetables with liquid from the pan and purée until smooth in a blender. Stir puréed vegetables back into the pot to slightly thicken the stew.
Storage: Cool stew to room temperature. Ladle into a large bowl and cover. Refrigerate for up to 5 days.
Find even more hormone-balancing recipes in Overcoming Estrogen Dominance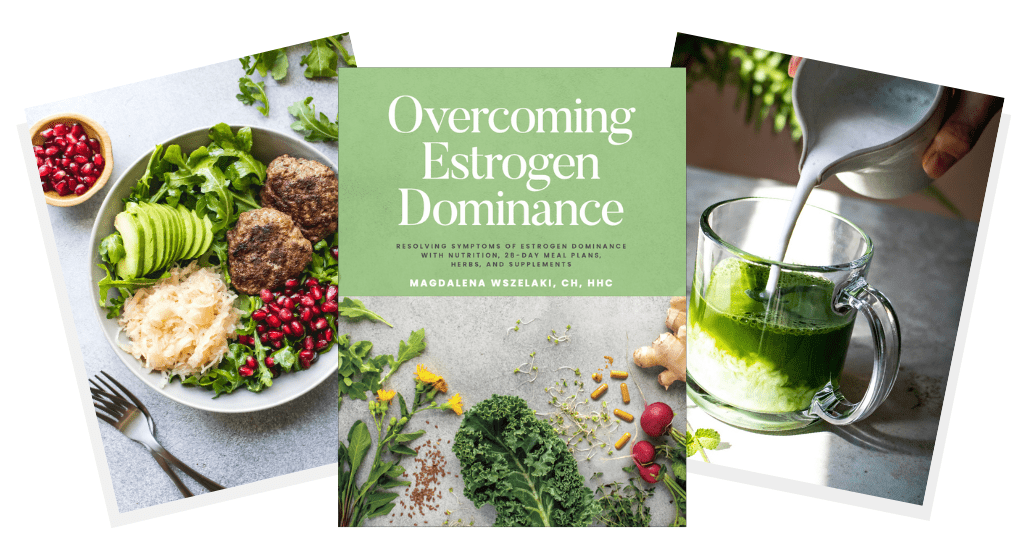 In Overcoming Estrogen Dominance, my goal is to empower and give you the tools to take control of your hormones and health.
More than 70% of women experience estrogen dominance. The symptoms range from lumpy and fibrocystic breasts to thyroid nodules, hot flashes, fibroids, uterine polyps, painful, heavy, or irregular periods to infertility and miscarriages, from mood swings to insomnia, weight gain to fatigue.
In Overcoming Estrogen Dominance, I give women a roadmap to reverse estrogen dominance using food, herbs, supplements, and natural protocols to rebalance hormones. You'll also find easy, hormone-balancing recipes that are free of gluten, dairy, soy, corn, eggs, and nightshades. These recipes are highly anti-inflammatory, low in sugar, and made with powerful medicinal ingredients to help heal your body naturally.
To get your copy of Overcoming Estrogen Dominance, go here.
Resources
Guillamón, Eva et al. "

Edible mushrooms: role in the prevention of cardiovascular diseases.

"

Fitoterapia

vol. 81,7 (2010): 715-23.

Panda, Mrunmaya K et al. "Promising Anti-cancer Therapeutics From Mushrooms: Current Findings and Future Perceptions."

Current pharmaceutical biotechnology

vol. 22,9 (2021)

Dai, Xiaoshuang et al. "Consuming Lentinula edodes (Shiitake) Mushrooms Daily Improves Human Immunity: A Randomized Dietary Intervention in Healthy Young Adults."

Journal of the American College of Nutrition

vol. 34,6 (2015)