The humble sweet potato transforms into a creamy, decadent center in these dark chocolate-dipped truffles. The best part? Unlike other sweets packed artificial sweeteners and high fructose corn syrup, these truffles are made with real, wholesome ingredients.
During the fall, I love making the most of sweet potatoes. While most people think of savory dishes like sweet potato wedges or sweet potatoes with crispy bacon (both great recipes), you can harness the natural sweetness of this root vegetable to create healthier-for-you desserts. The trick? Chuck them in the oven and roast them until they become caramel-y and soft.
For this recipe, sweet potatoes get roasted to release their natural sugars, then are blended with turmeric, ginger, and cinnamon. Some of the benefits of these ingredients to note:
Turmeric contains curcumin, giving it antioxidant and anti-inflammatory properties. This can help reduce inflammation in the body.
Ginger, like turmeric, has antioxidant and anti-inflammatory benefits that can help your body manage oxidative stress
Cinnamon, especially Ceylon cinnamon, helps regulate blood sugar and also has antioxidant and anti-inflammatory effects to help protect your brain against neurological disorders.
You'll also be using raw cacao to cover these creamy truffle centers. It's important to know that raw cacao is not the more common "cocoa," which is heavily processed in high temperatures that remove the nutritional benefits. Raw cacao is a powerful superfood that has phenolic phytochemicals and flavonoids that protect your cells from free radicals. This potent antioxidant capacity can stop a lot of the damage from free radicals that cause premature aging. Like cinnamon, raw cacao can also help manage blood sugar and helps protect your brain from cognitive decline.
Some recipe tips when making these truffles:
If you don't have access to a blender you can mash the mixture with a fork until smooth.
Feel free to mix in finely chopped nuts to add a fun crunch to these truffles. Walnuts and pecans work great.
Top your truffles with unsweetened coconut flakes for a bit of oomph.
Store the truffles in a covered container in the fridge for 5 days, or in the freezer for longer.
Learn how to add more hormone-balancing ingredients to your meals with our FREE 15 Breakfasts to Rebalance Your Hormones guide here.

Sweet Potato Turmeric Truffles
Equipment: High-speed blender or mini food processor
Author:
Magdalena Wszelaki
Ingredients
2 small sweet potatoes, about 1 cup, cooked
2 tablespoons unrefined coconut oil
1 tablespoons maple syrup
½ teaspoon ground turmeric
¼ teaspoon ground cinnamon
⅛ teaspoon ground ginger
Pinch cardamom
How To Make
Begin by roasting the sweet potatoes. Place whole sweet potatoes on a baking tray and roast at 375°F for 30 minutes, or until soft. Let cool.
Once cooled, carefully peel sweet potatoes. Place peeled sweet potatoes and remaining ingredients in a high speed blender or food processor and pulse until mixture is smooth.
Once pureed, set the mixture in the fridge to cool and firm up, about 30 minutes.
Next, scoop the truffle filling into 2 teaspoon sized balls. Place them on a parchment lined tray and chill them in the freezer until firm, about 20 minutes.
Once fully chilled, dip the truffles in the melted chocolate (see recipe below) using a fork so that the excess chocolate can drip off. Place dipped truffles back on the parchment-lined tray. Return the covered truffles to the fridge to fully set, and enjoy.
Melted Chocolate Sauce
Equipment: Small Saucepan, Heat-proof bowl
Author:
Magdalena Wszelaki
Ingredients
⅓ cup melted unrefined coconut oil
⅓ cup raw cacao powder
2 tablespoons maple syrup
How To Make
Fit the bowl over a saucepan of water. Make sure the water does not touch the bowl. Heat the water to a simmer over medium heat.
Turn off the heat and add the ingredients to the bowl, stirring gently to melt.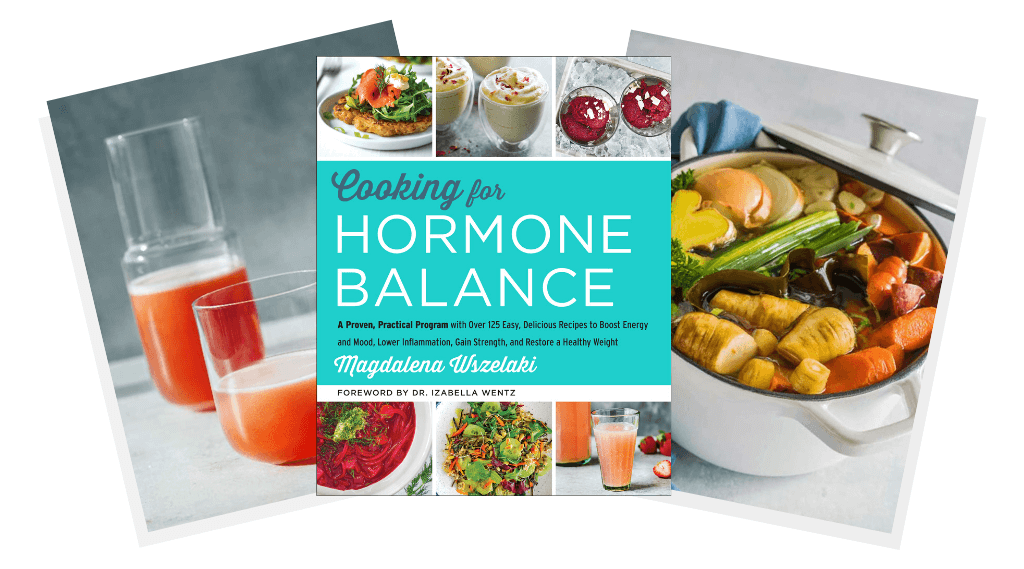 These anti-inflammatory truffles are sweet and satisfying. You can find more recipes like it in my cookbook, Cooking For Hormone Balance, with over 125 easy, delicious recipes to nourish your body and balance your hormones without calorie restriction or deprivation.
All of the recipes are based on twenty hormone-supporting superfoods and twenty hormone-supporting super herbs—with modifications for Paleo, Paleo for Autoimmunity (AIP), anti-Candida, and low-FODMAP diets. Get the cookbook here.