This Tulsi Tea Adaptogen Latte is a bright cup of frothy happy when you need a pick-me-up.
Adaptogen herbs are wonderful to incorporate into your daily diet.  They support your adrenal system and help balance your hormones, so you can manage your stress response on a day to day basis. They adapt to what your body needs and have the ability to regulate your system up or down depending on the need at the moment.
The adaptogens used in this simple latte recipe are Tulsi and Rhodiola. Here's a bit more about the benefits of each ingredient:
Tulsi has a bright, antidepressant quality. It's the preeminent adaptogen, probably the number one herbal medicine in all of Ayurvedic medicine. Recommended that you eat it daily. 

Tulsi has been shown to promote a positive mood, restore balance, and rejuvenate the body and mind.  

Rhodiola promotes a healthy response to stress and supports adrenal functioning.
Coconut butter adds a wonderful serving of healthy fats to your lattes and your adrenals love fats.
Collagen is excellent for lubricating joints, bones, and muscles.  If I forget to take my daily dose, I can definitely feel the difference in my knee joints.  It also gives this latte its wonderful frothy finish.
Raw honey improves allergies and digestion.
Cinnamon promotes healthy blood sugar levels.
Ginger is a warming digestive aid.
Learn how to add more hormone-balancing ingredients to your meals with our FREE 15 Breakfasts to Rebalance Your Hormones guide here.
Tulsi Tea Adaptogen Latte
This adaptogen latte will support your adrenal system and help balance your hormones, so you can manage your stress response on a day to day basis.
Author:
Magdalena Wszelaki
Ingredients
1 ¾ cups water
2 Tulsi tea bags (I use Organic India)
1 dropper Rhodiola liquid extract (I use HerbPharm)
1 tablespoon coconut butter (I use Artisana)
1 scoop collagen (I use Wellena Collagen)
½ teaspoon ground cinnamon
½ teaspoon ginger powder
1 teaspoon raw honey
Sprinkle with cinnamon
How To Make
Boil water, steep tea bags in the water for 7 minutes
Add tea and rest of ingredients to blender and process until frothy
Pour into one large cup or two small cups to share
Sprinkle with more cinnamon
Notes
Equipment: High-speed blender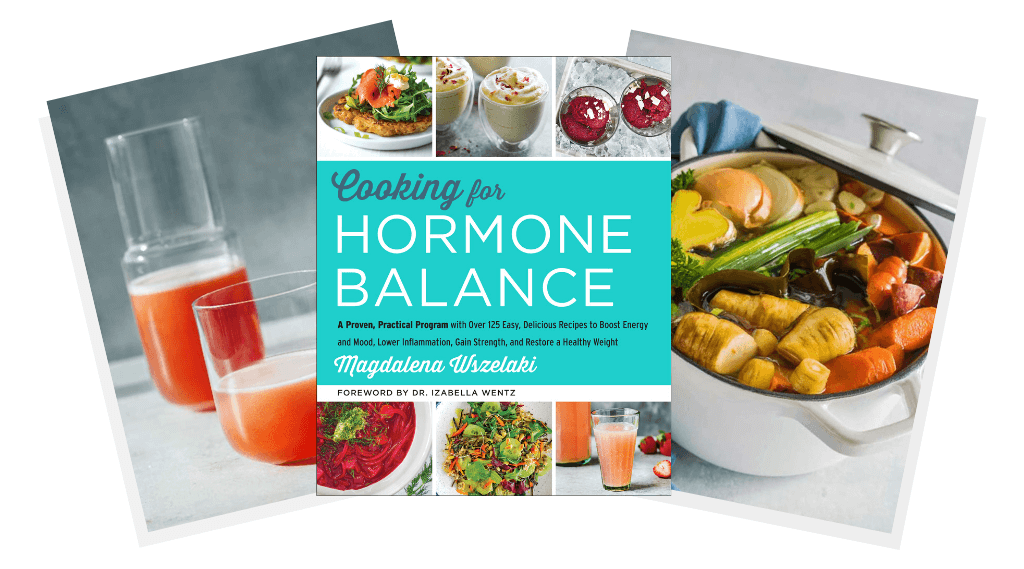 In my cookbook, Cooking For Hormone Balance, you'll find over 125 easy, delicious recipes to nourish your body and balance your hormones without calorie restriction or deprivation.
All of the recipes are based on 20 hormone-supporting superfoods and 20 hormone-supporting super herbs—with modifications for Paleo, Paleo for Autoimmunity (AIP), anti-Candida, and low-FODMAP diets.
You can get a copy of the cookbook here.